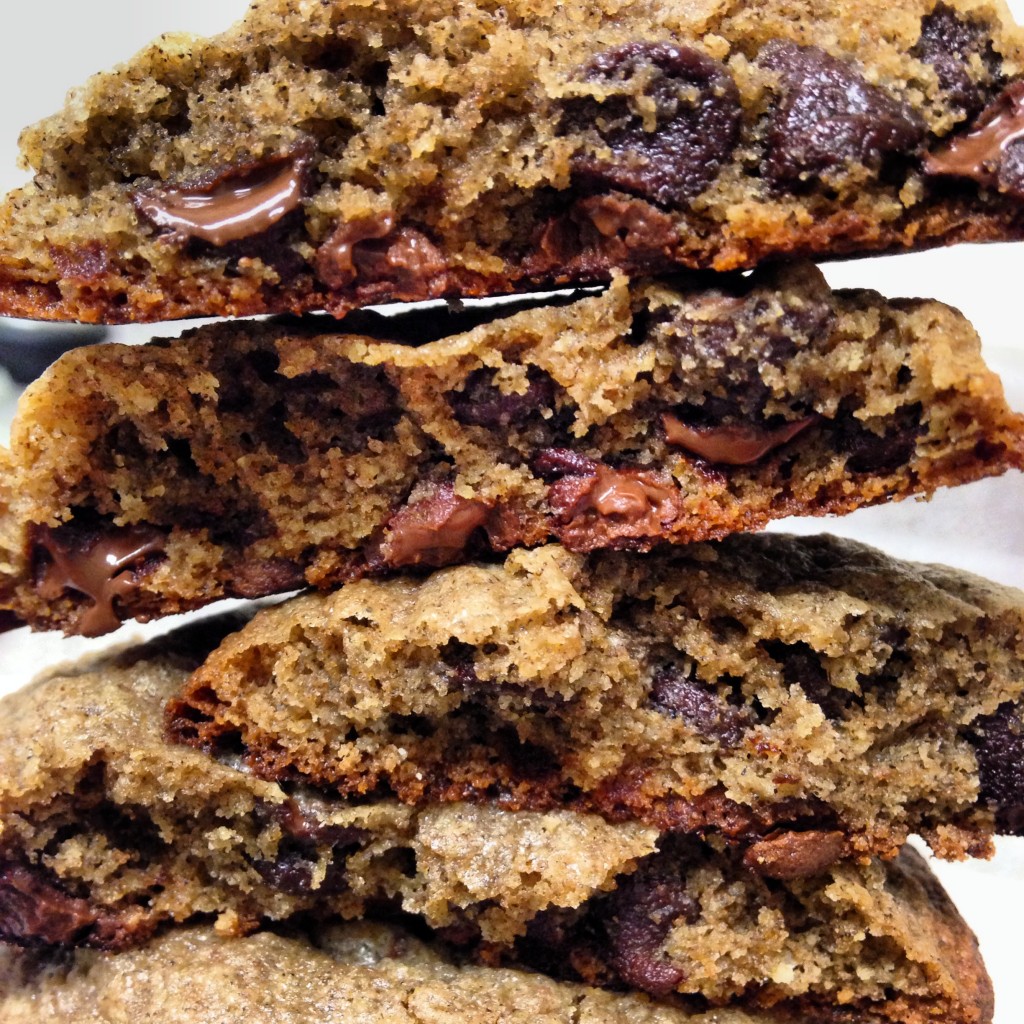 I can honestly say that I have never met a person who doesn't like chocolate chip cookies. I mean, I am sure that there are some of you out there, and that is perfectly OK! But with such an abundance of possible variations in texture, sweetness, flavor and nutrient combinations, what's not to love?
A few years ago, after many failed attempts, I finally believed that I had perfected my basic chocolate chip cookie recipe. I knew that I had finally done something right because my boyfriend, Spencer, loved them and couldn't stop after eating one (well, neither could I!), and my mother, one of my most helpful critics, was already asking when I would be making them again! This particular recipe was my "healthy" version of the conventional, sugar-filled, bakery-style cookies that everyone knows and loves, so was thrilled to have achieved a healthier variation without it showing!
Fast forward to now. Although I do not have a Celiac disease diagnosis, I, along with millions of other Americans, have a gluten sensitivity, and greatly benefit from replacing most gluten-filled grains such as wheat, barley, and rye, with gluten-free whole grains such as buckwheat, brown rice, quinoa, and millet, to name a few.
Baking some of my old favorite recipes with gluten-free whole grain replacements has been a tricky, but always fun challenge. This is the fourth gluten-free chocolate chip cookie recipe attempt I have made. I am trying to achieve that rich, thick, soft and chewy, cookie that Spencer and I love, and I am definitely getting close with these! After all, my lovely roommate, Melanie, loved them!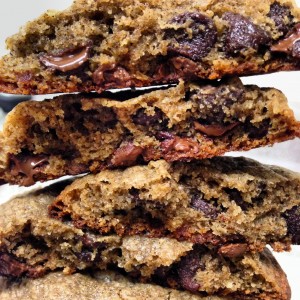 Gluten-Free Chocolate Chip Cookies
2014-03-07 00:48:14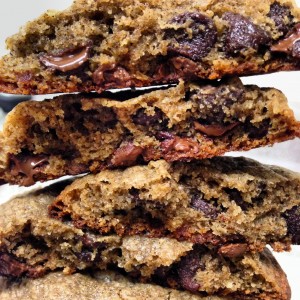 Yields 12-14 Cookies (gf, v, nf, sf)
Ingredients
¾ cup buckwheat flour
¾ cup gluten-free oat flour*
1 tsp baking powder
½ tsp baking soda
½ tsp salt
½ cup coconut oil or Spectrum shortening
1 cup unrefined brown sugar
2 tbsp honey or maple syrup
1 flax egg
2 tsp vanilla extract
1 cup semisweet chocolate chips
2 oz. bittersweet chocolate bar, chopped into small chunks
Instructions
Line a large cookie sheet with parchment paper.
Stir together flours, baking powder, baking soda, and salt in a medium-sized bowl.
In a large bowl, use an electric mixer (can be done by hand) to beat together the coconut oil or shortening with the brown sugar and 2 tablespoons of liquid sweetener of choice, until the mixture is creamy. Beat in the egg and vanilla. Gently mix in the dry ingredients until a uniform dough is formed. Stir in the chocolate chips and chunks.
Drop 1/4-cup portions of dough onto the cookie sheet, leaving at least a couple of inches in between each. Roll each portion into balls, then refrigerate, at least 30 minutes.
Preheat oven to 375 degrees F. Position a rack in the center of the oven. Bake the cookies 12 to 15 minutes, until golden around the edges. Allow to cool for a few minutes, then dig in!
Notes
*If you cannot find gluten-free oat flour, you can grind your own oats in a food processor or blender!
Create. Nourish. Love. http://www.createnourishlove.com/