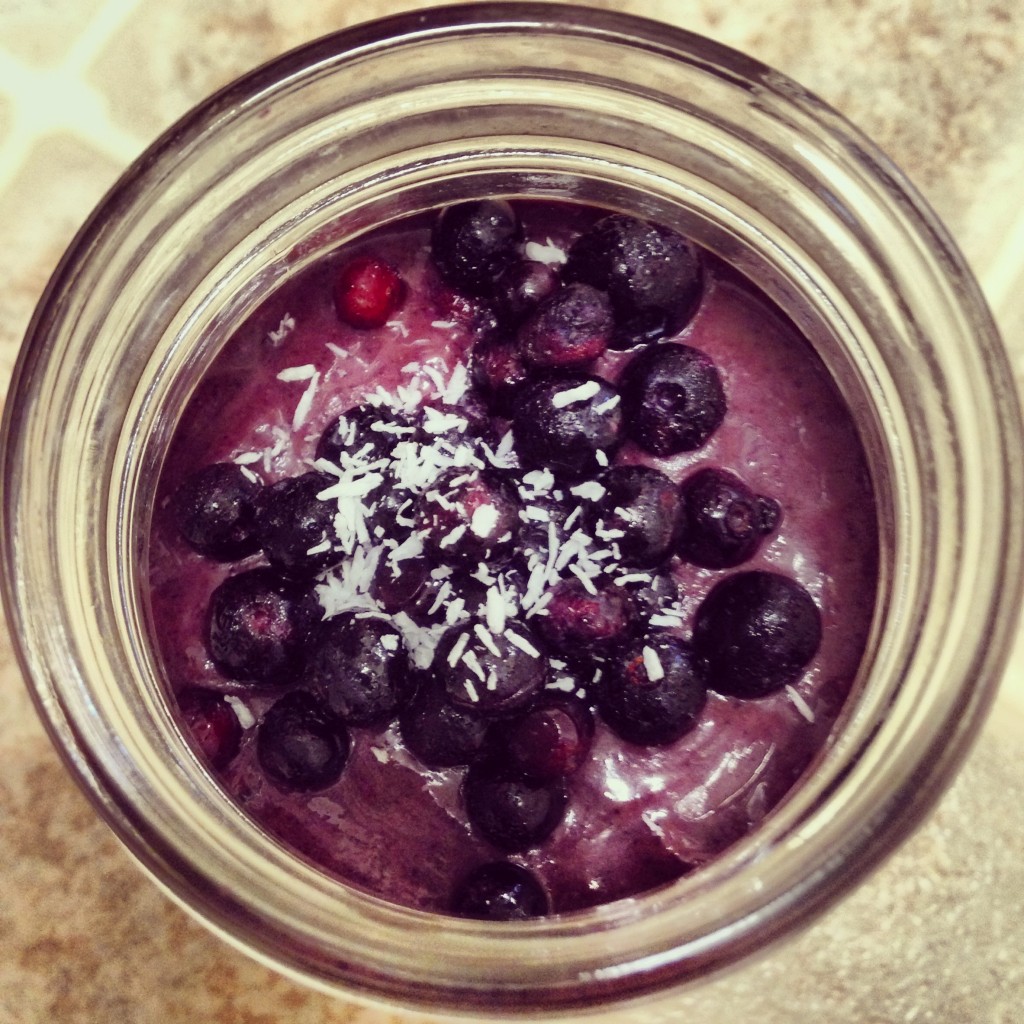 It was a frosty 10 degrees F in Durham when I left my apartment to walk to class this morning. The consistently freezing temperatures of the past week have been causing me to crave warm and comforting snacks, such as baked oatmeal, chai tea, and chocolate (chocolate always goes with the words "craving" and "comfort"). Today, however, was different. The sense of abandonment that my beautiful Vitamix had been experiencing was simply unacceptable. After all, fresh smoothies that are made with deliciously pure, whole food ingredients and superfoods, like the blueberry-based smoothie I slurped today, are incredibly nourishing, in summer and winter, alike.
So what makes this smoothie so "super"?
In a word, ANTIOXIDANTS- the micronutrients that help protect the healthy cells and tissues in our bodies from oxidative damage from free radicals. They provide our bodies with numerous health benefits, including the potential prevention of disease.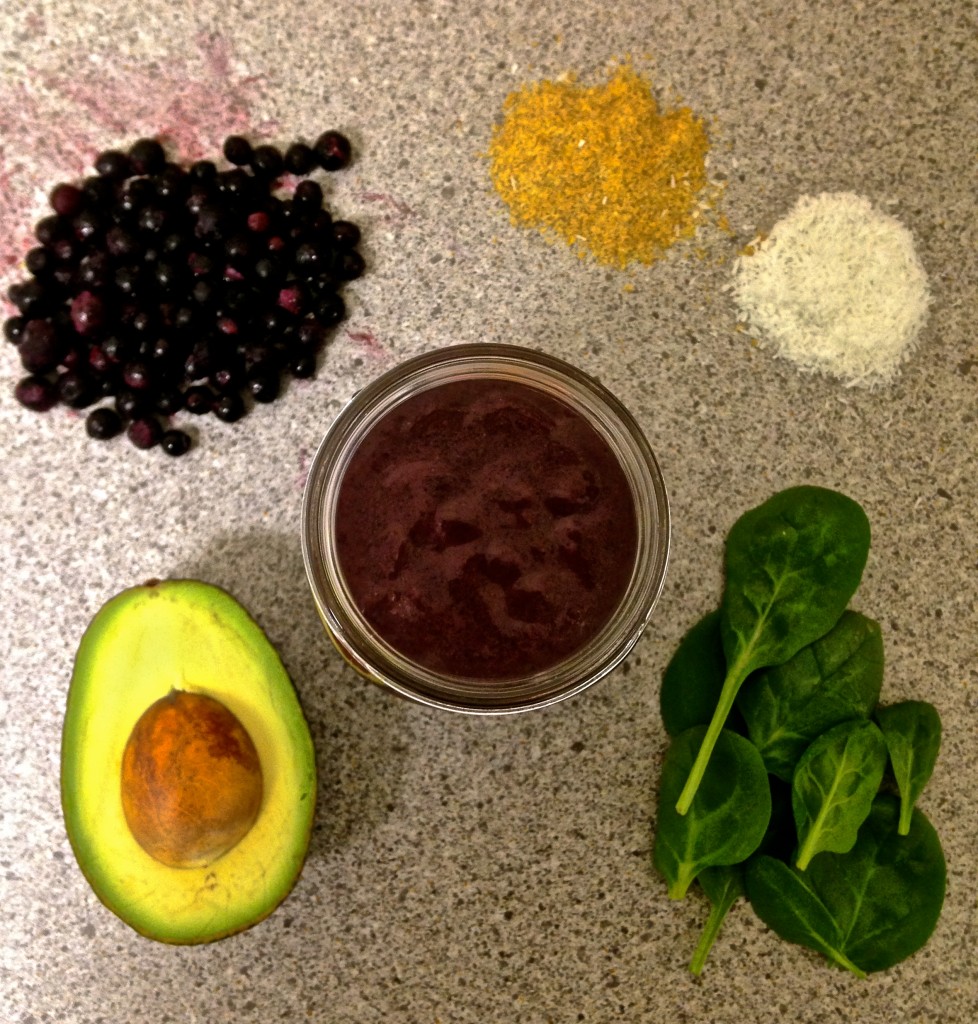 Some of the antioxidant and nutrient-rich ingredients in this recipe are:
Blueberries– anti-inflammatory, packed with vitamin C, manganese, potassium, extremely high in anthocyanin antioxidants (that rich color has to come from somewhere!), and oh so delicious!
Spinach– full of flavinoid antioxidants, vitamin C, beta-carotene, vitamin K, folate, calcium, lutein and zeaxanthin (protecting of the eyes), and, of course, it is a great vegetarian source of iron! The list goes on and on here, and I promise, you won't even taste it in the smoothie.
Avocado– loaded with potassium, healthy fats, folate, and fiber!
Coconut- made up of energy-enhancing medium-chain fatty acids, natural fiber, and immune-empowering lauric acid.
Flax and Chia Seeds– provide a boost of protein, fiber that promotes healthy digestion, and, of course, anti-inflammatory omega-3 fatty acids.
If those benefits aren't enough to motivate you to go and make this right now, hopefully the beautiful color (deep purple), and my claim on the flavor (delicious), will.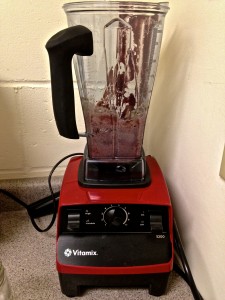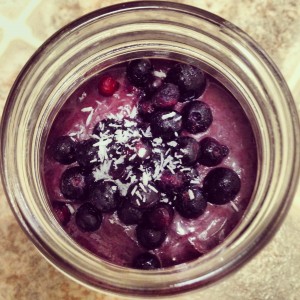 Blueberry Superfood Smoothie
2014-03-06 22:57:29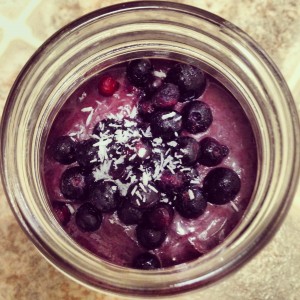 Serves 1-2 (gf, v, nf, sf)
Ingredients
1 cup frozen wild blueberries
1/2 cup fresh baby spinach leaves
1/2 avocado or 1 banana, optional*
1 cup water, or milk of choice
1 tbsp unsweetened shredded coconut
1 tbsp ground flax seeds
1 tbsp chia seeds
1/2 tsp cinnamon
1 tbsp maple syrup, or honey
Instructions
Combine all ingredients in a high-speed blender, such as a Vitamix, and blend until completely smooth.
Enjoy!
Notes
*After testing the recipe with and without the addition of avocado, Melanie and I both preferred the sweeter, more defined, taste of the smoothie without it. However, the addition of avocado OR banana will yield a thicker texture and add even more nutrients, so the choice is yours!
Create. Nourish. Love. http://www.createnourishlove.com/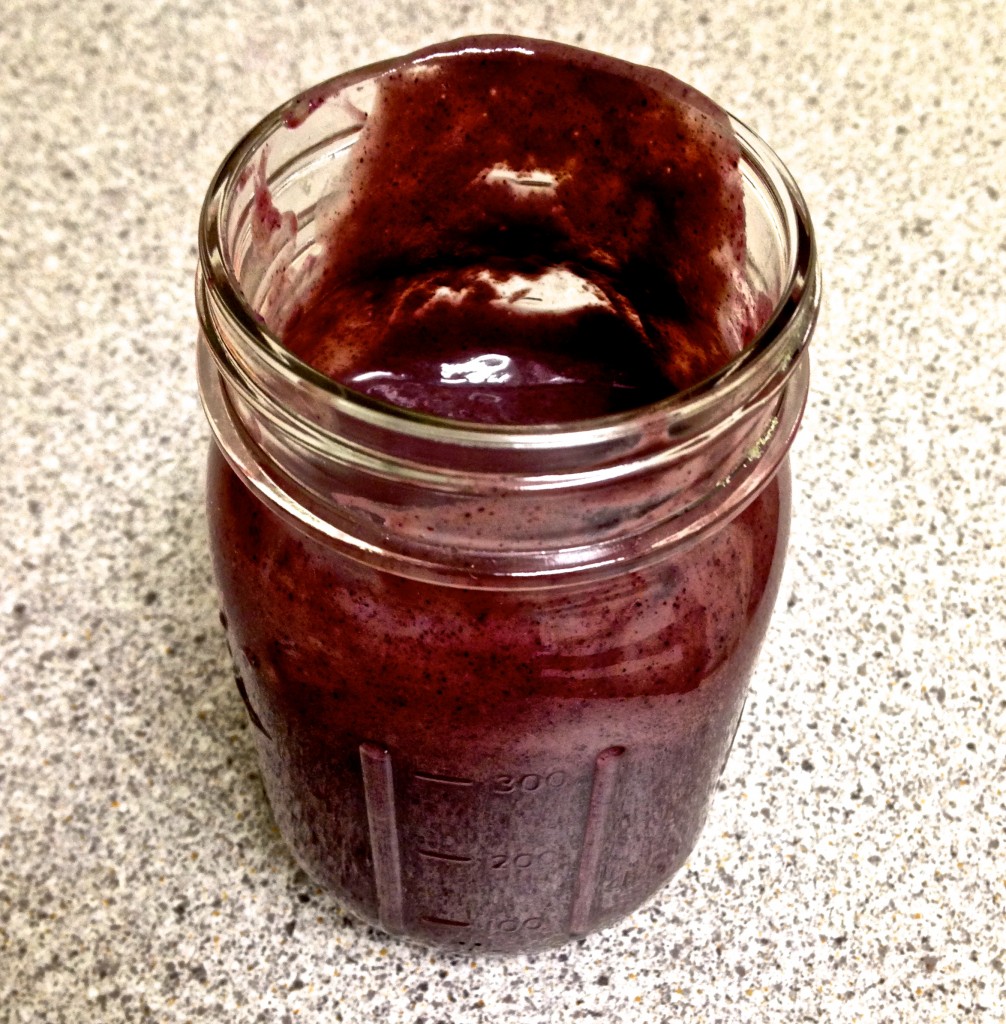 Reader Feedback: What's your favorite smoothie combination?