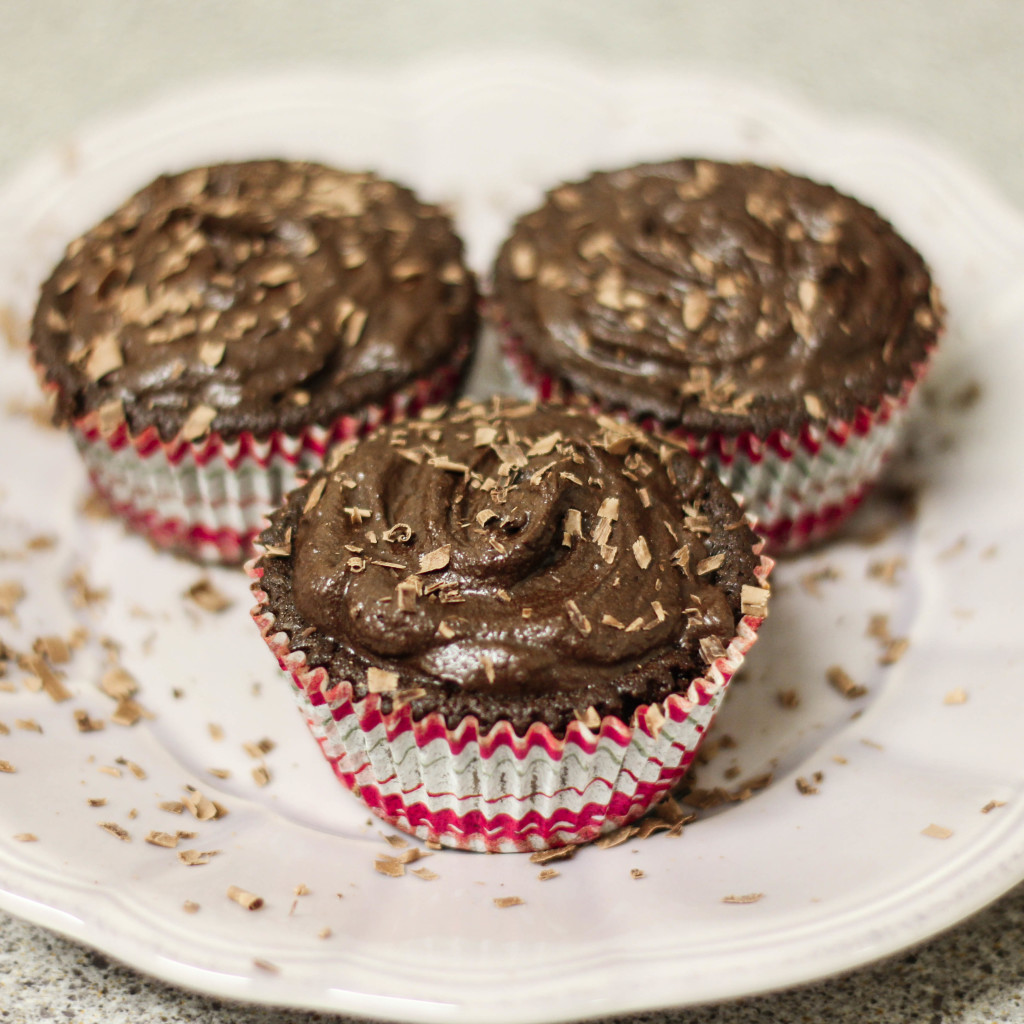 Pure, unprocessed foods make up the majority of my diet. I am careful to avoid my allergens, and never even consider consuming certain foods that I used to love that no longer serve my body well. I believe that, overall, it is best for us to consume whole foods that provide our bodies with nourishment- foods that provide us with sustenance, energy, and an overall state of heath and well-being.
But what about nourishment for our souls?
The busy, fast-paced lifestyles of most modern-society individuals can often be quite stressful and overwhelming. The ability to balance our daily obligations with maintenance of healthy diets and habits, depends entirely on our approach. Drinking fresh-pressed green juice, eating clean, and devoting hours to working out each week are excellent habits to posses, but they will not land us in ideal states of health unless they are supplemented with soul-nurturing practices that keep us true to what we love.
Simply stated, we must remember to listen to our intuition- to be mindful when we are feeling overwhelmed with what we "should" do, and balance that with what we truly want. That may mean taking a rest day from the gym to spend that hour indulging in good book, or giving that endless pile of homework a rest to go to yoga and then bake cupcakes (me today).
Food plays a huge role in nourishment of the soul. With the presence of balance and moderation, indulgence can be a wonderful thing (Yup, go eat that cookie). When we restrict ourselves, we are bound to feel deprived, then unnecessarily break away from our healthy habits to seek the satisfaction that we were missing. Nobody is "perfect," and there is no single "right" way for everyone to eat. My mother eats a square of chocolate each morning upon rising to start her day on a happy note. Spencer looks forward to all-you-can-eat chicken wings one night a week because he enjoys them. I have a soft spot for ANYTHING involving dark chocolate, and I satisfy the craving after each and every one of my long days. Mindful indulgences such as these not only allow us to better maintain our healthy habits, they also provide us with more consistent states of happiness. What's better than that?
Now, onto the recipe that sparked those thoughts.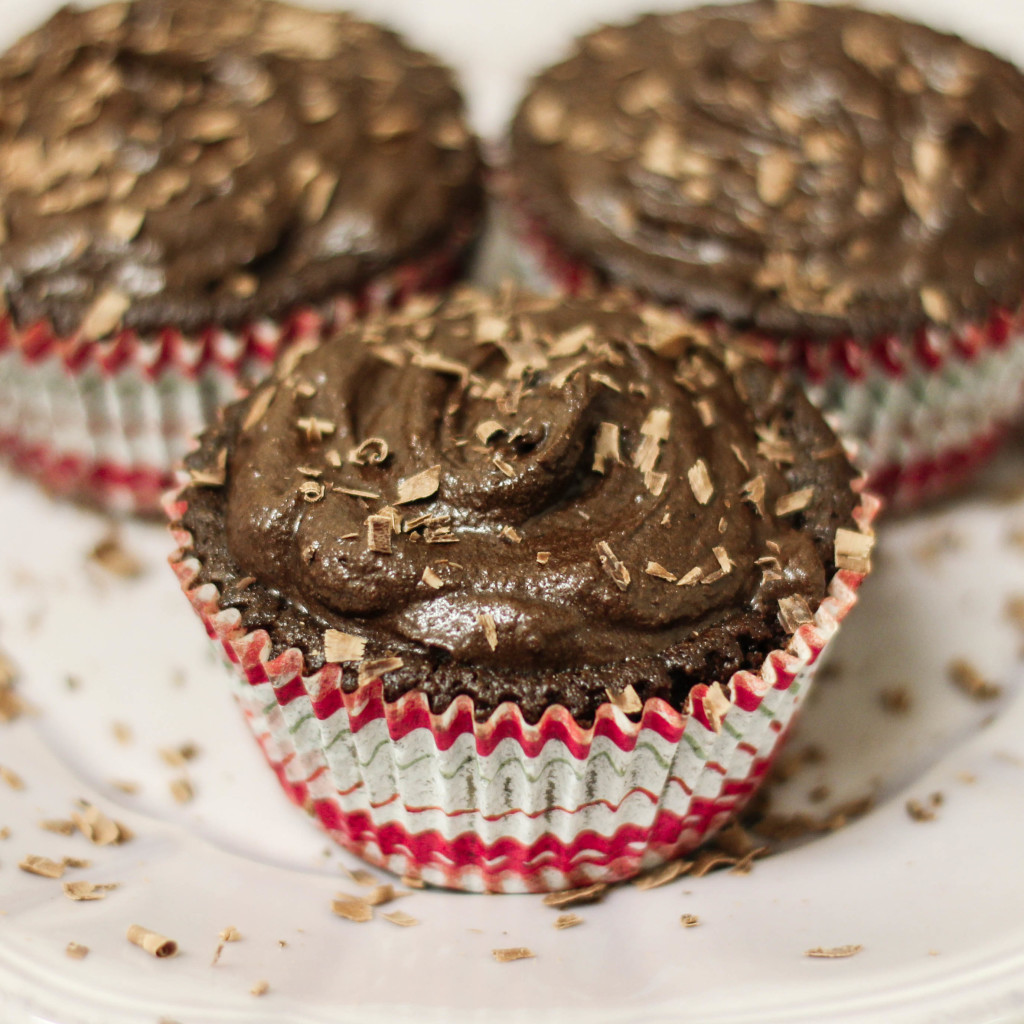 Fudgy, decadent chocolate cake with rich and creamy frosting is undoubtedly my favorite dessert, so days like today are pretty special. These particular cupcakes are 100 percent gluten-free, nut-free, vegan, and refined-sugar free, but I swear you would never know. They are NOT "low-fat" (it is not necessary for them to be), but the fats used in this recipe (coconut oil in the cupcakes and non-hydrogenated palm shortening in the frosting) are healthy contributions to the decadence I was craving. These cakes don't rise very much due to the more nutritiously dense oat flour used, but the texture is simply wonderful, similar to that of a deliciously rich brownie. As for the flavor- this is a close your eyes and savor every bite kind of treat. Let's just say my soul was very content today.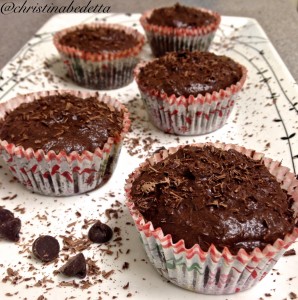 Soul-Nourishing Chocolate Brownie Cupcakes
2014-03-06 23:36:43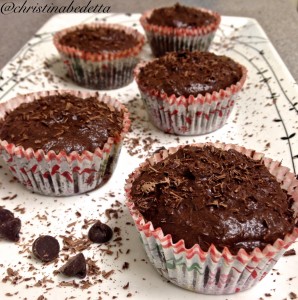 Makes 12 Cupcakes (gf, v, nf, sf)
Ingredients
1 1/4 cups oat flour
1/3 cup unsweetened cocoa or cacao powder
1 tsp baking powder
1/2 tsp baking soda
1/2 tsp salt
1/2 cup coconut oil, melted
1 cup coconut sugar (or sugar of choice)
1 flax egg (1 tbsp ground flaxseed mixed with 3 tbsp water)
2 tsp vanilla extract
3/4 cup boiling water
1/2 cup semisweet chocolate chips mixed with 1 tbsp oat flour, optional
Frosting Ingredients
1/2 cup palm shortening (I used Spectrum brand)
3/4 cup unsweetened cocoa or cacao powder
3/4 cup maple syrup or honey
1 tsp vanilla
Instructions
Preheat oven to 350 degrees. Line a 12 cup muffin pan with cupcake liners and spray lightly with cooking spray.
Stir together the oat flour, cocoa, baking powder, baking soda, and salt in a small mixing bowl.
In a large mixing bowl, mix together the oil, sugar, flax egg and vanilla. Slowly mix in the dry ingredients. Gently stir in the boiling water, then beat until smooth. Allow the batter to sit for a few minutes.
Pour the batter into the lined cupcake pan using roughly 1/4 cup batter for each cupcake. Sprinkle a few of the semisweet chocolate chips into each cupcake, if desired. Bake 18-20 minutes, until a toothpick inserted into the center of a cupcake comes out clean. Cool cupcakes for a few minutes in the pan, then remove them to sit on a wire rack.
For the frosting, beat the shortening with an electric mixer until smooth and fluffy. Gently beat in the cocoa, then gradually add in the syrup and vanilla.
Frost the cupcakes, garnish if desired, marvel at how lovely they look, and dig in!
Notes
These brownie-textured cakes taste even better the day after baking, so they are a wonderful make-ahead dessert option!
Create. Nourish. Love. http://www.createnourishlove.com/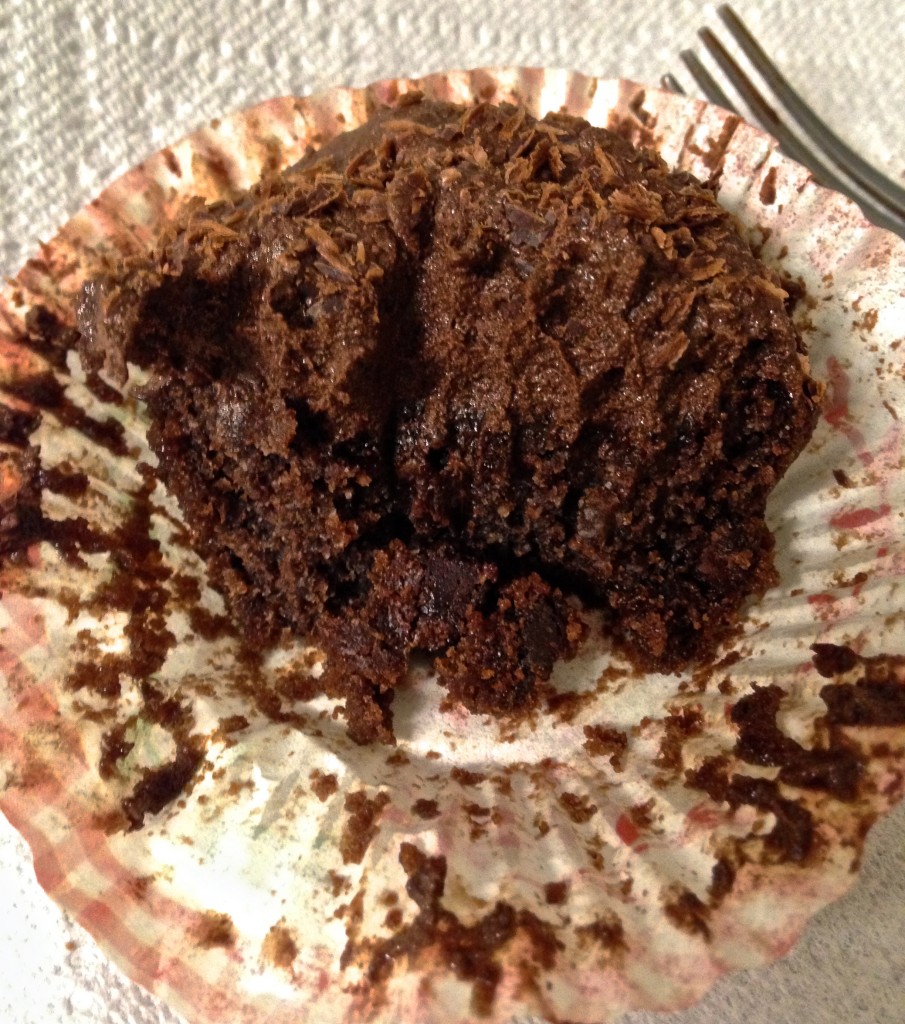 I would love to hear feedback on the recipe! And what are your favorite soul-nourishing indulgences?