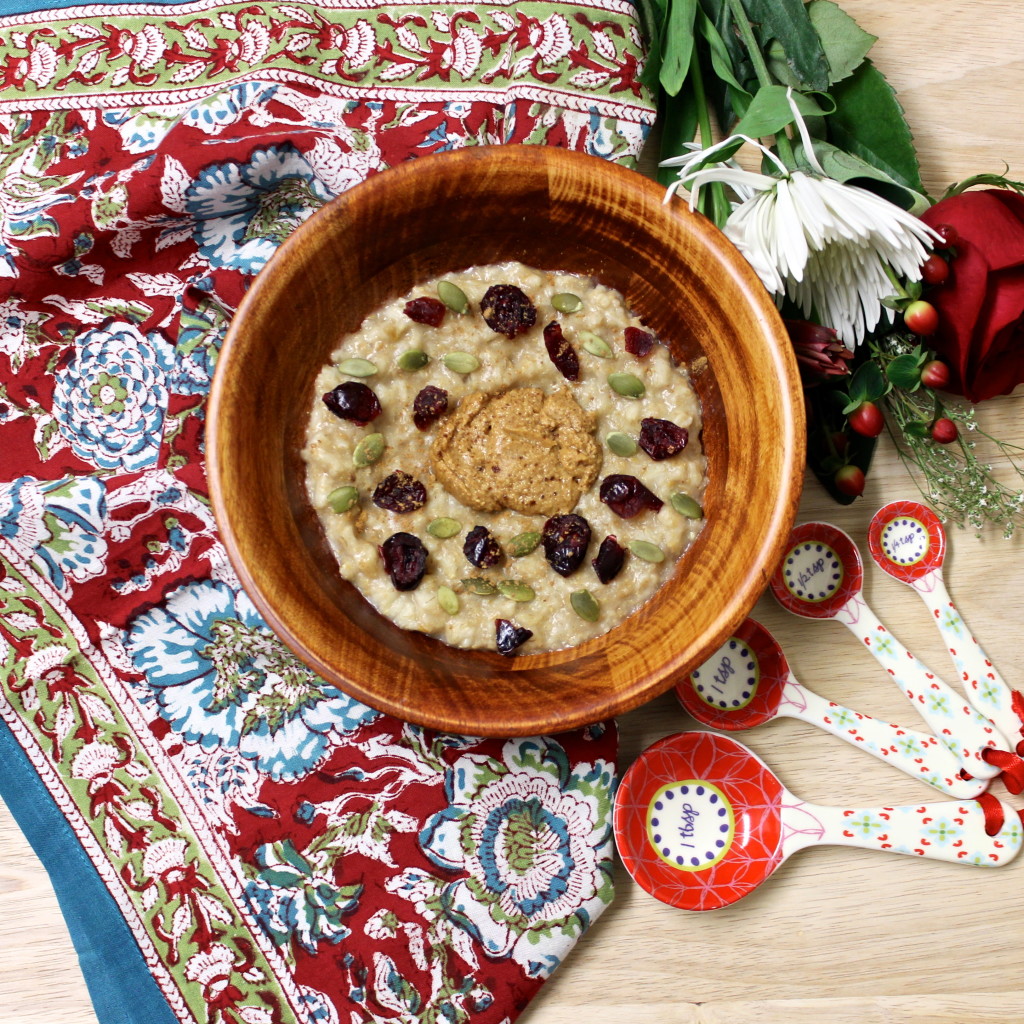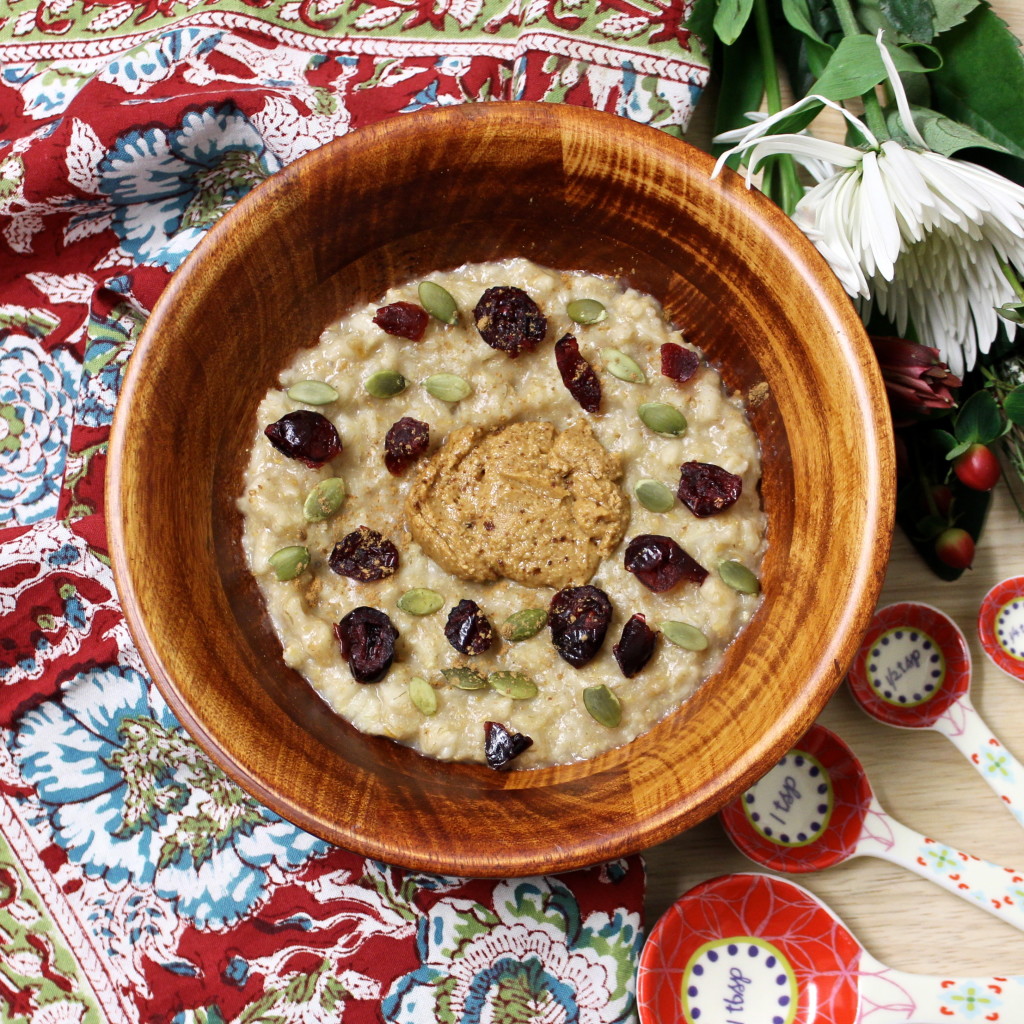 It was another cold and blustery day in Durham today. In addition to daydreams of warmth, weather like this never fails to provoke my cravings for comfort food. Although creamy pasta dishes, steamy soups, and fudgy cakes are at the top of my list, NOTHING even comes close to oatmeal.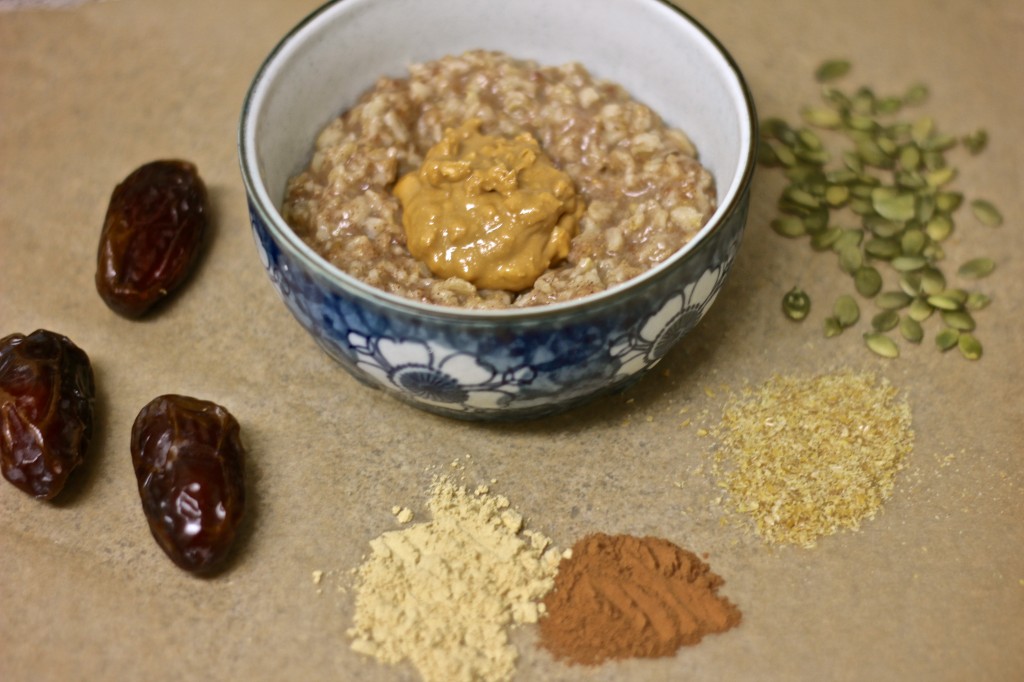 I'm not sure if it is the hearty texture, the nurturing warmth, the childhood memories, or the limitless capacity for versatility that gets me the most, so I will just go with all of the above. It is a known fact that our emotions directly influence what and how much we choose to eat, and oatmeal is a huge player for me here. Whether I am stressed, cold, experiencing digestive distress, or feeling perfectly happy and content, a flavorful bowl of warm oats never fails to provide me with the comfort and satisfaction that I crave.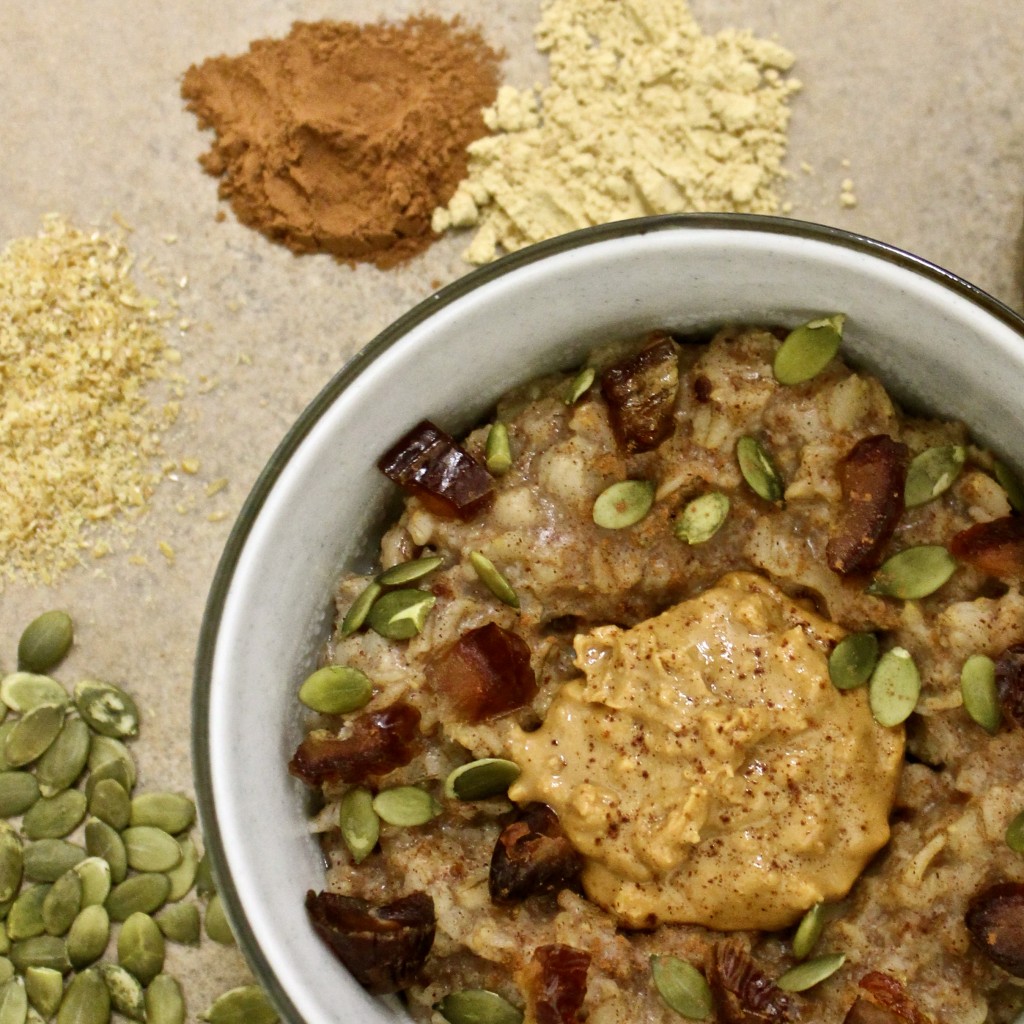 With the emotionally-soothing effects aside, it is also safe to say that the nutritional benefits of oatmeal significantly contribute to its nourishing powers. The antioxidants, magnesium, and soluble fiber content of oats has been shown to help reduce blood cholesterol levels, stabilize blood sugar and insulin levels, and improve both digestion and metabolism!
As if the benefits of oats alone aren't enough, I love to add a delicious combination of other flavors and nutrient-dense goodies to my bowl. Some of my favorites are:
Nut/seed butter- The high protein and healthy unsaturated fat content adds both heartiness and flavor to the bowl.
Medjool dates- Full of fiber and vitamins and minerals such as potassium, iron, B-vitamins, magnesium, and vitamins A and K, not to mention a natural sweetness that compliments anything!
Pumpkin seeds- Packed with protein, zinc, magnesium, manganese, copper, and antioxidants, they add a really nice crunch factor to the bowl!
Flaxseed- Rich in heart-healthy omega-3 fatty acids and anti-inflammatory compounds, and a great contribution to the creamy texture of the oats.
Cinnamon- Aside from its soothing flavor, cinnamon is full of antioxidants that help to stabilize blood sugar levels, improve heart health and brain function, and reduce inflammation in the body.
Ginger- Known for its medicinal anti-viral and anti-inflammatory properties, ginger is an outstanding digestive aid and flavor-booster.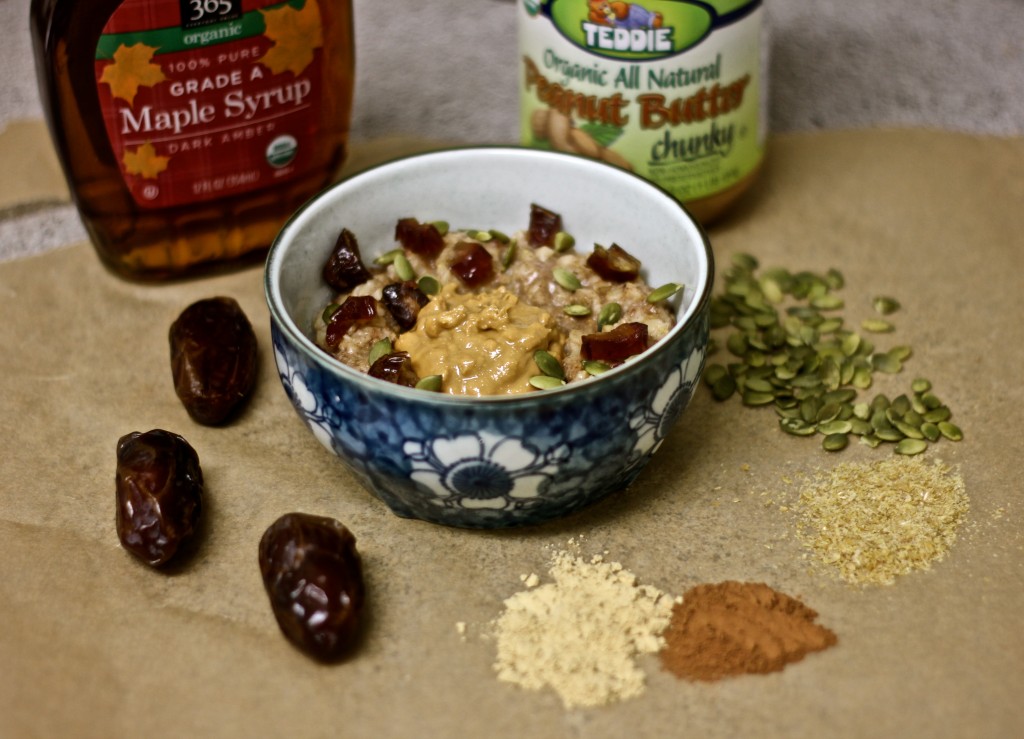 If a combination of nourishing ingredients such as those don't combine to make a delicious bowl of goodness, I don't know what will.
The following recipe takes me right back to my childhood. My mom and dad used to serve me maple quick oats with a spoonful of peanut butter for breakfast regularly, and that combination (and then some) remains my favorite to this day. I enjoy using my favorite all-natural, organic and gluten-free ingredients in this hearty homemade version, but substitutions are always welcome. So go and put your creativity to the test, and enjoy!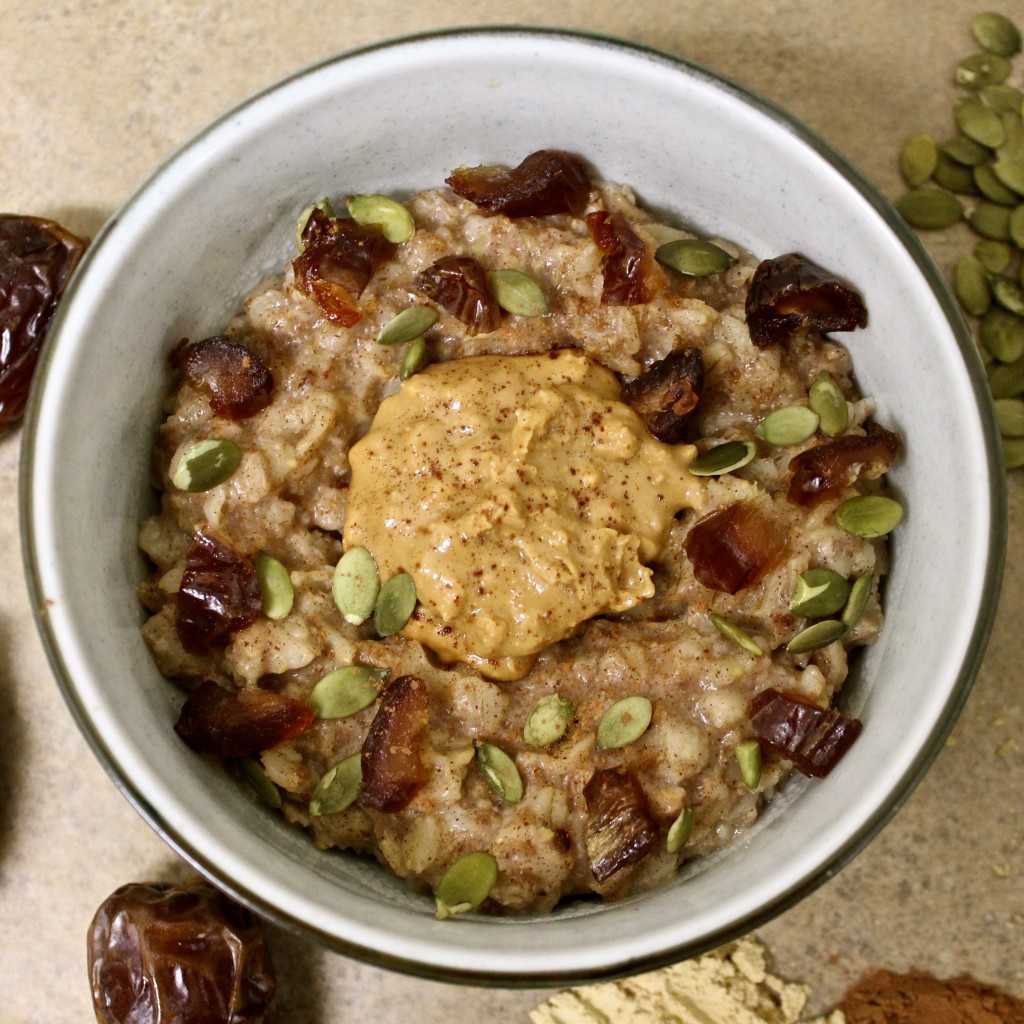 Maple Spice Oatmeal Bowl of Goodness
2014-03-21 16:12:16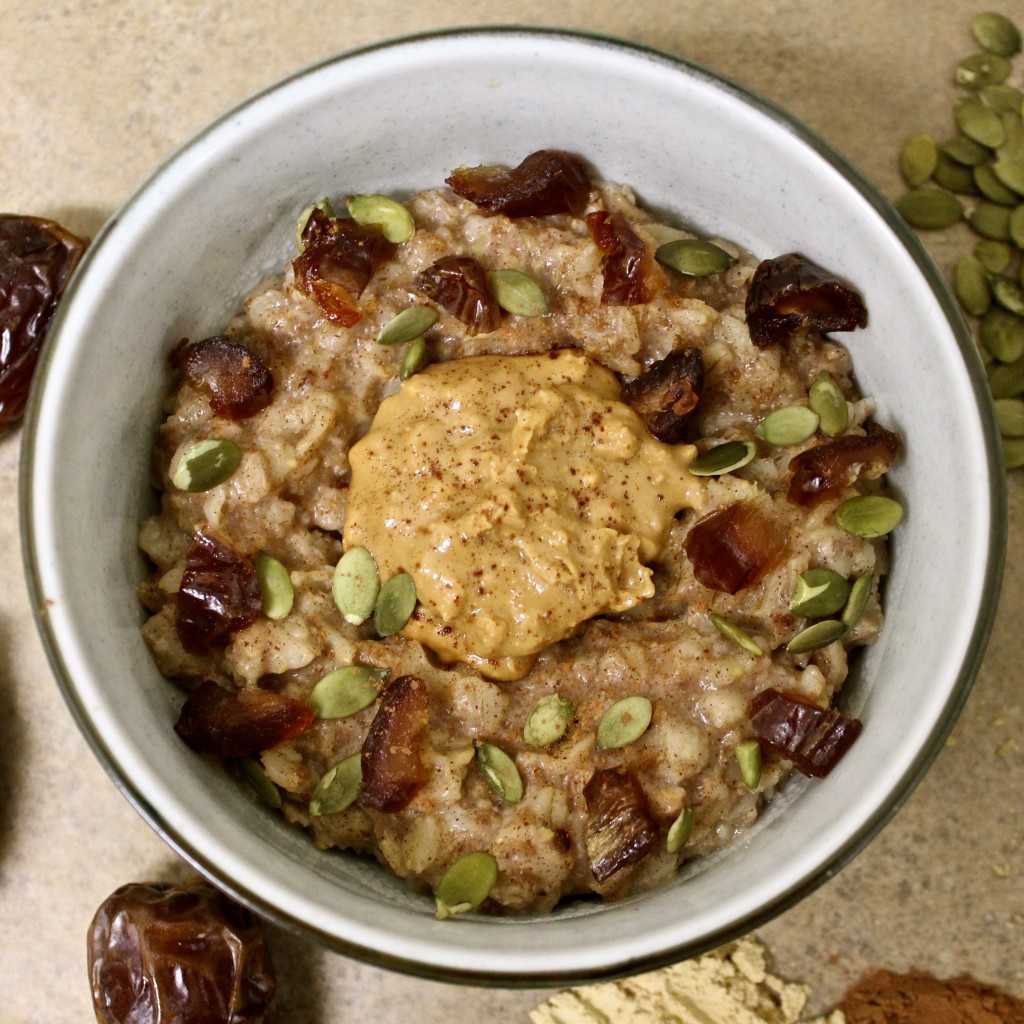 Serves 1
gf, v, nf, sf
Ingredients
1 cup water or non-dairy milk of choice
1/3 cup old-fashioned rolled oats (I use Bob's Red Mill Gluten-Free)
1 tbsp ground flaxseed
1 tbsp pure maple syrup
1/2 tsp cinnamon
1/2 tsp ginger
pinch of sea salt
Recommended Toppings
1 tbsp natural peanut butter or sunflower seed butter
2 large medjool dates, chopped
a generous sprinkle of raw pumpkin seeds
Instructions
Heat water/milk, oats, and a pinch of salt in a small saucepan and bring to a boil. Reduce heat to a simmer on low for about 10 minutes, stirring occasionally, until creamy and almost all liquid has been absorbed. Stir in the flaxseed, maple syrup, and spices.
Remove from heat and transfer oats to a serving bowl. Top with nut/seed butter, dates, pumpkin seeds, or any other toppings you love!
Enjoy!
Create. Nourish. Love. http://www.createnourishlove.com/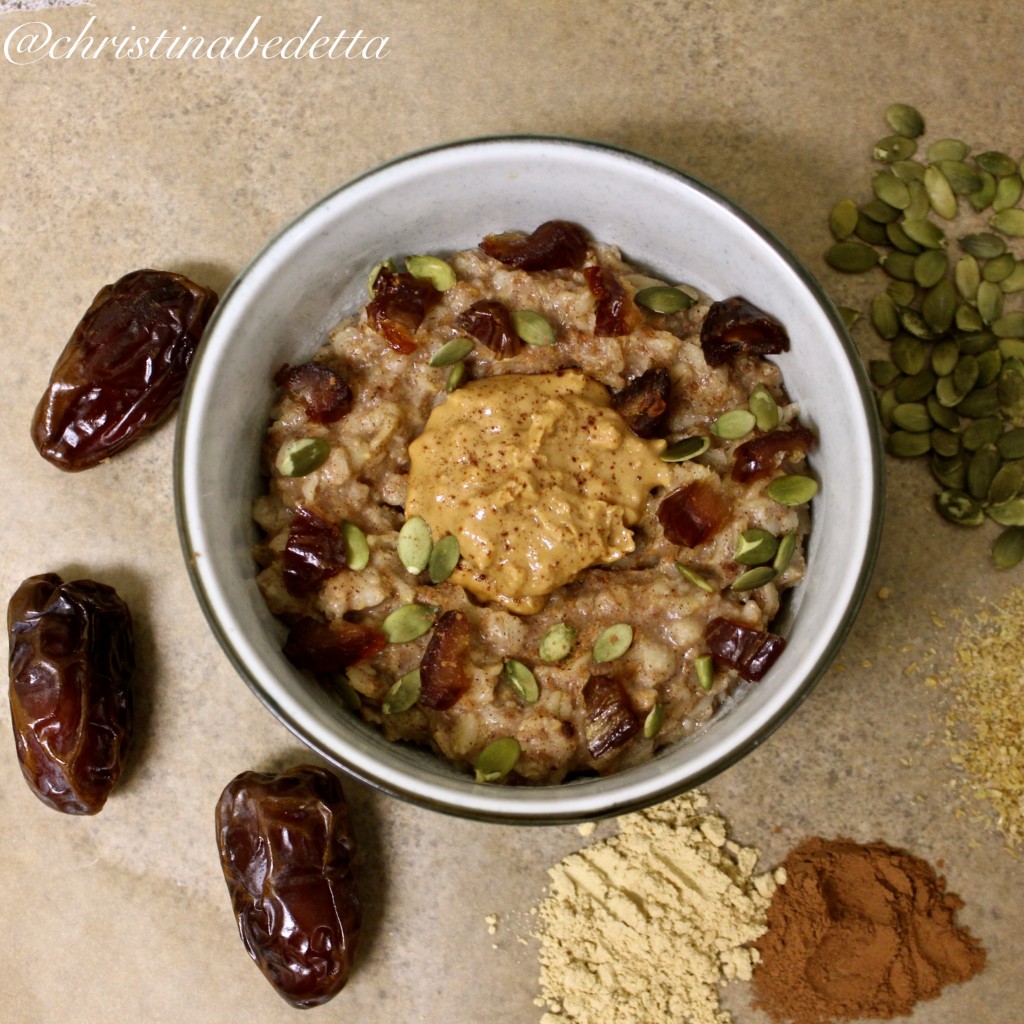 Reader Feedback: What foods are the most comforting for you? What do you put in your oats?!