As I mentioned in my peanut butter granola bar post, I have a thing for energy bars.
Although I have taste-tested energy bars from numerous brands through the years, I have yet to find an ideal bar for my needs (free of my allergens, all-natural, whole and nutrient-dense ingredients, tasty, etc.). However, if I were to pick a winner, it would be the Larabar. I have never been a fan of all the extra unnatural ingredients found in most energy bars, such as artificial flavors and protein isolates. With only a few nutritious ingredients (dates, nuts, and chocolate), Larabars are as pure and simple as it gets. Due to my allergy to certain tree nuts, even these bars aren't perfect for me, as I am often skeptical to eat even the peanut butter flavors due to the threat of cross-contamination. The solution: Make my own homemade "Larabars!"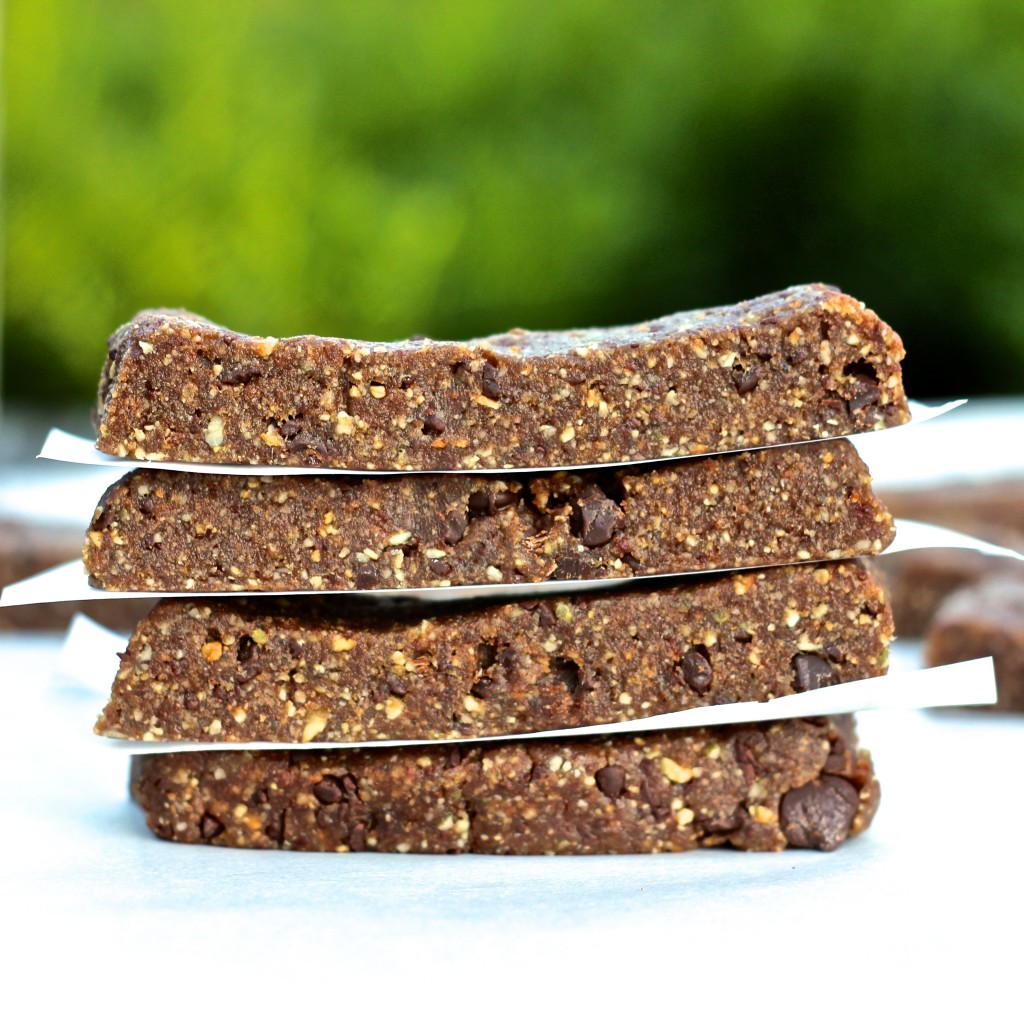 Medjool dates, the primary ingredient in this recipe, hold the bars together beautifully and provide just enough natural sweetness. Due to their richness in minerals and vitamins such as potassium, magnesium, copper, manganese, and vitamin B6, dates are also known to promote optimal heart, brain and digestive health.
Seeds/nuts provide these bars with natural protein, healthy fats, and an awesome crunch factor. I generally use a combination of sunflower and pumpkin seeds, which are also packed with nutrients such as magnesium, zinc, omega-3's, and antioxidant vitamin E!
Chocolate chips act like icing on a cake in this recipe. The bars are great without them, but they are fantastic with them. What can I say, I love to throw chocolate it any and everything that I can. Who doesn't?!
I can say with complete honesty that this is one of the simplest recipes I have ever created. These 3-ingredient bars take less than 10 minutes to whip up (not counting optional refrigeration before cutting), and they are loaded with naturally occurring nutrients, as well as delicious flavors! I had to practically beg Spencer for comments/suggestions for improving my recipe, and even then his only "suggestion" was to make them often enough so he could have one every day!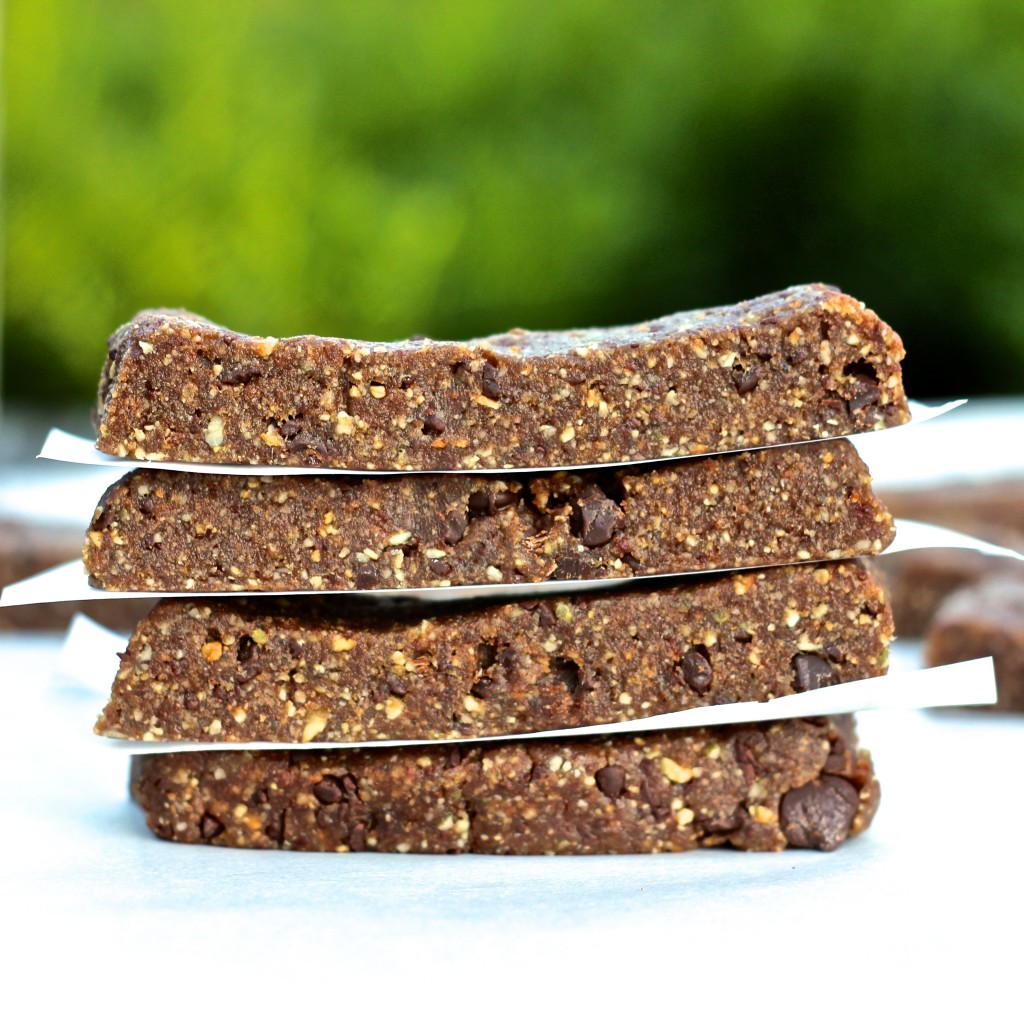 3-Ingredient Energy Bars
2014-06-20 11:13:34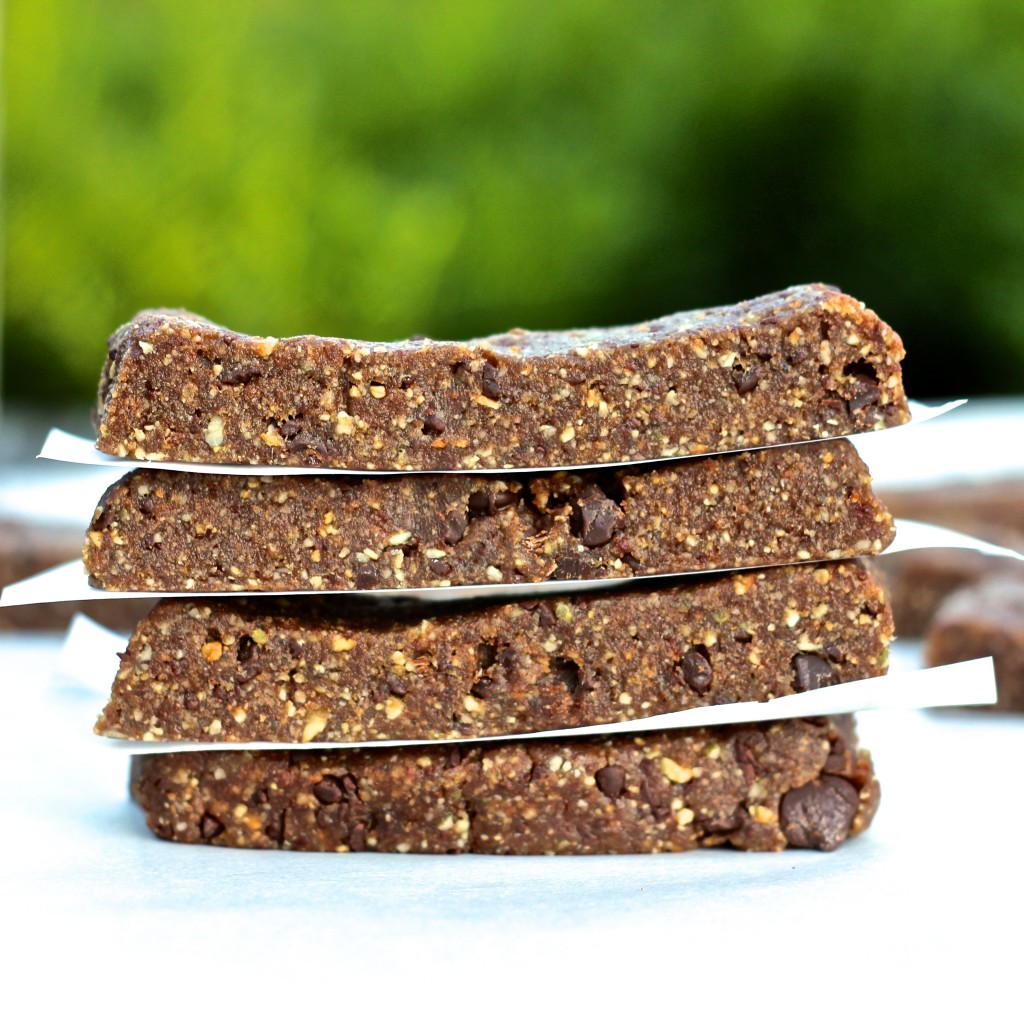 gf, v, sf
Ingredients
1 1/2 cups medjool dates, roughly chopped
1 cup nuts/seeds of choice (I used sunflower and pumpkin seeds)
1/2 cup dark chocolate chips or raw cacao nibs
a pinch of sea salt, optional
Instructions
Line a baking sheet with parchment paper.
Place dates in a food processor and process until they begin to form a paste. Add in the nuts/seeds and continue to process until everything is evenly combined (you may need to scrape down the sides of the processor a few times). Add in the chocolate chips and optional sea salt, and pulse just until they are evenly incorporated.
Pour the dough out onto the parchment-lined baking sheet, and form the dough evenly into a compact rectangle, about 1/2-inch thick. Place dough in the refrigerator for about 30 minutes.
Remove from refrigerator and slice into 10 bars. Enjoy!
Notes
*These bars are best stored in an airtight container in the refrigerator.
Create. Nourish. Love. http://www.createnourishlove.com/