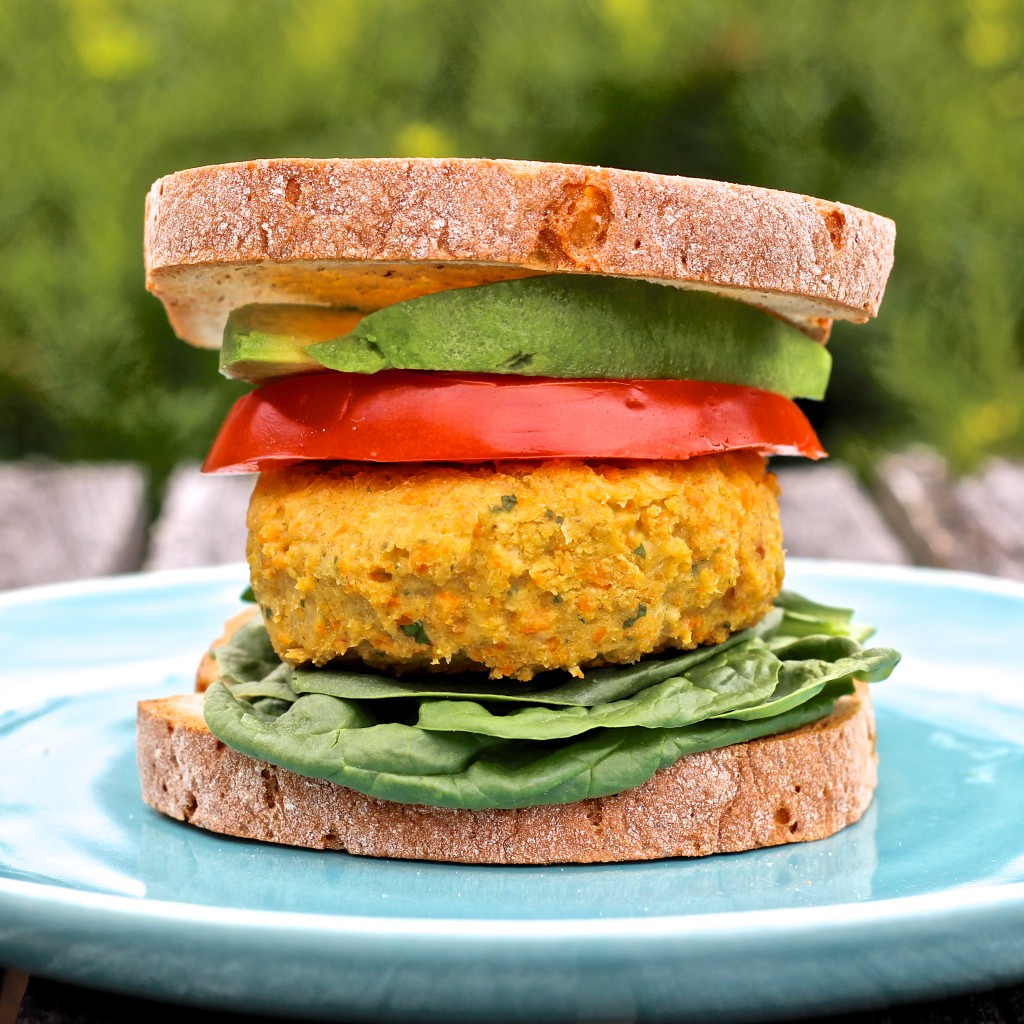 Even before becoming a vegetarian, I always had a fascination with veggie burgers. One thing that I learned from taste-testing them at numerous restaurants through the years is that no one veggie burger tastes the same because they all contain different combinations of ingredients. When it comes to making veggie burgers, there are no rules, and creativity is the only real requirement. From veggies and rice, to mushrooms and nuts, to quinoa and beans, to all of those combined together and beyond, the possibilities truly are limitless.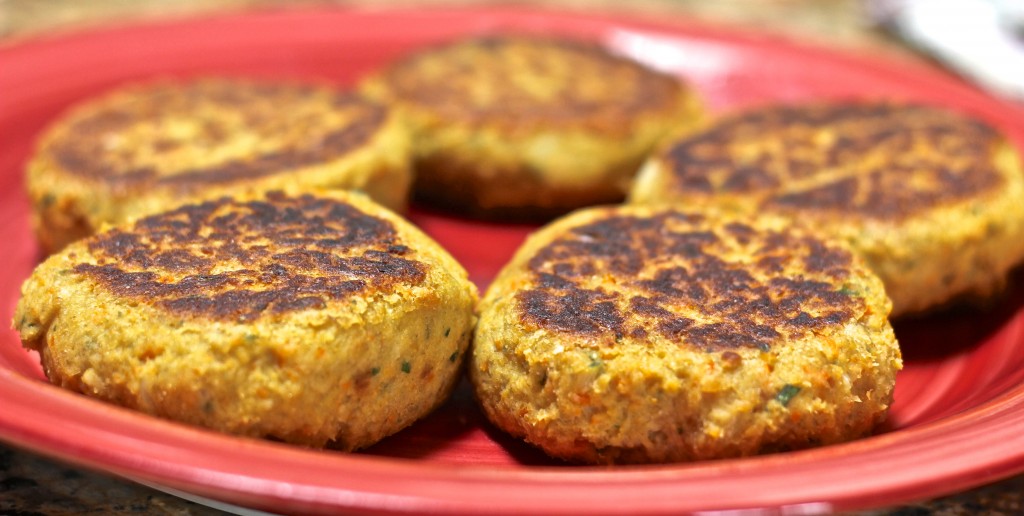 Although I have experimented with various combinations for my personal recipes, I always like to ensure that my burgers are packed with both protein and nutrients. The name "veggie burger" may be misleading to some, but I can assure you that they are not only comprised of vegetables as the name seems to imply! Here are some of my personal favorite nourishing ingredients to use in my burgers:
Beans/legumes- Chickpeas, lentils and black beans are my go-to beans to alternate using in my burgers. They all provide significant protein, fiber, iron, magnesium, B vitamins, and blood sugar-stabilizing benefits.
Veggies (obviously!)- Garlic and onion are always a must, but I also enjoy adding carrots, sweet potato, bell peppers, zucchini, mushrooms, spinach, and the list goes on and on. You can't go wrong when it comes to the vitamins, minerals, and antioxidants that pure veggies have to offer.
Whole grains- Veggie burgers often need either flour or a cooked grain to help bind all of the ingredients together. I always choose a nutrient dense gluten-free flour such as oat, brown rice, or quinoa flour to get the added benefits of whole grains. As for cooked grains, rice seems to be the staple in many restaurant veggie burgers, but I also love to experiment with cooked quinoa for the added protein, amino acids, and mildly earthy flavor.
Seeds- I love experimenting with sunflower, pumpkin, flax and hemp seeds in my burgers for added flavor, crunch, healthy fats and protein!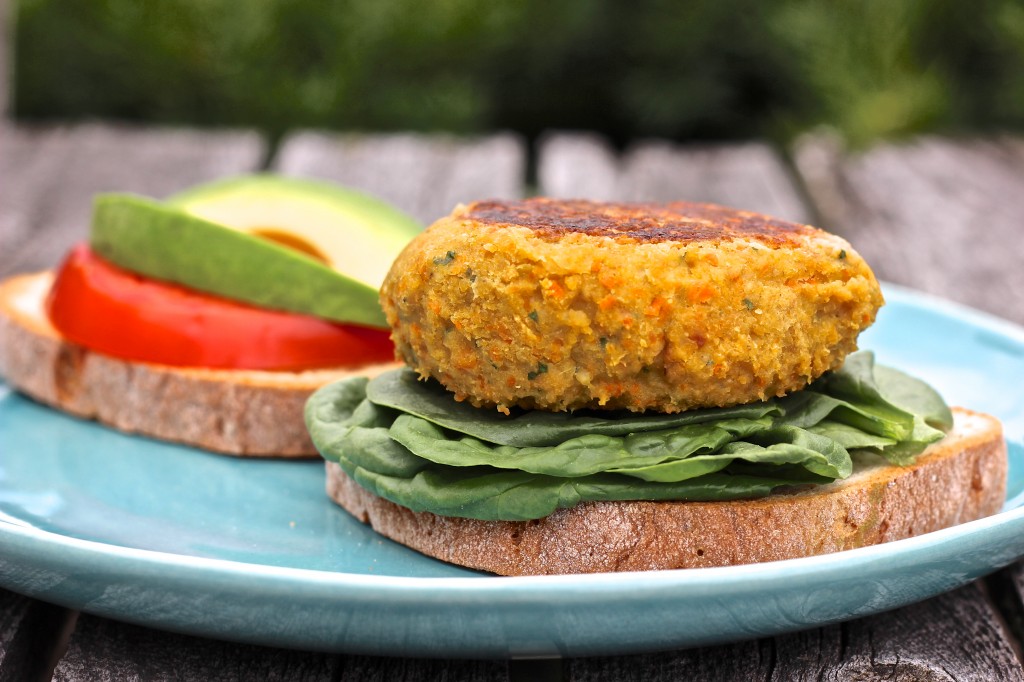 The following is my go-to base recipe when I am craving a veggie burger and desire to keep the preparation simple. It is incredibly versatile, and I have found the method to be successful with various ingredient combinations, so feel free to modify the type of beans, veggies and herbs in the recipe to suit your taste buds! Enjoy!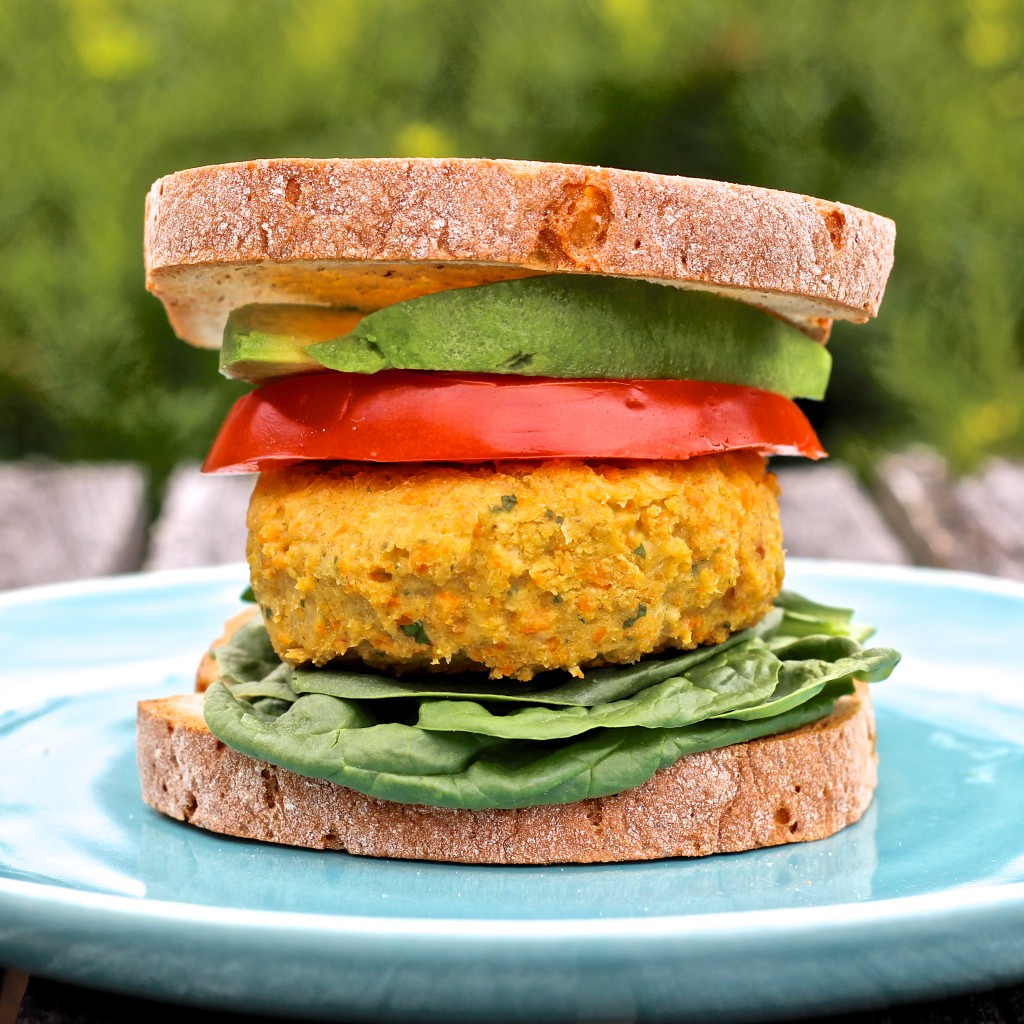 Basic Veggie and Bean Burgers
2014-07-26 23:57:05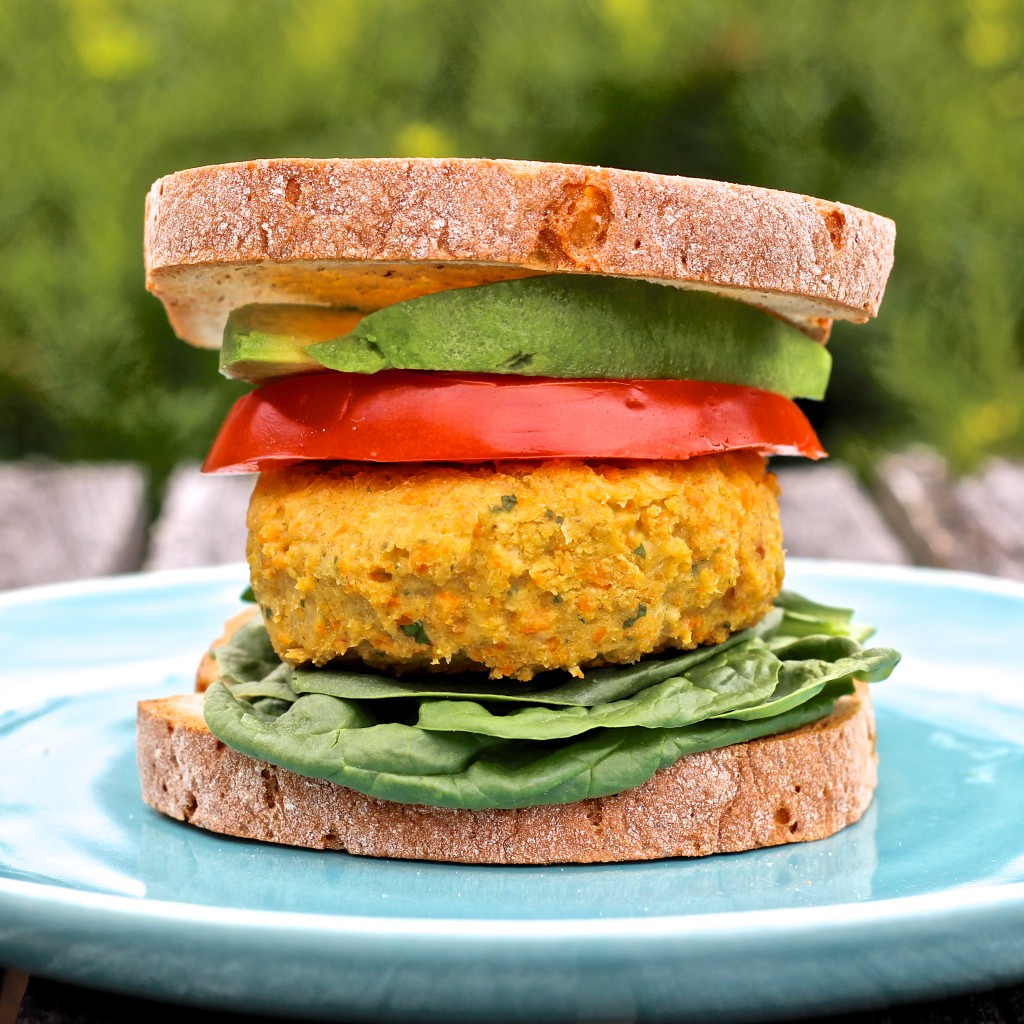 Serves 4
gf, v, nf, sf
Ingredients
1 1/2 cups cooked chickpeas/beans of choice (may be from 15 oz. can)
2 tbsp olive oil
2 cloves garlic, minced
1 small white onion, diced
2 small carrots, diced
1/2 cup gluten-free flour (I used oat)
1 flax egg*
2 tbsp chopped fresh herbs (I used basil)
1 tsp cumin
1/2 tsp sea salt
Instructions
Heat olive oil in a medium skillet over medium-low heat. Add garlic, onion, and carrots and cook 5-10 minutes, until softened and fragrant.
Combine all ingredients in a food processor and pulse until well combined. Form the mixture into 4 round patties.
Cook in a skillet that has been lightly coated with olive oil over medium heat, about 5 minutes per side.
Notes
*1 tbsp ground flaxseed mixed with 3 tbsp water (set aside for 10 minutes). A regular egg (not vegan) also works.
**These burgers can be served warm or cold. They are delicious sandwiched between toasted gluten-free bread with some greens and tomato and avocado slices, or over a refreshing salad!
Create. Nourish. Love. http://www.createnourishlove.com/