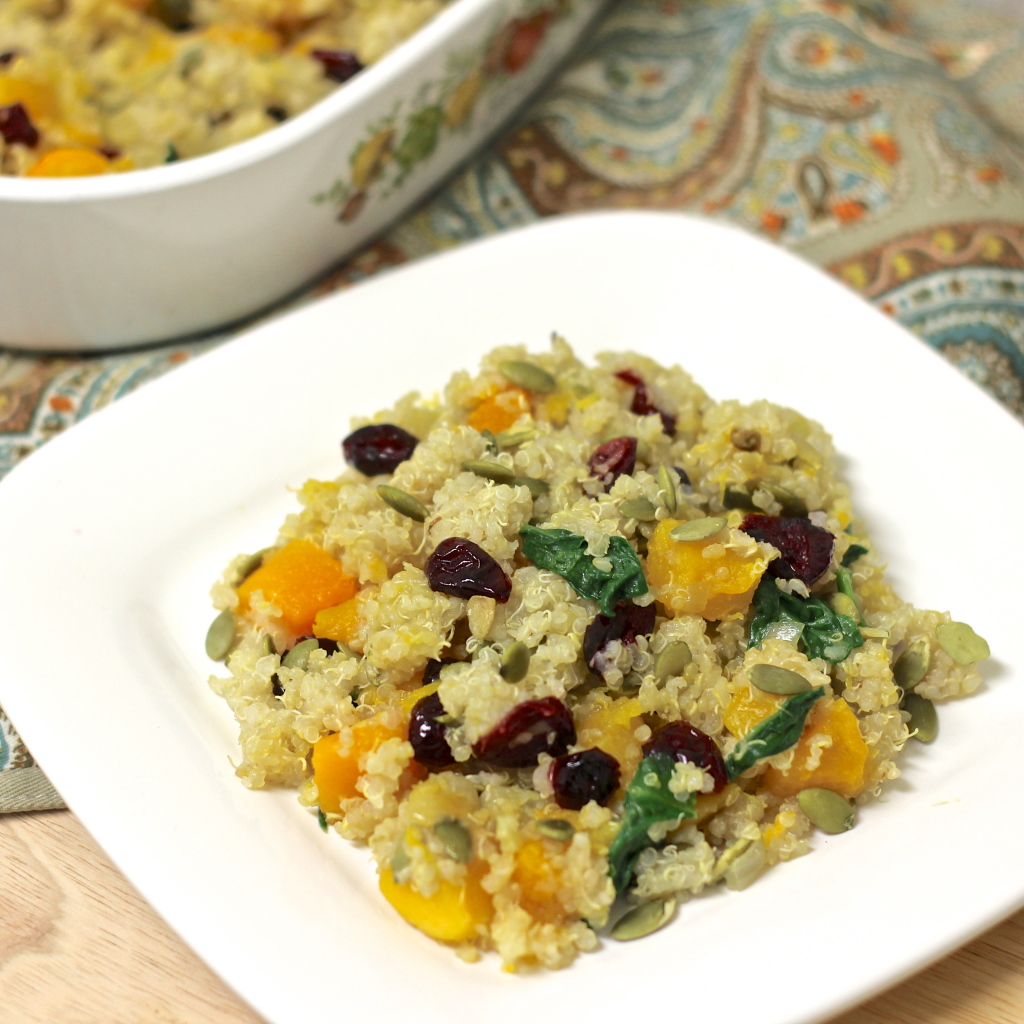 Autumn. Nothing beats the natural beauty of its vibrant foliage, crisp air, and, most importantly, seasonal produce.
From spiced pumpkin baked goods to stuffed acorn squash, it is rare for me to go even one day without cooking seasonal produce during the fall. Although it is difficult to choose, I would have to say that butternut squash is my favorite autumn delicacy, and possibly one of my all-time favorite foods. Not only is it packed with fiber, potassium, B-vitamins and antioxidant-rich beta carotene and vitamin C, it is also incredibly versatile with regards to both flavor pairings and cooking methods.
I love to sauté or roast a large batch of butternut squash at the beginning of the week and simply toss it into my meals each day, from salad bowls to pizza. This particular butternut squash and quinoa dish is one that I created with Thanksgiving in mind, featuring various nutritious ingredients that combine to make a perfectly balanced meal or side dish. I recently prepared it for a gathering with friends (some photos below!), and cannot wait to make it for my family this holiday season. So simple and so delicious, I guarantee that you, too, will most definitely want to share this with the people you love!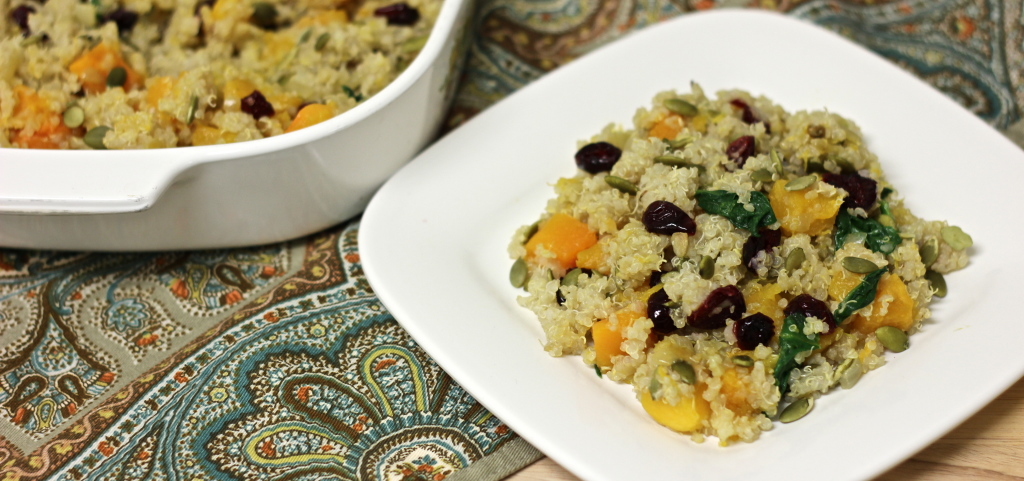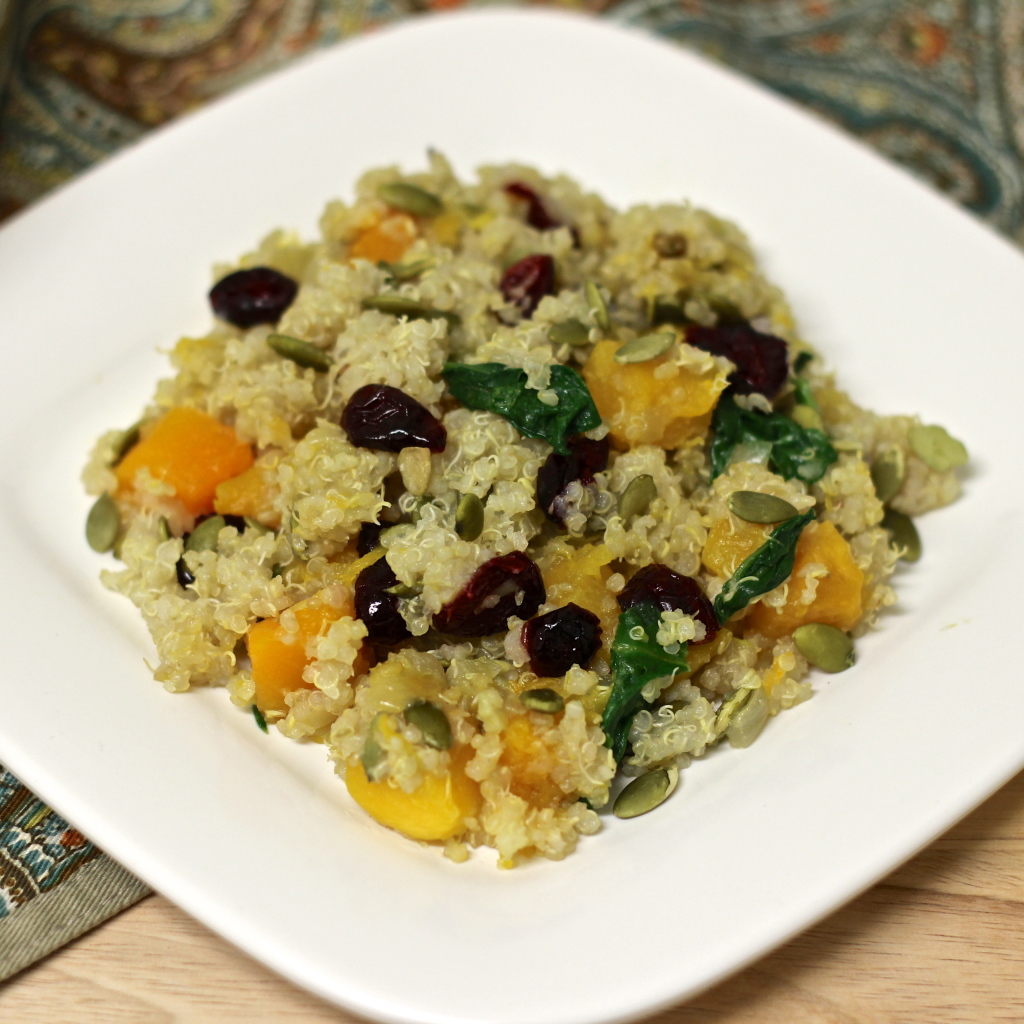 Autumn Harvest Quinoa
2014-11-05 23:11:05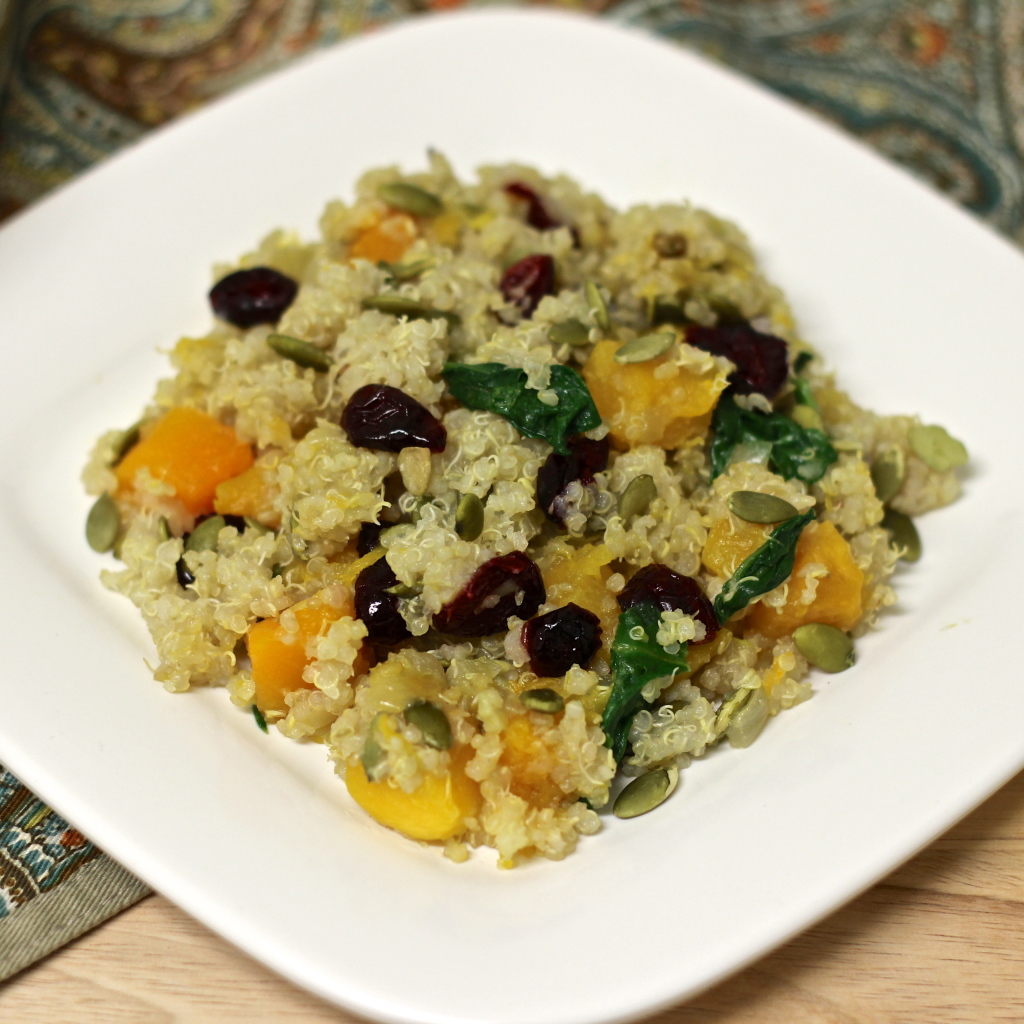 Serves 6
gf, v, nf, sf
Ingredients
1 1/2 cups quinoa
2 tbsp olive oil
2 cloves garlic, minced
1 large onion, diced
3 cups butternut squash, cut into 1-inch cubes
3 cups fresh spinach or kale, stems removed
3/4 tsp sea salt
1/2 cup dried cranberries
1/2 cup pumpkin seeds
Instructions
Combine quinoa and water in a medium saucepan and bring to a boil. Cover with a lid and reduce heat to simmer for 15 minutes. Remove from heat and allow to sit for 5 minutes, still covered. Remove lid, and fluff with a fork.
Meanwhile, heat oil in a large nonstick skillet over medium heat, and sauté onion and garlic for about 3 minutes, until fragrant. Add cubed butternut squash and sea salt and sauté, covered but stirring occasionally, for about 20 minutes, until squash is tender. Add in spinach/kale and sauté 5 more minutes. Remove from heat.
Toss quinoa with cooked vegetable mixture, dried cranberries, and pumpkin seeds in a large bowl. Serve and enjoy with friends!
Create. Nourish. Love. http://www.createnourishlove.com/