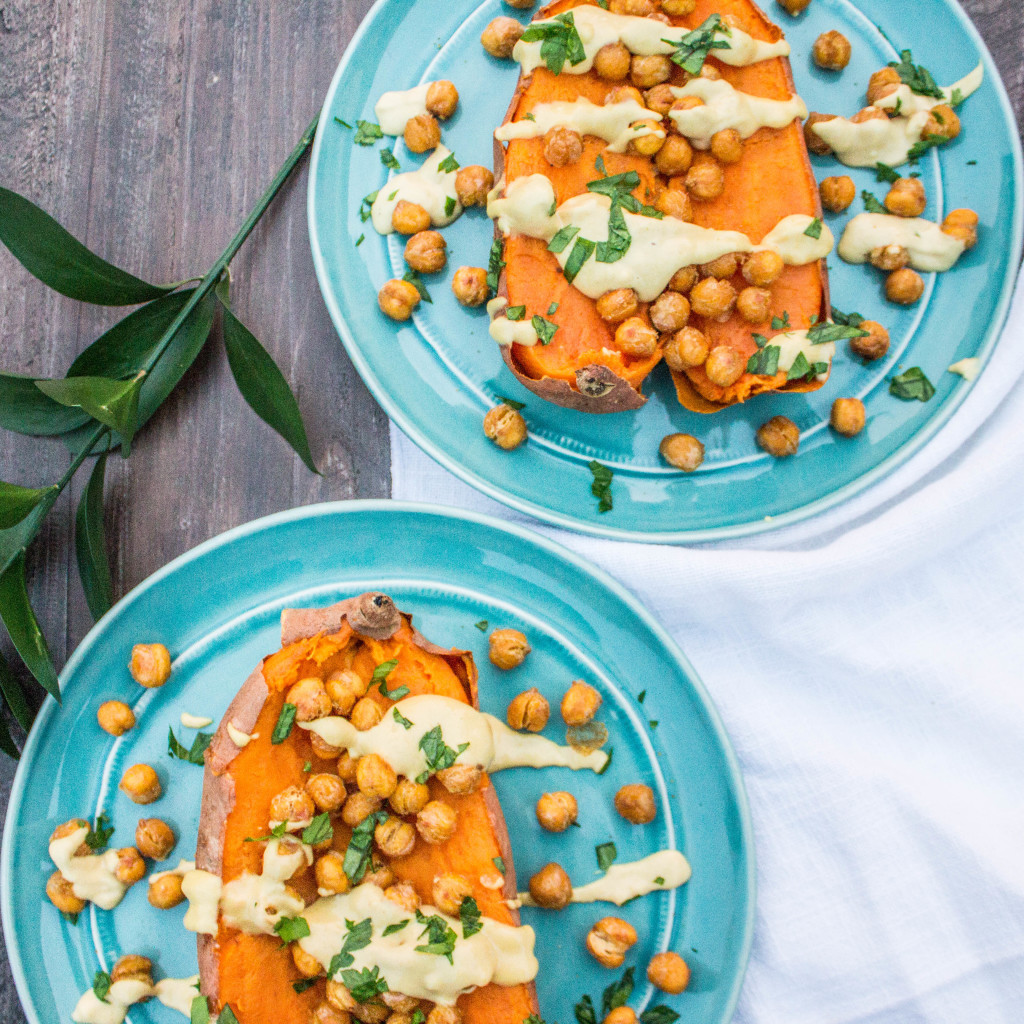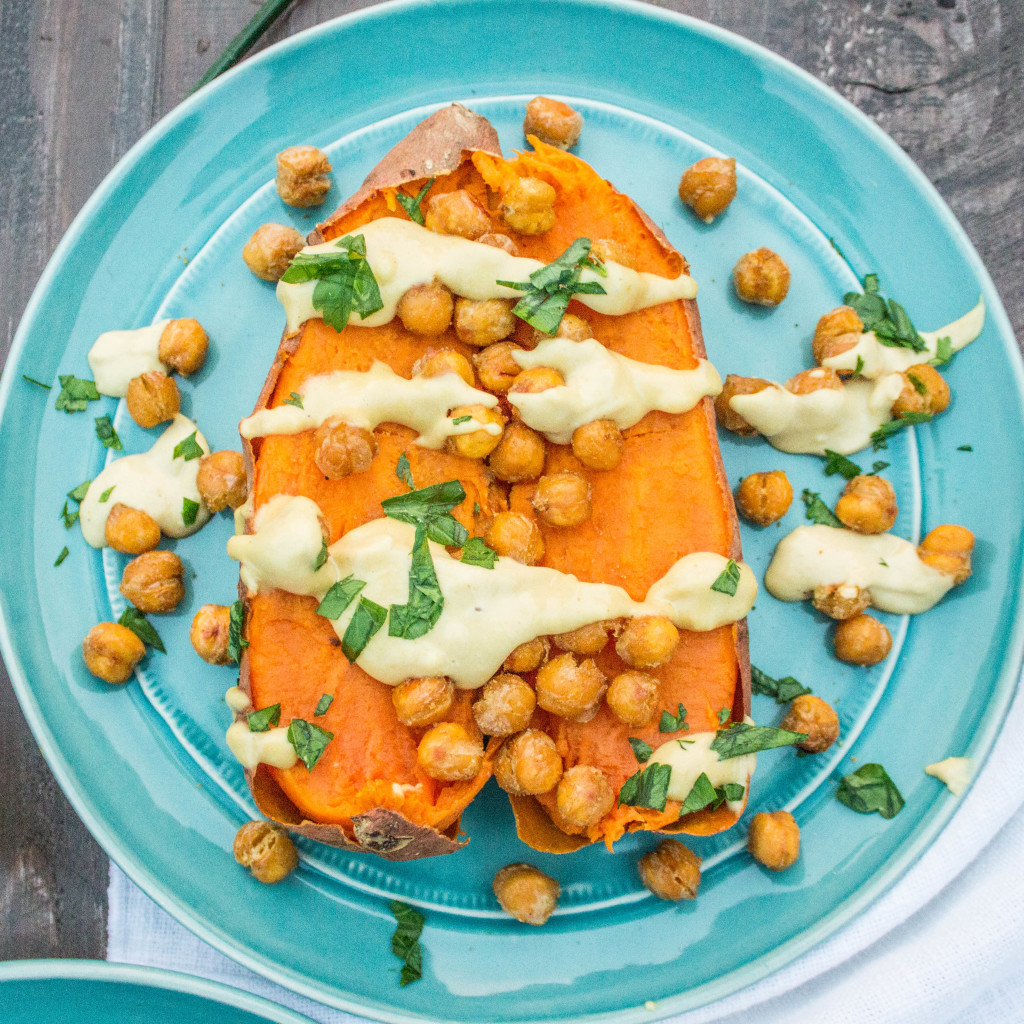 I am always looking to create meals that encompass both simplicity and big flavors.
Tortilla pizzas and simple pasta dishes are often my go-to meals for those days that I just don't feel like making a mess in the kitchen. Leftovers are always an option, but I generally like to incorporate at least some cooking in my meal preparation to wind down and do what I love. The solution? My current favorite is stuffed sweet potatoes!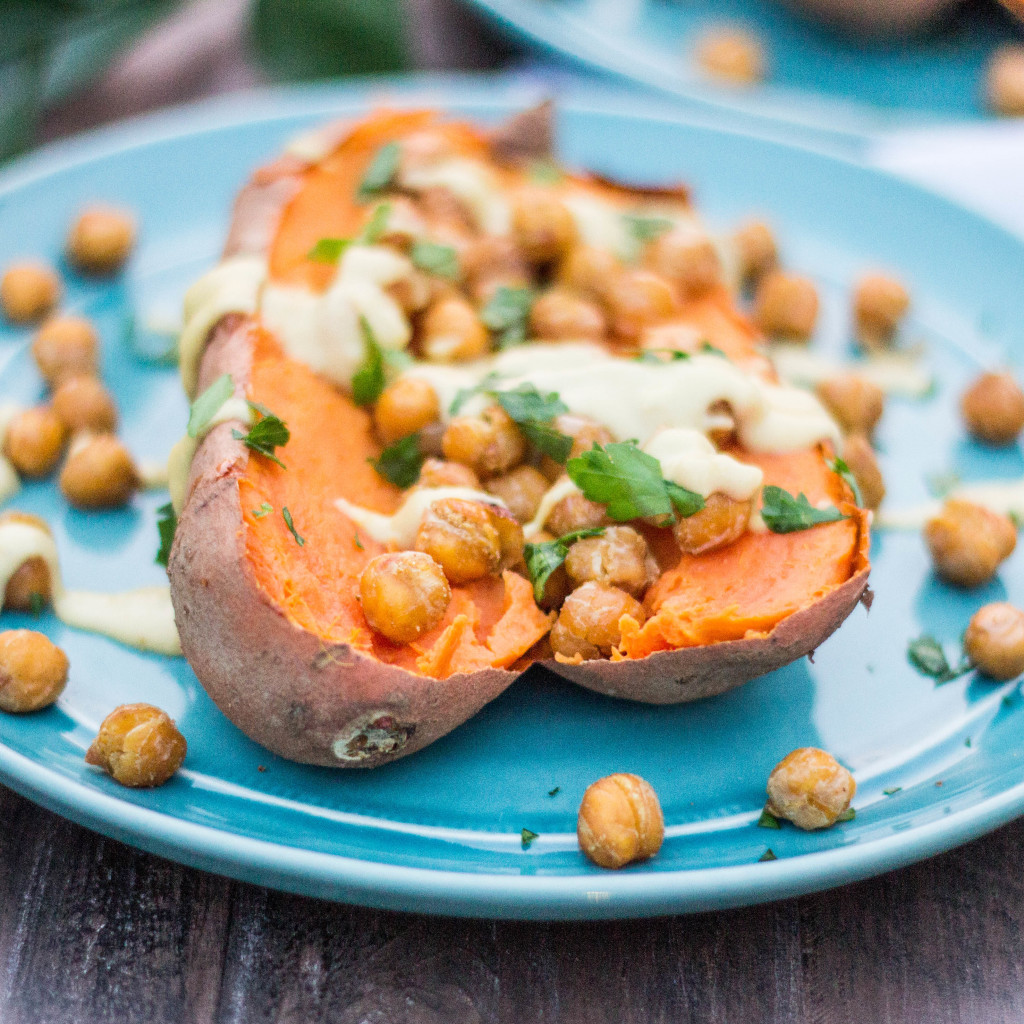 Naturally loaded with Vitamin A, fiber, potassium, B-vitamins and powerful antioxidants, simple sweet potatoes make the perfect base for a nourishing meal. Load them up with a nice source of protein and your favorite flavorings, and you are good to go!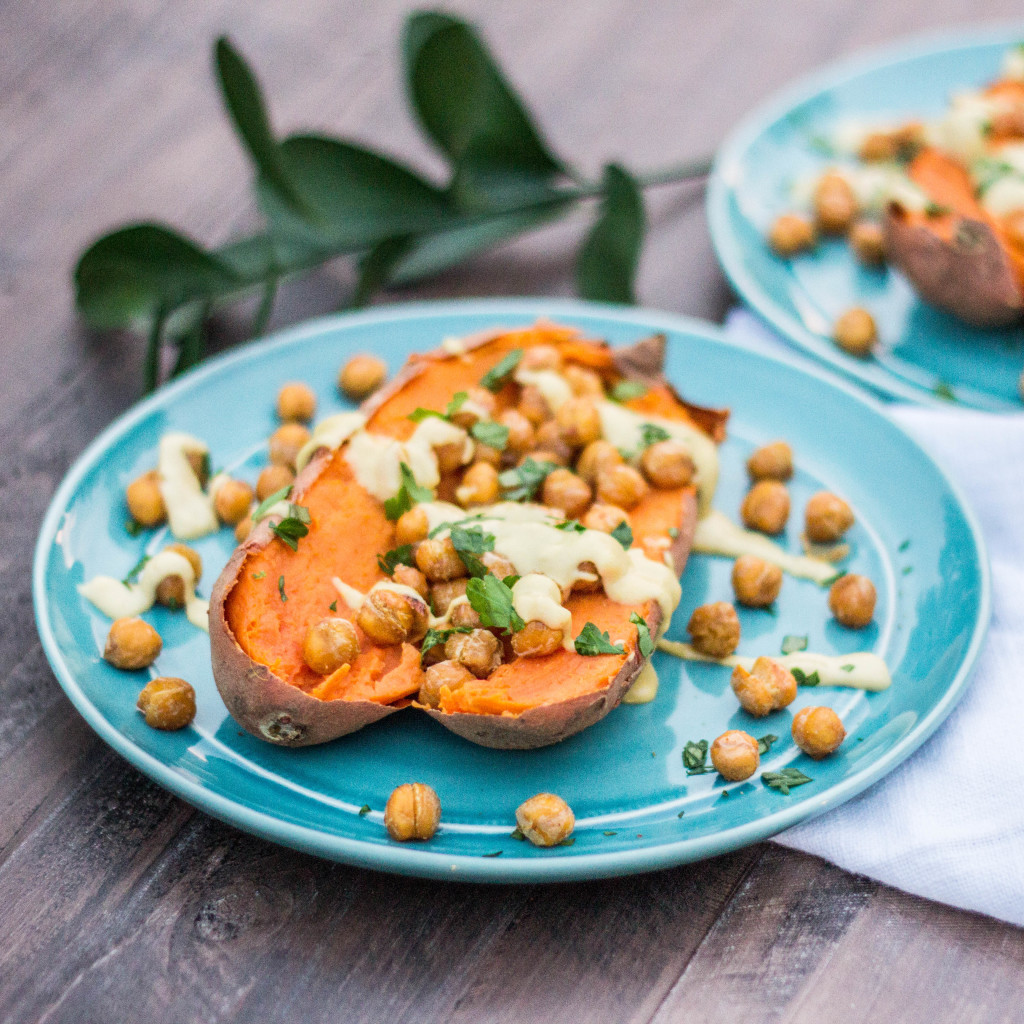 This simple recipe was inspired by my mother's countless (often strange) stuffed sweet potato meal combinations. She often sent me photos of her meals of sweet potatoes stuffed with her favorite leftovers while I was away at college. Although they all weren't necessarily combinations that I would make, they inspired me to get creative with combinations that I (and, hopefully, others) would love. The following recipe includes scrumptious oven-roasted chickpeas, yummy flavorings and a creamy sauce that work together in a truly beautiful way. Feel free to get creative and substitute and add your favorite ingredients to make the ultimate, easy stuffed sweet potatoes for your taste buds!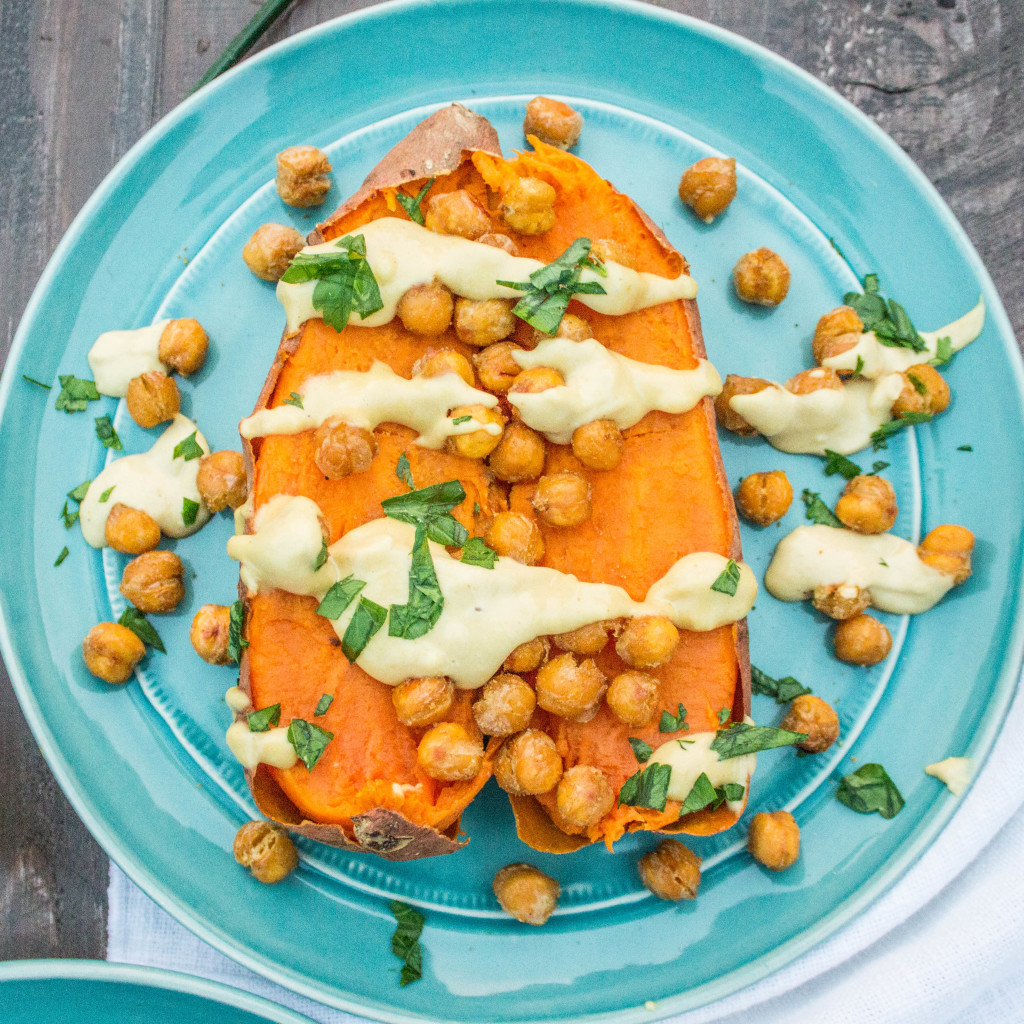 Roasted Chickpea Stuffed Sweet Potatoes with Creamy Tahini Sauce
2015-05-27 23:47:08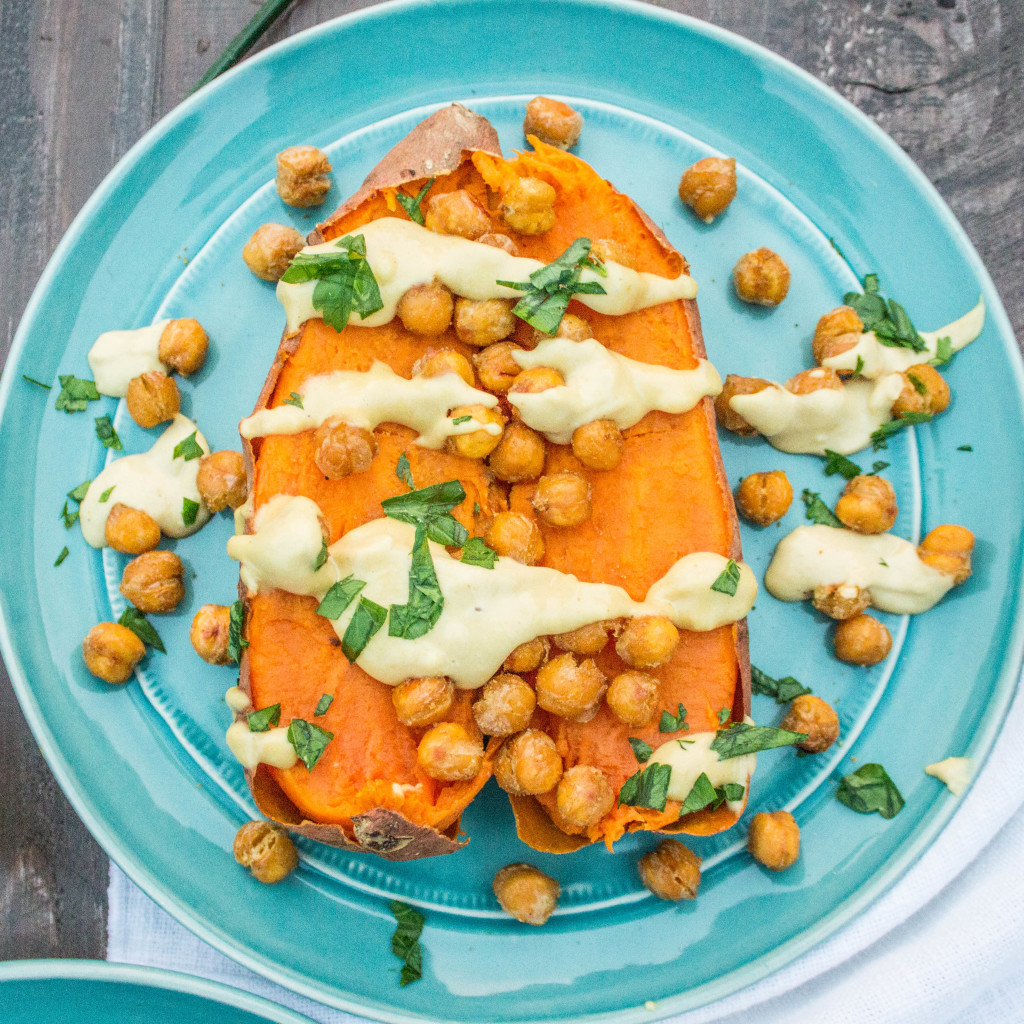 Serves 4
gf, v, nf, sf
Ingredients
4 medium sweet potatoes, rinsed and scrubbed
1 batch oven-roasted chickpeas (approx. 1 1/2 cups), see recipe link above
1/4 cup chopped fresh herbs (parsley and basil work very well here!)
Creamy Tahini Sauce, see recipe link above
Other veggies and toppings of choice
Instructions
Preheat oven to 400 degrees F, and line a baking sheet with aluminum foil.
Prick holes into the sweet potatoes with a fork. Place onto the prepared baking sheet and bake 40 minutes to 1 hour, until the center of the potatoes are soft when pricked with a knife. Remove from the oven and allow to cool for a few minutes.
Meanwhile, prepare the roasted chickpeas and creamy tahini dressing.
Slice the potatoes down the center, almost to the bottom but not all the way through. Stuff each sweet potato with the roasted chickpeas and any other veggies of choice. Top with the fresh herbs and creamy tahini sauce. Serve and enjoy!
Create. Nourish. Love. http://www.createnourishlove.com/