I am always on the look out for delicious snacks that I can enjoy both at home and on the go when I am pressed for time. Grocery store options are often highly-processed with unnecessary ingredients, and even the more natural snacks can be questionable when allergies and intolerances are in the picture. A simple solution is nutritious homemade snacks that can be made quickly, with real-food ingredients that you can pronounce!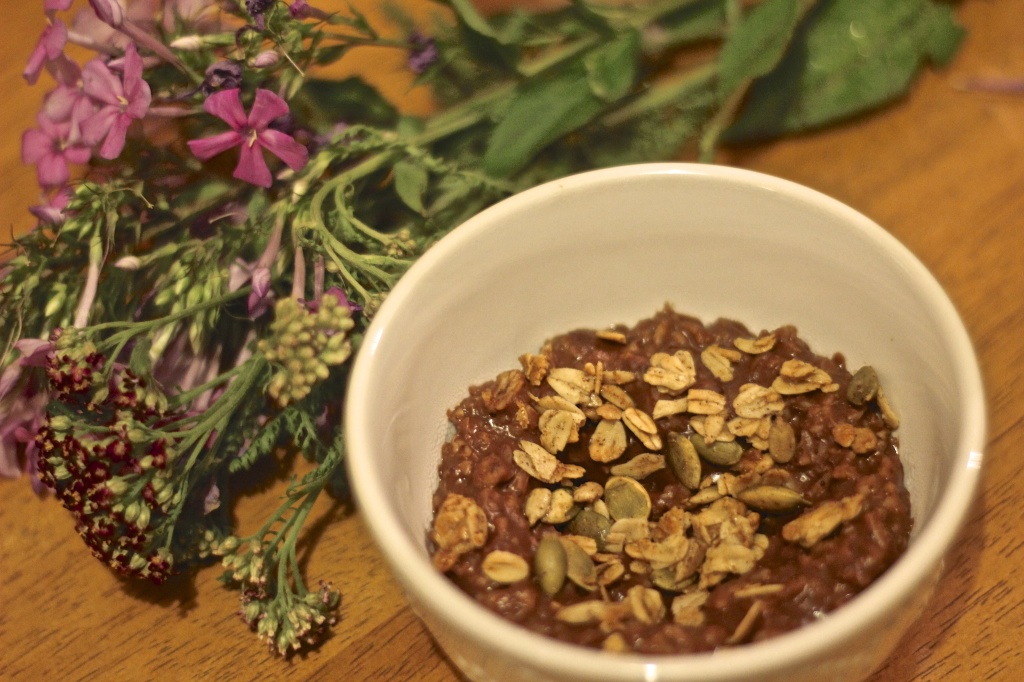 This homemade granola can be thrown together in a matter of minutes, then baked slowly in the oven to produce a crunchy texture and lovely aroma that makes your home smell fantastic! Vegan, gluten-free, and nut-free, this recipe contains whole grain oats and heart-healthy seeds that make for a filling, nutrient-dense snack for any time of day! It is delicious served on its own, mixed with non-dairy milk and fruit, or as a topper for creamy oatmeal! The pure maple flavor of this granola is simply unbeatable. I hope you enjoy!
Maple Crunch Granola
2014-06-06 13:29:47
gf, v, sf
Ingredients
3 cups old-fashioned rolled oats (I use Bob's Red Mill gluten-free)
1 cup raw mixed seeds or nuts of choice (I used pumpkin and sunflower seeds)
2 tbsp ground flaxseed
2 tsp cinnamon
1/2 tsp salt
1/2 cup maple syrup
1/4 cup coconut oil, melted
1 cup dried fruit, optional
Instructions
Preheat oven to 325 degrees F. Line a large rimmed baking sheet with parchment paper.
Stir together oats, seeds and/or nuts, flaxseed, cinnamon, and salt in a large bowl. Combine maple syrup and melted coconut oil in a small bowl. Pour mixture over the dry ingredients, and stir until well combined.
Spread granola mixture evenly onto the prepared baking sheet. Bake 30-40 minutes, stirring occasionally, until golden. Remove from oven, sprinkle with dried fruit (optional), and allow to cool for at least one hour. Store in an airtight container at room temperature for up to two weeks.
Create. Nourish. Love. http://www.createnourishlove.com/