This recipe was originally published on Mind Body Green.
When I was living in my apartment at college, I got into a routine of making simple one person meals that would work with my busy schedule, but also satisfy all of my cravings. With crazy class and activity times that often kept me out and about until late, it became pretty normal for me to make comforting meals at times that were outside of their typical realm. One of my favorites: Pancakes at nighttime.
With the busy lifestyles that many of us lead in modern times, it is crucial that we listen to our bodies with regards to cravings, for both food and down time. It is not uncommon for us to crave comfort foods (which may be decadent) when we are stressed. Instead of ignoring these cravings due to fear of over-indulging or "not having the time" for them, we should set aside even a small amount of time to honor our bodies and cook nutritious, energy-fueling versions of our favorite comfort foods.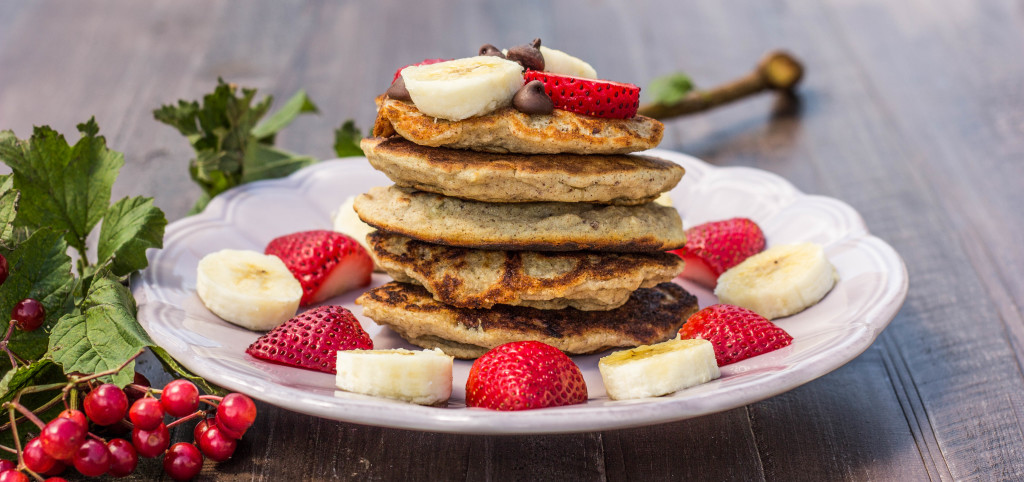 Pancakes are a personal favorite comfort food of mine. This particular stack is packed with fibrous whole grain oats, nutrient-rich fruit, and energy-fueling healthy fats that will not only satisfy your mental craving, but also nourish your body on a physical level. These pancakes can be enjoyed traditionally for breakfast, or as a healthy meal or snack at whatever time of day your body is craving them most! Enjoy!
Personal Vegan Pancake Stack
2014-12-10 10:48:13
Serves 1
gf, v, nf, sf
Ingredients
1/2 cup gluten-free oat flour*
1/2 tbsp ground flaxseed
1/2 tsp cinnamon
1/2 tsp baking powder
a pinch of sea salt
1/2 cup non-dairy milk or water
1/2 ripe banana, mashed
1 tsp coconut oil, melted, plus more for cooking
Maple syrup and fresh fruit for serving
Instructions
Mix all dry ingredients together in a medium-sized bowl. Add in the milk, mashed banana, coconut oil, and mix until everything is evenly combined. Allow the batter to sit for a few minutes to thicken.
Heat a small amount of coconut oil in a skillet over medium heat. Pour the batter onto the skillet to make 5 pancakes. Allow to cook for a few minutes, until bubbles form around the edges, then flip and cook for another minute or two until golden.
Serve with pure maple syrup and any other toppings you love. Enjoy!
Notes
*If you cannot find oat flour, you may grind whole oats in a food processor until a flour-like consistency is achieved.
Create. Nourish. Love. http://www.createnourishlove.com/