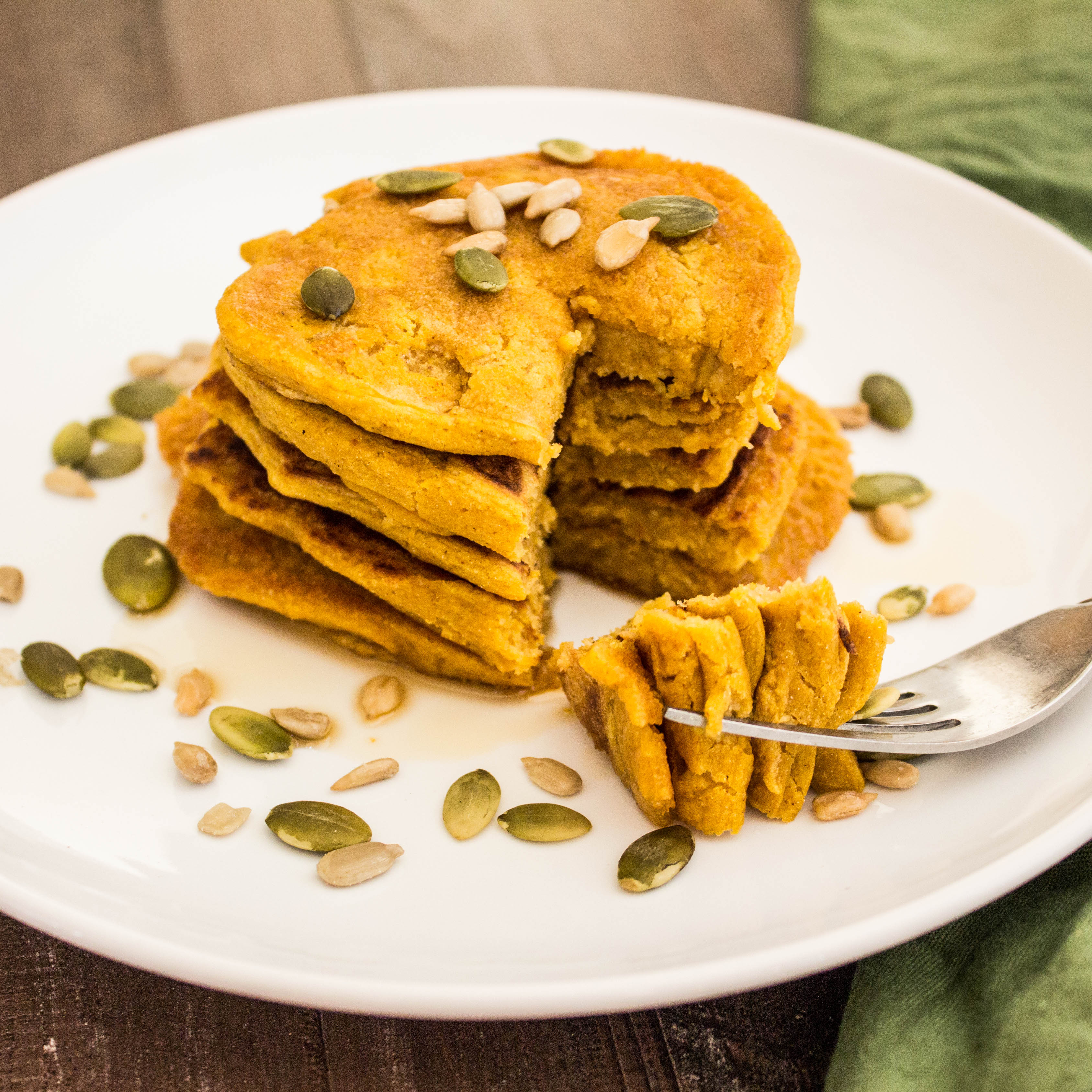 I am on a real pancake kick lately! Although my go-to pancake recipes are usually banana-based, I recently decided to get a bit creative and experiment with using pumpkin instead!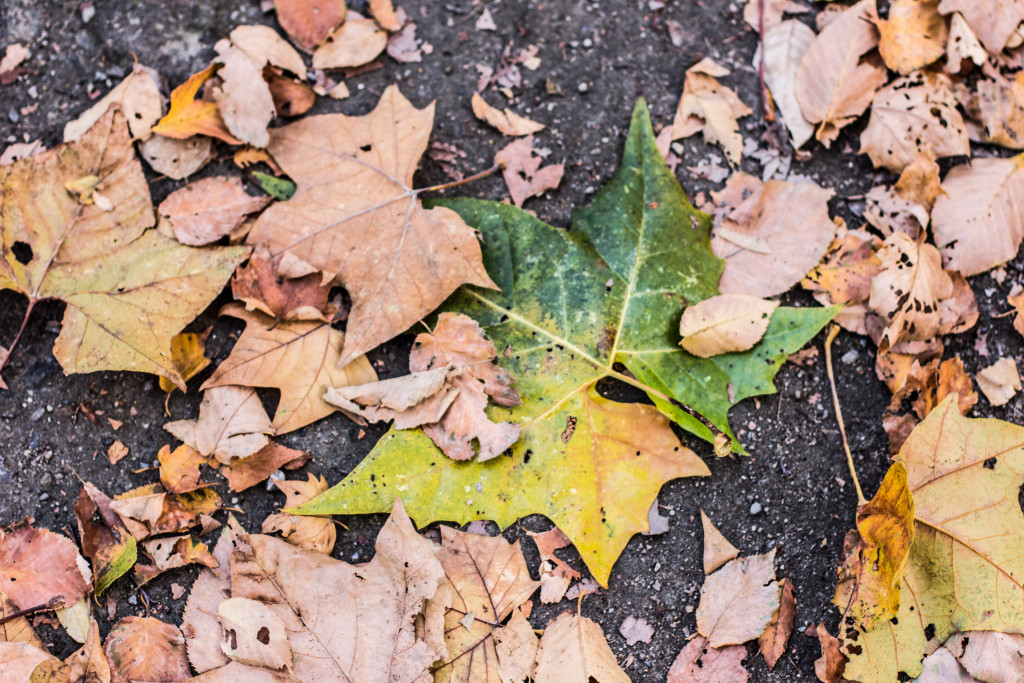 Fall is my absolute favorite season in terms of both weather and food, but it always seems to fly right by! To make the most of it, I have been trying to cook as much as I possibly can with hearty pumpkin and squash. Not only do these ingredients taste amazing, they also contain an abundance of nutrients such as vitamin A, fiber, and the antioxidant beta-carotene. Due to their versatility, I have been adding them to everything from smoothies to pasta sauces! However, I must say that my two favorite dishes are those that have been the simplest: A vegan squash-based macaroni and cheese and these single-serving pancakes!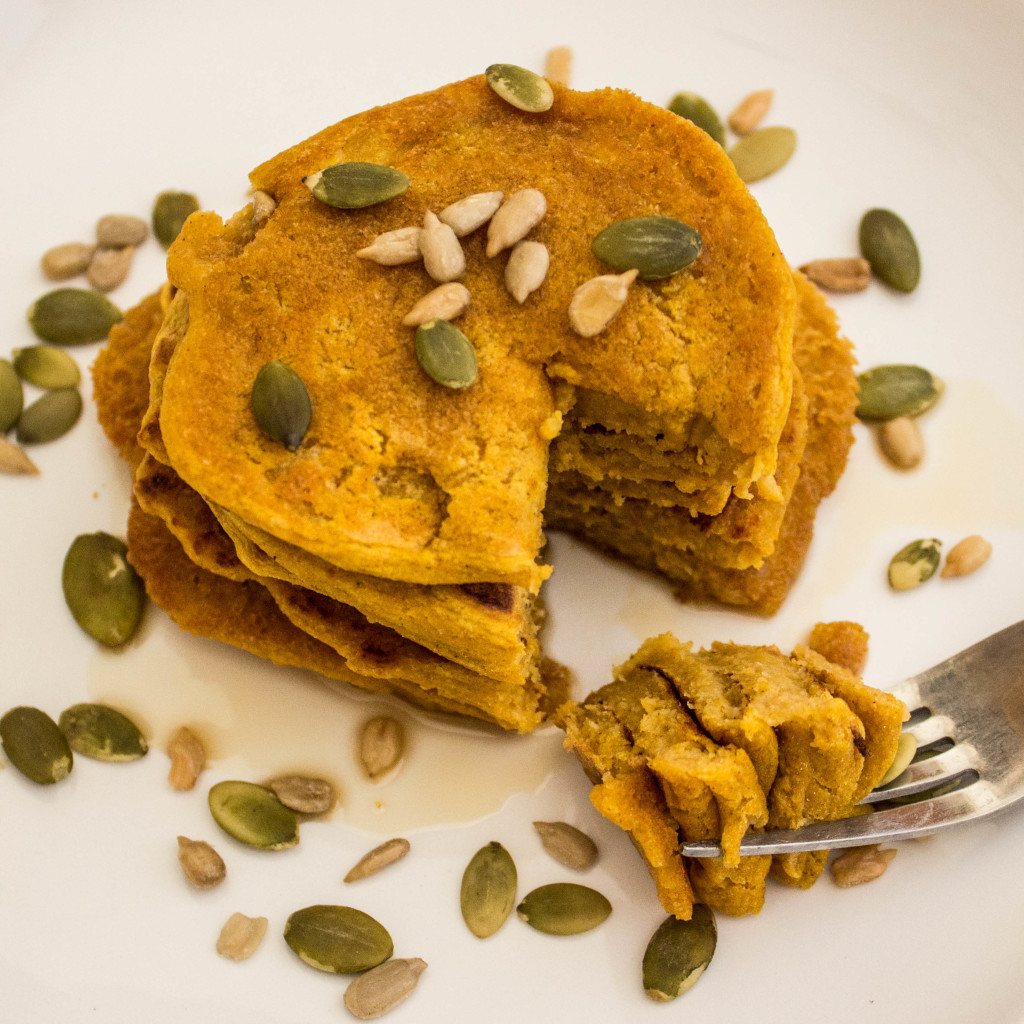 I have been making these pancakes so frequently that it now takes me less than two minutes to throw the batter together (perfect for my late-night cravings!). I encourage you to try them out, and hope that they become a comforting staple in your diet as well!
Pumpkin Pancakes for One
2015-10-17 23:46:24
Serves 1
gf, v, nf, sf
Ingredients
1/2 cup flour*
1/2 tsp baking powder
1/4 tsp cinnamon
1/8 tsp ginger
1/4 tsp sea salt
1/4 cup pumpkin puree
1/2 cup nondairy milk or water
1 tbsp maple syrup, plus more for serving
Coconut oil for the pan
Mixed seeds, chocolate chips, etc. for filling
Instructions
Mix all dry ingredients together in a small bowl. Whisk together the pumpkin, milk, and maple syrup in a separate bowl. Pour the dry ingredients into the bowl with the wet ingredients and mix until everything is evenly combined. Allow the batter to sit for a few minutes to thicken.
Heat a small amount of coconut oil in a skillet over medium heat. Pour the batter onto the skillet to make 5 pancakes. Top with chocolate chips or seeds, if desired. Allow to cook for a few minutes, until bubbles form around the edges, then flip and cook for another minute or two until golden.
Serve with pure maple syrup and any other toppings you love. Enjoy!
Notes
*I use half brown rice flour and half oat flour.
Create. Nourish. Love. http://www.createnourishlove.com/