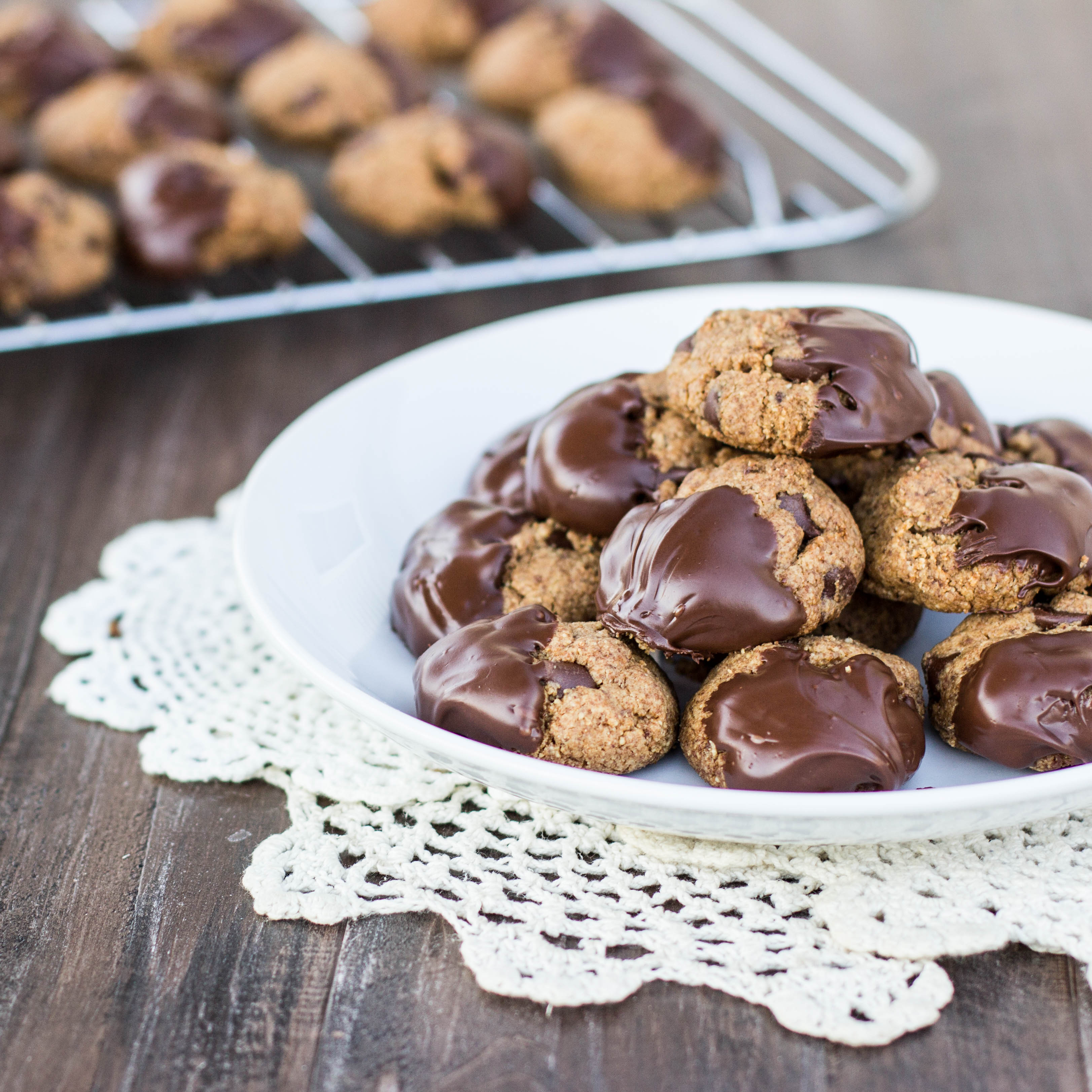 Although there are many holiday traditions that I love, my absolute favorite has to be making holiday cookies. As a child, helping my mom make Christmas cookies was as exciting to me as Christmas itself (we even made special Christmas cookie aprons to wear)!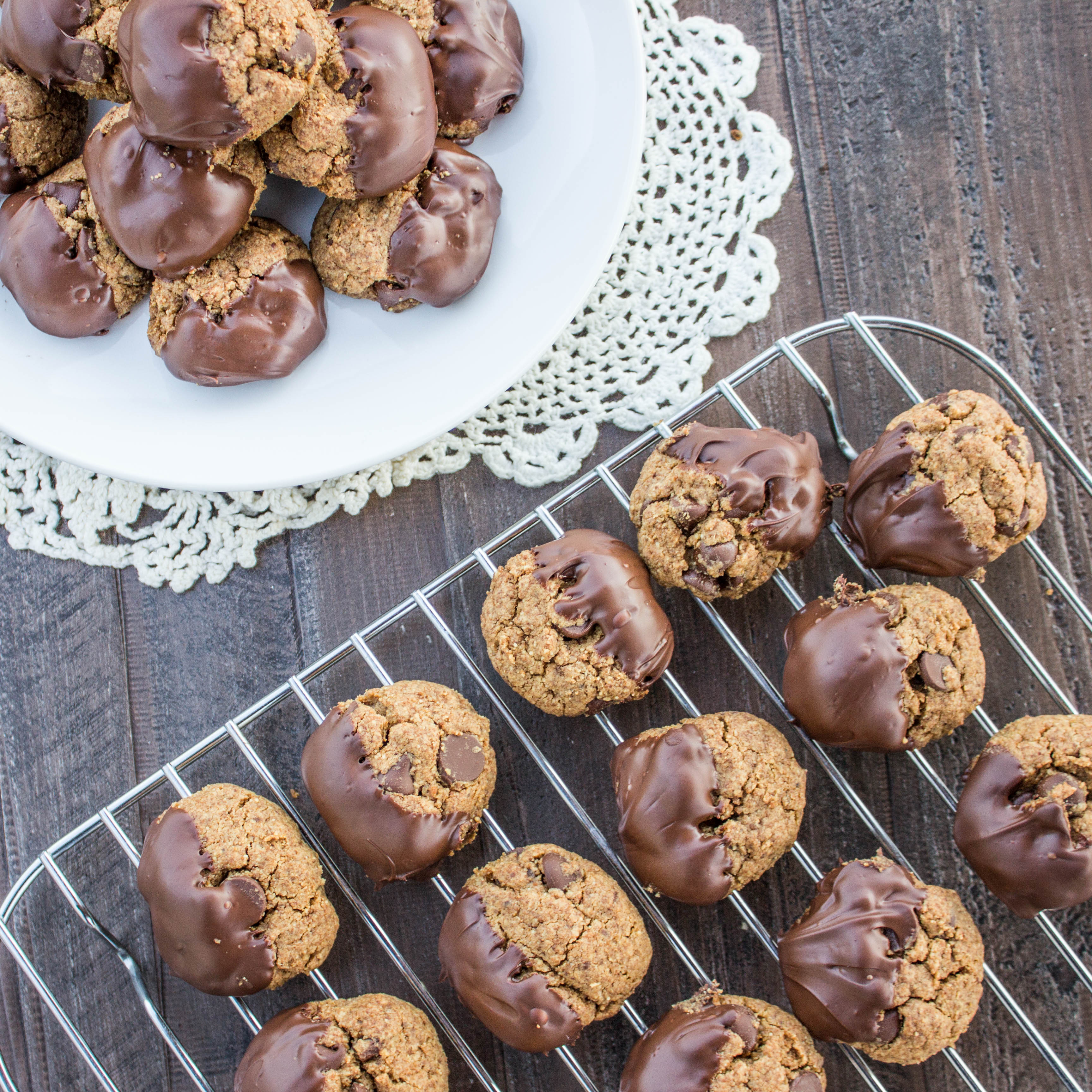 Out of all the cookies we would make, my favorite were always the classic peanut butter blossoms (big surprise there). The following is my simpler re-creation of that classic recipe, which is also vegan, gluten-free, flourless, and dipped in chocolate for extra goodness. I have tested this recipe with both peanut butter and sunflower seed butter (perfect for nut allergies), and both are absolutely delicious! I hope you try them out and enjoy!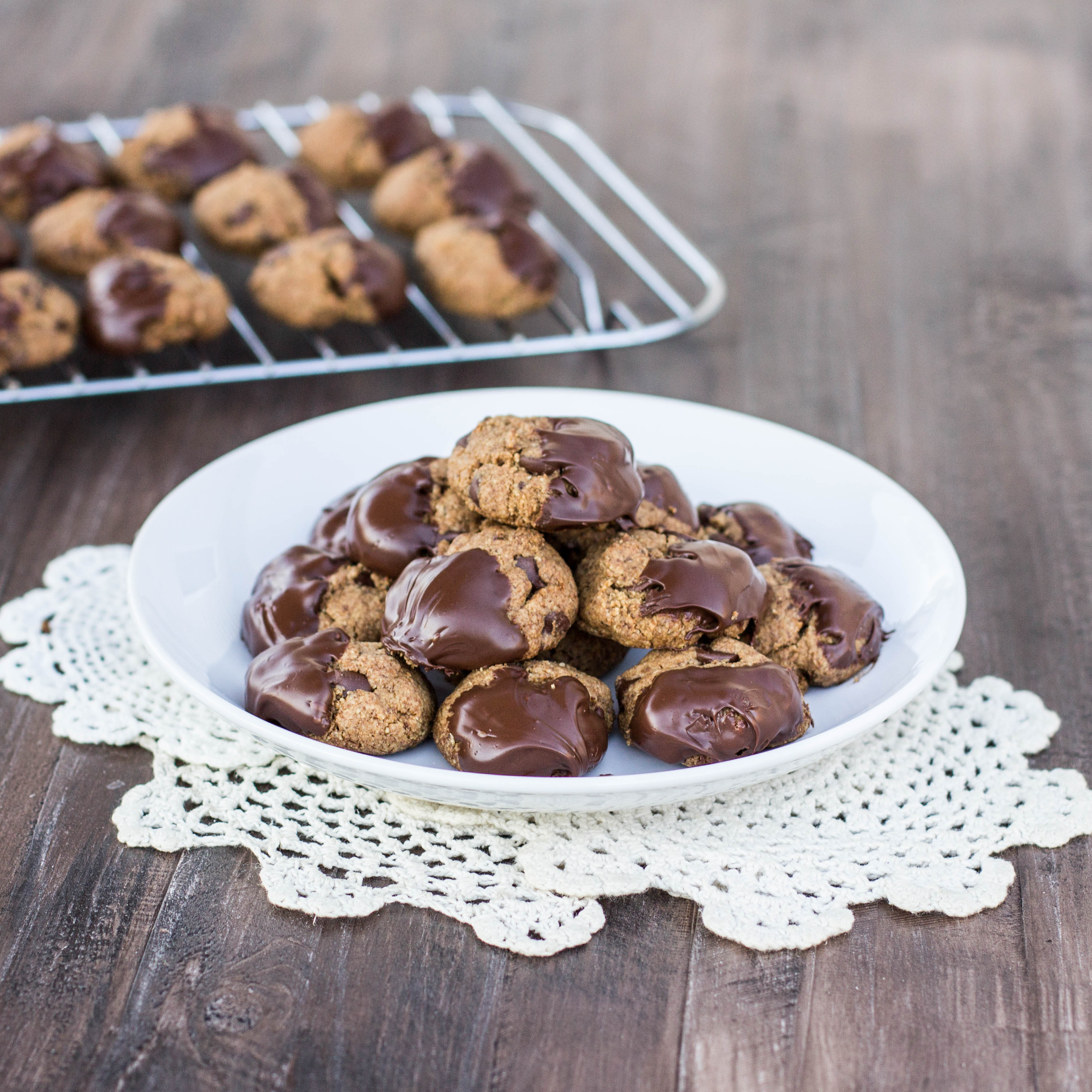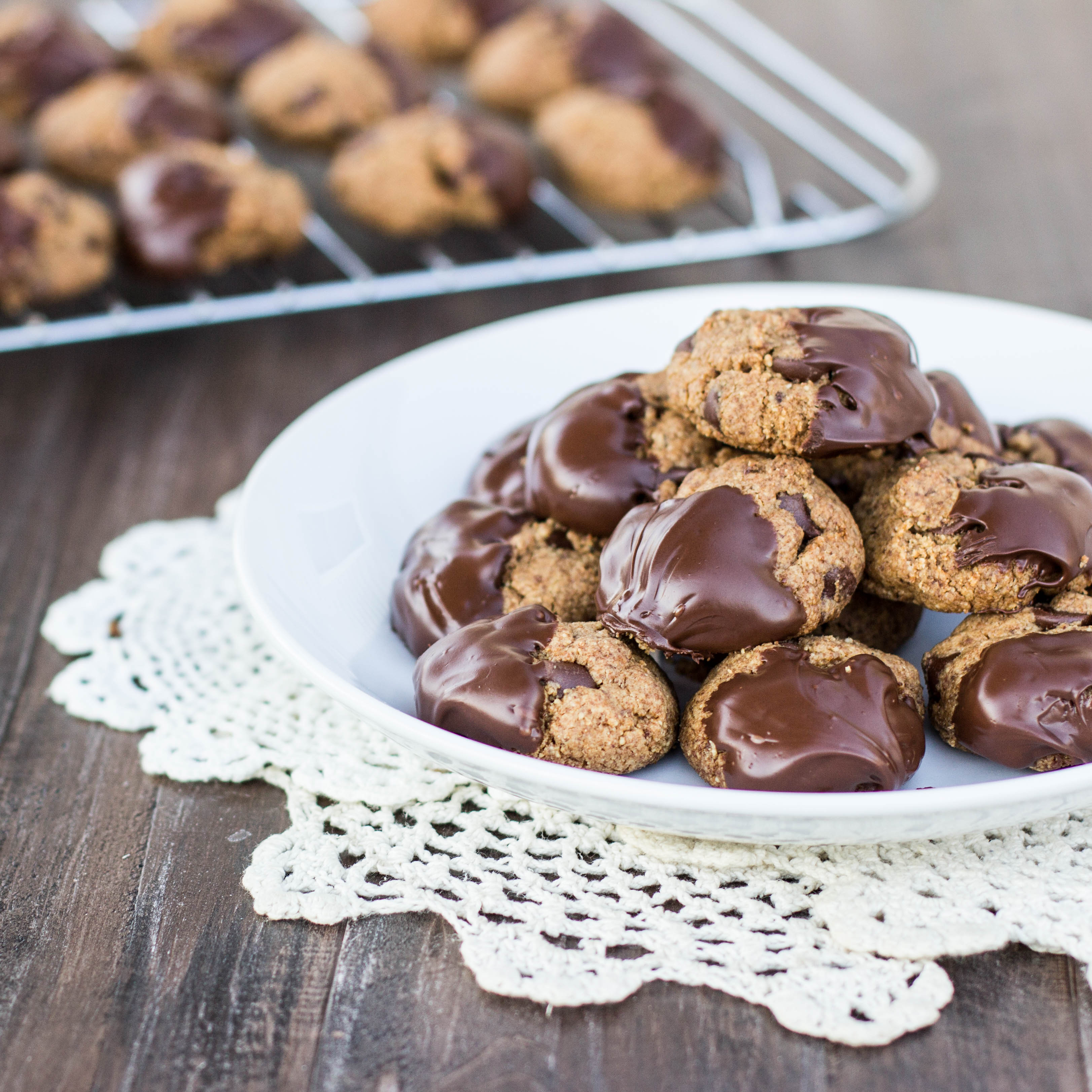 Flourless Chocolate-Dipped Cookies
2015-12-06 11:09:20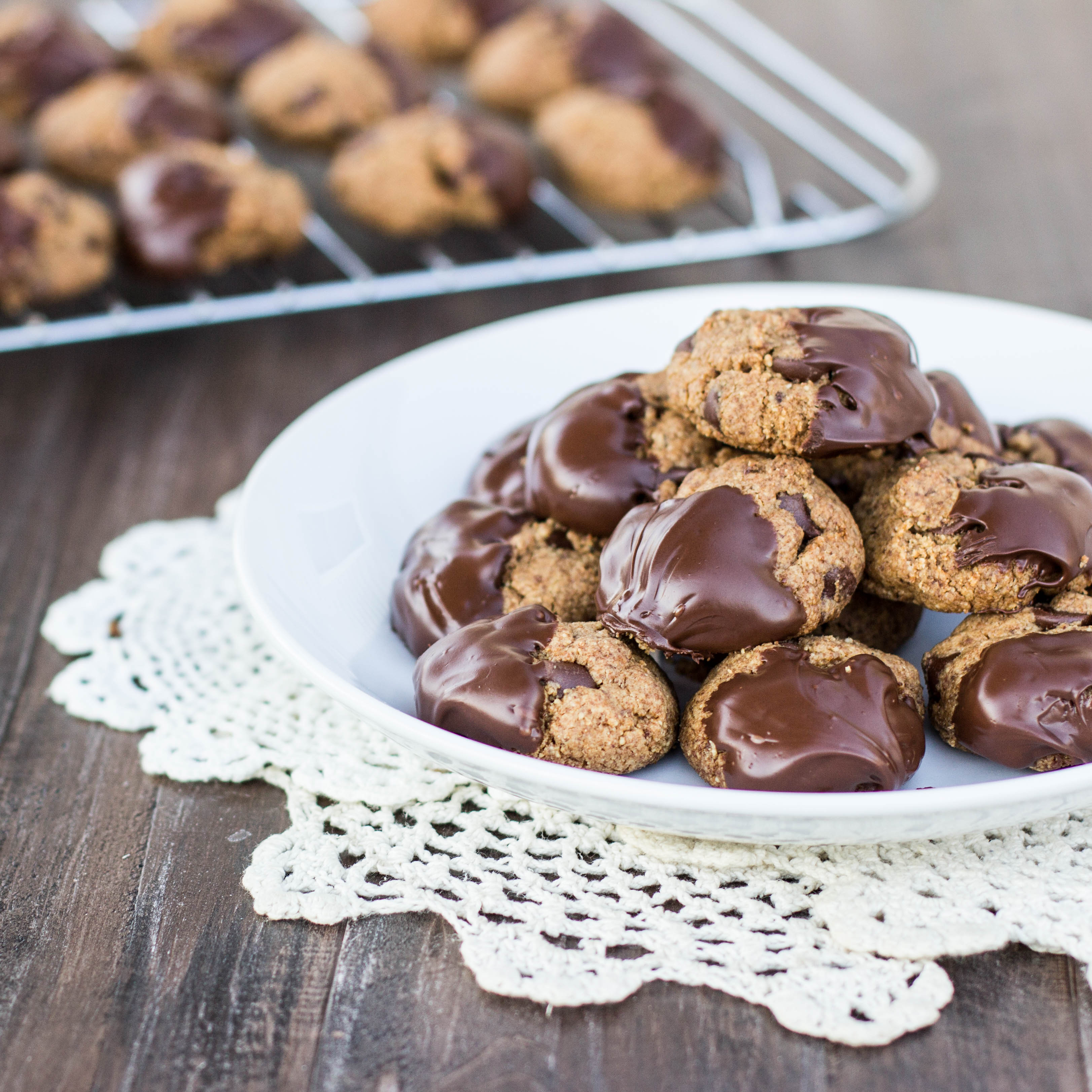 gf, v, sf, nut free option
Ingredients
1 cup your favorite nut/seed butter*
3/4 cup coconut sugar (or sugar of choice)
1 flax egg**
1 1/2 tsp pure vanilla
1/2 tsp sea salt
1 cup semisweet chocolate chips, divided
Instructions
Preheat oven to 350 degrees F. Line two cookie sheets with parchment paper.
Mix together sunflower seed butter and sugar in a medium bowl until creamy. Add in flax egg, vanilla and sea salt and stir until combined. Stir in 1/2 cup chocolate chips.
Drop tablespoonfuls of dough onto prepared cookie sheets. Roll into balls, then press down to flatten slightly.
Bake 12-14 minutes, or until solid and golden around the edges. Allow to cool down before handling.
Meanwhile, melt remaining 1/2 cup chocolate chips in a double boiler (or microwave). When cookies are cool, dip halfway in the melted chocolate or use a spoon to help scoop the chocolate to cover half of each cookie. Allow to sit so the chocolate will harden, then enjoy!
Notes
*I have tested and shared this recipe with both peanut butter and sunflower seed butter with success.
**For flax egg: Mix 1 tablespoon ground flaxseed with 3 tablespoons of water and let sit for about 10 minutes, until a gel-like consistency is formed.
Create. Nourish. Love. http://www.createnourishlove.com/