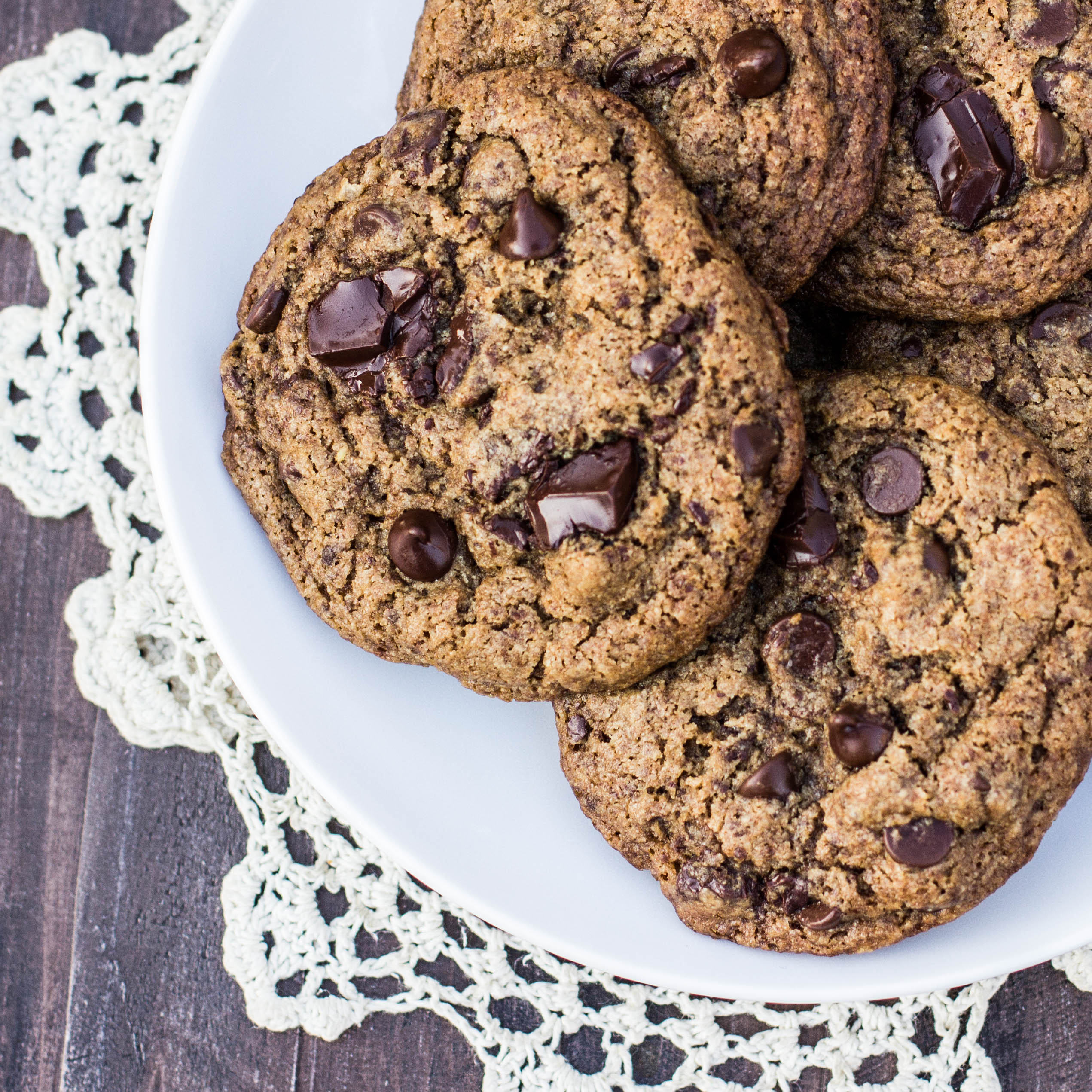 After looking back on some of my earlier posts, I remembered that my very first blog post was on chocolate chip cookies. Since chocolate chip cookies are one of my most frequently tested recipes dating back to when I first started to bake in high school (not to mention one of my all-time favorite desserts), I figured that I would post my new and improved recipe (and photos!).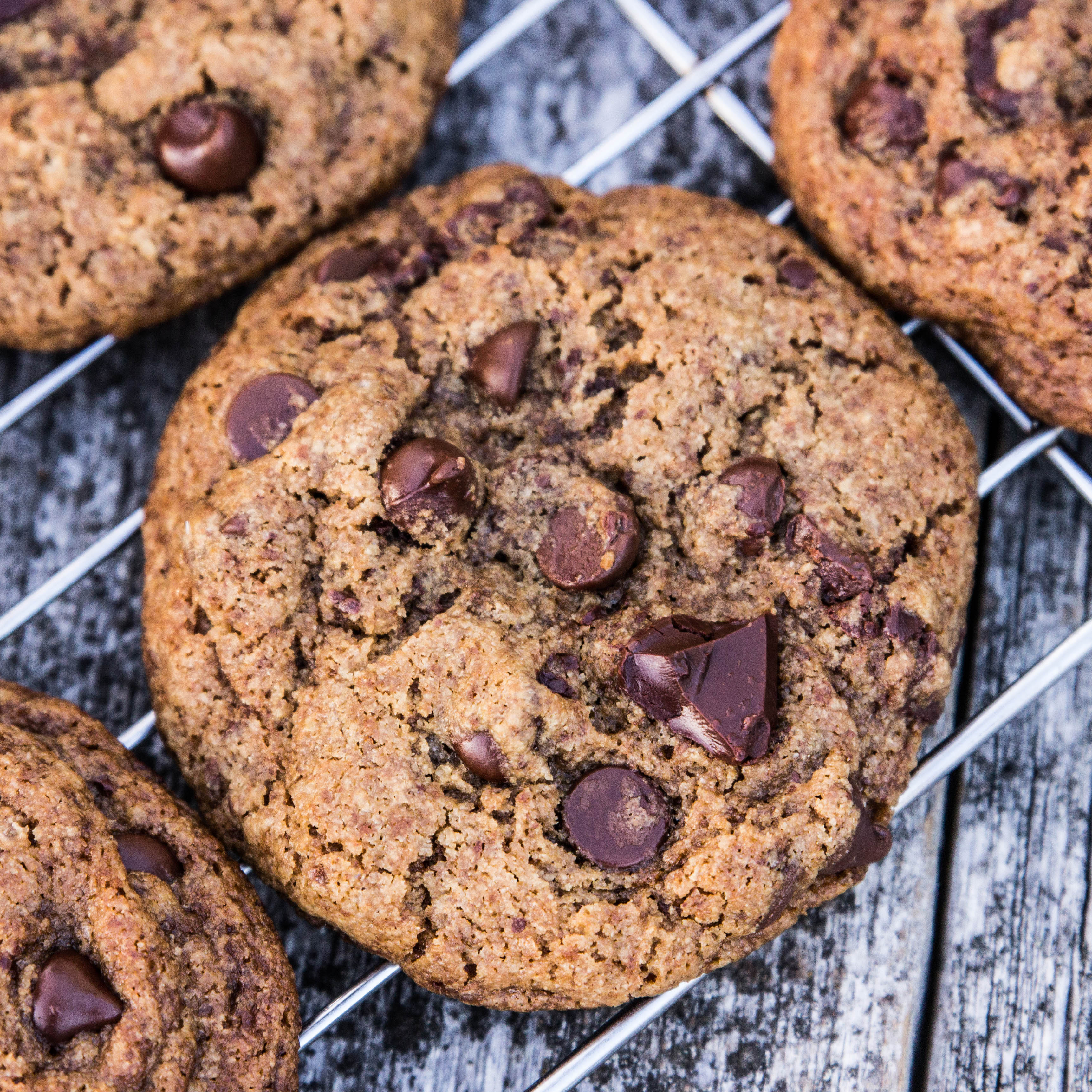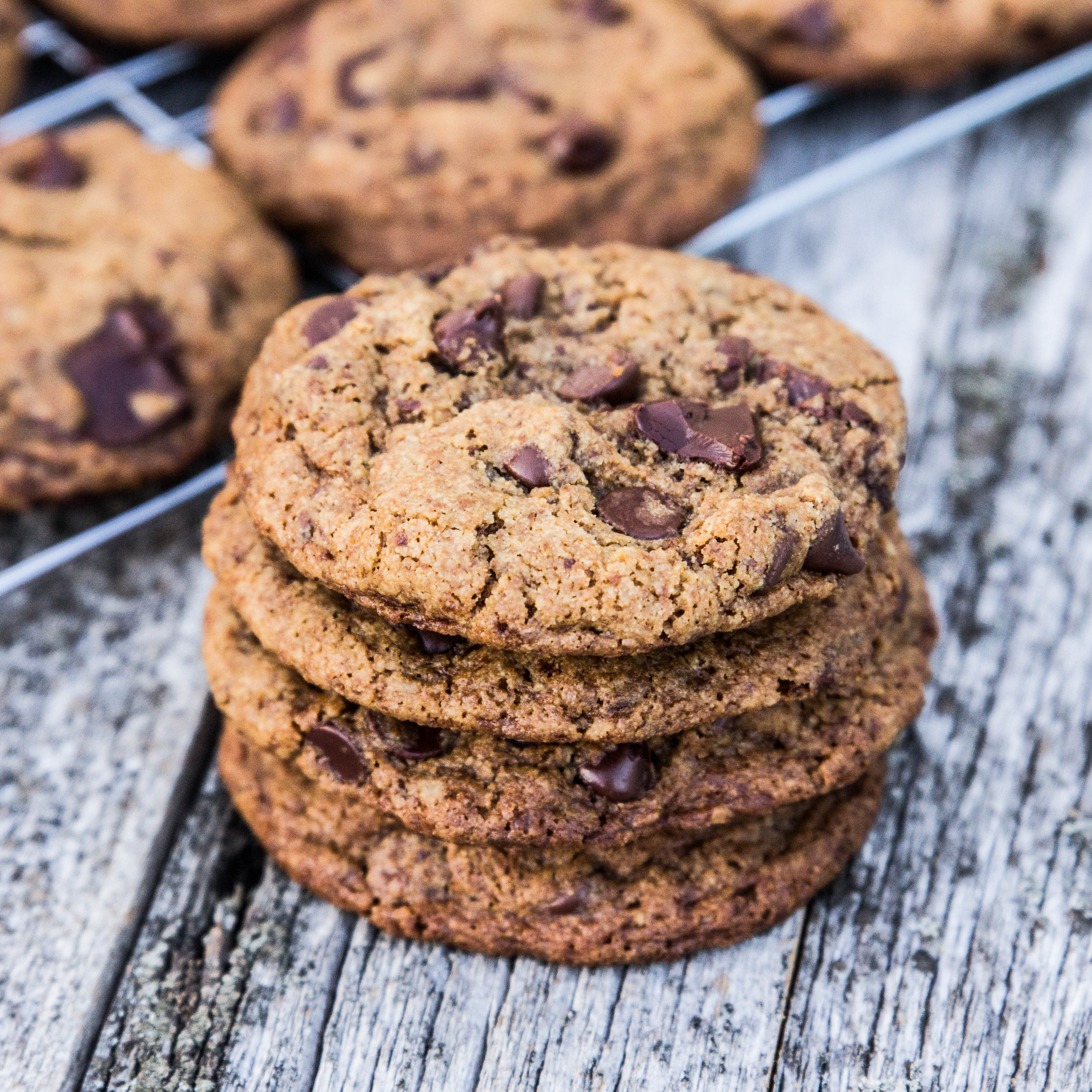 It is no secret that everyone has a different preference when it comes to cookies- thick, thin, chewy, crispy, etc. (I personally think they are all wonderful). The following recipe produces the ULTIMATE chocolate chip cookie for my taste buds, as well as those of Spencer and my family members. They are crisp on the outside and chewy on the inside, with just enough chocolate (two types!) to shine but not overpower the dough. You would never know that they are vegan (of course) and also free of gluten, refined sugar, and most common allergens. They are especially amazing served warm, fresh out of the oven for the ultimate gooey chocolaty experience, but the leftovers are also perfectly delicious at room temperature. I hope you try them out and enjoy!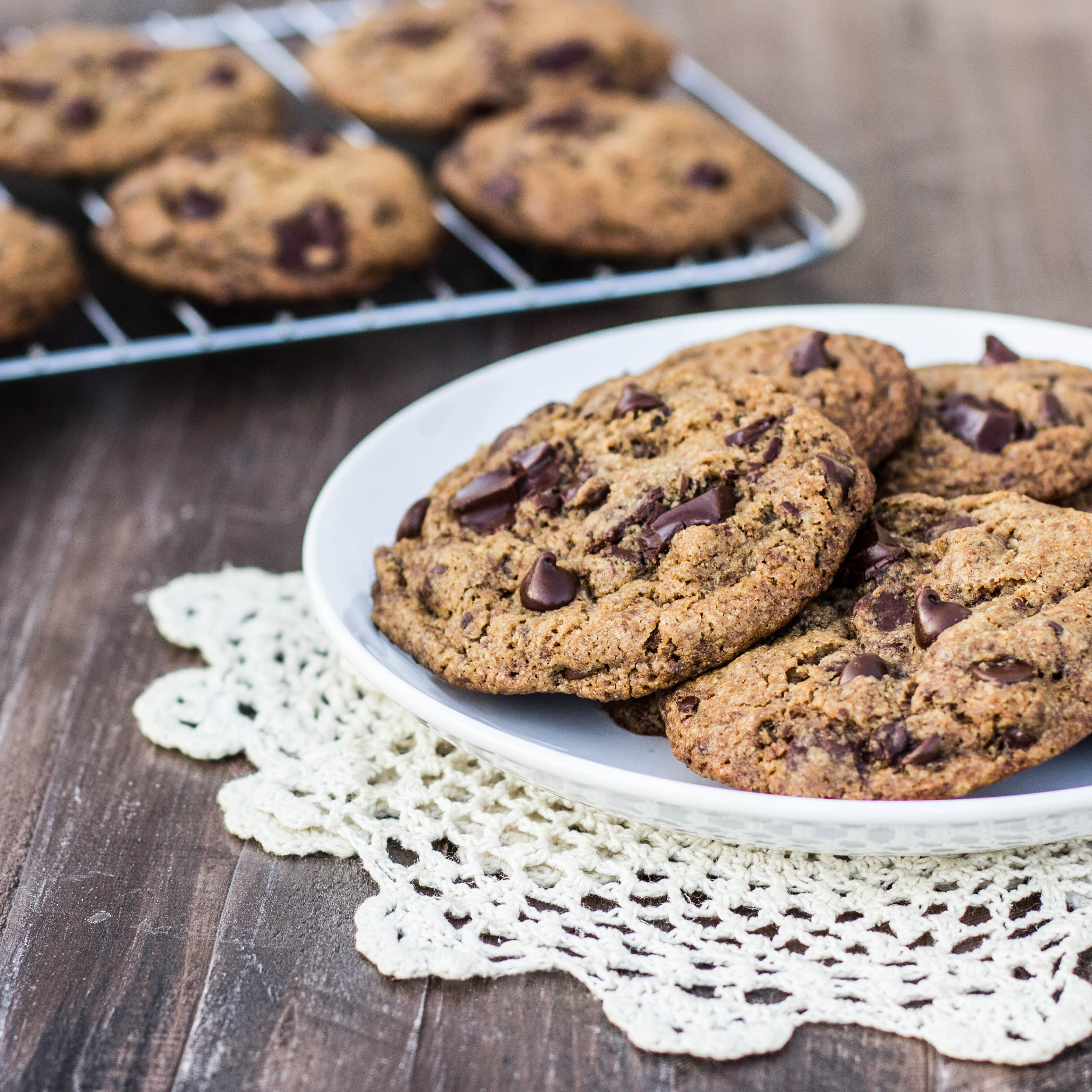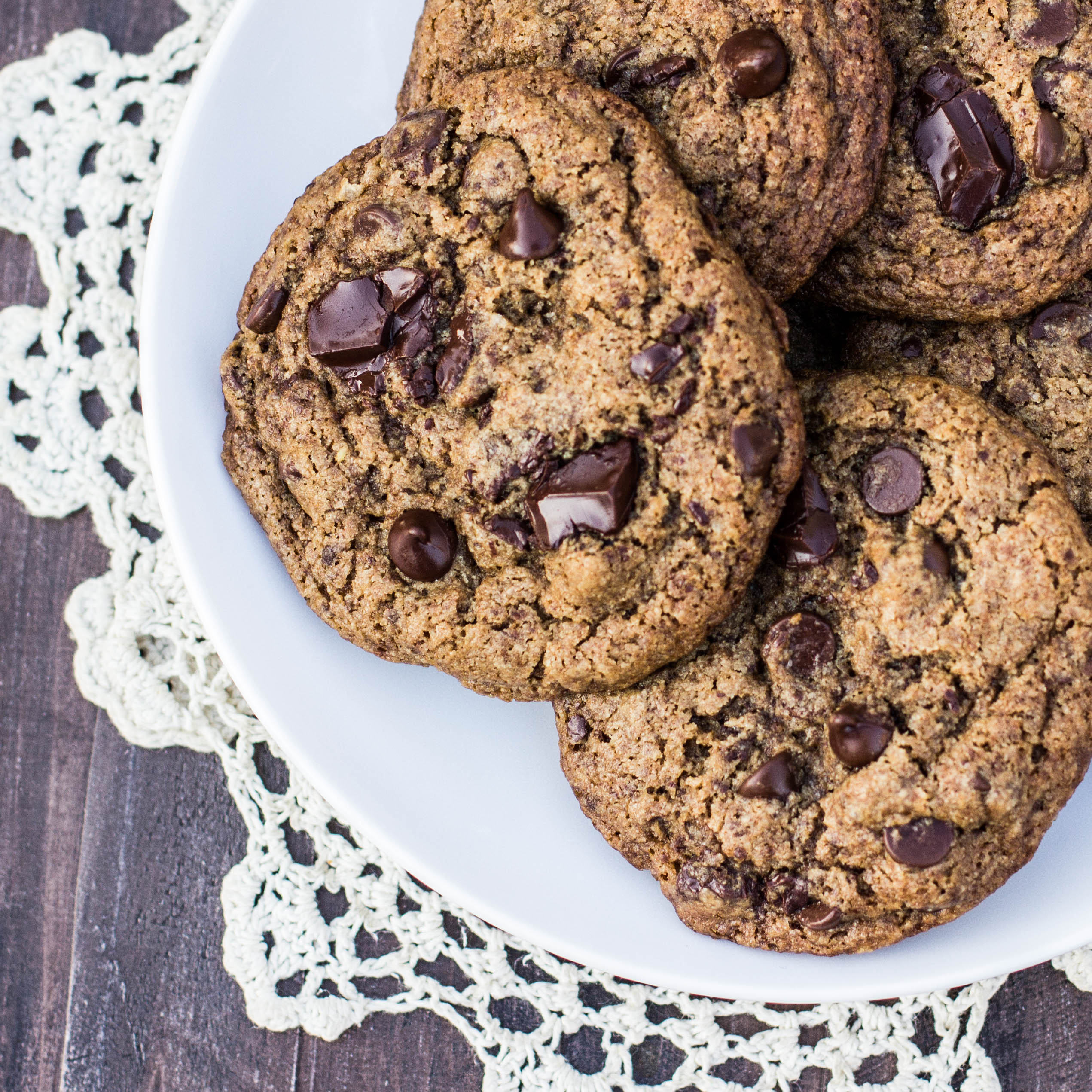 Favorite Chocolate Chip Cookies
2016-03-11 11:28:36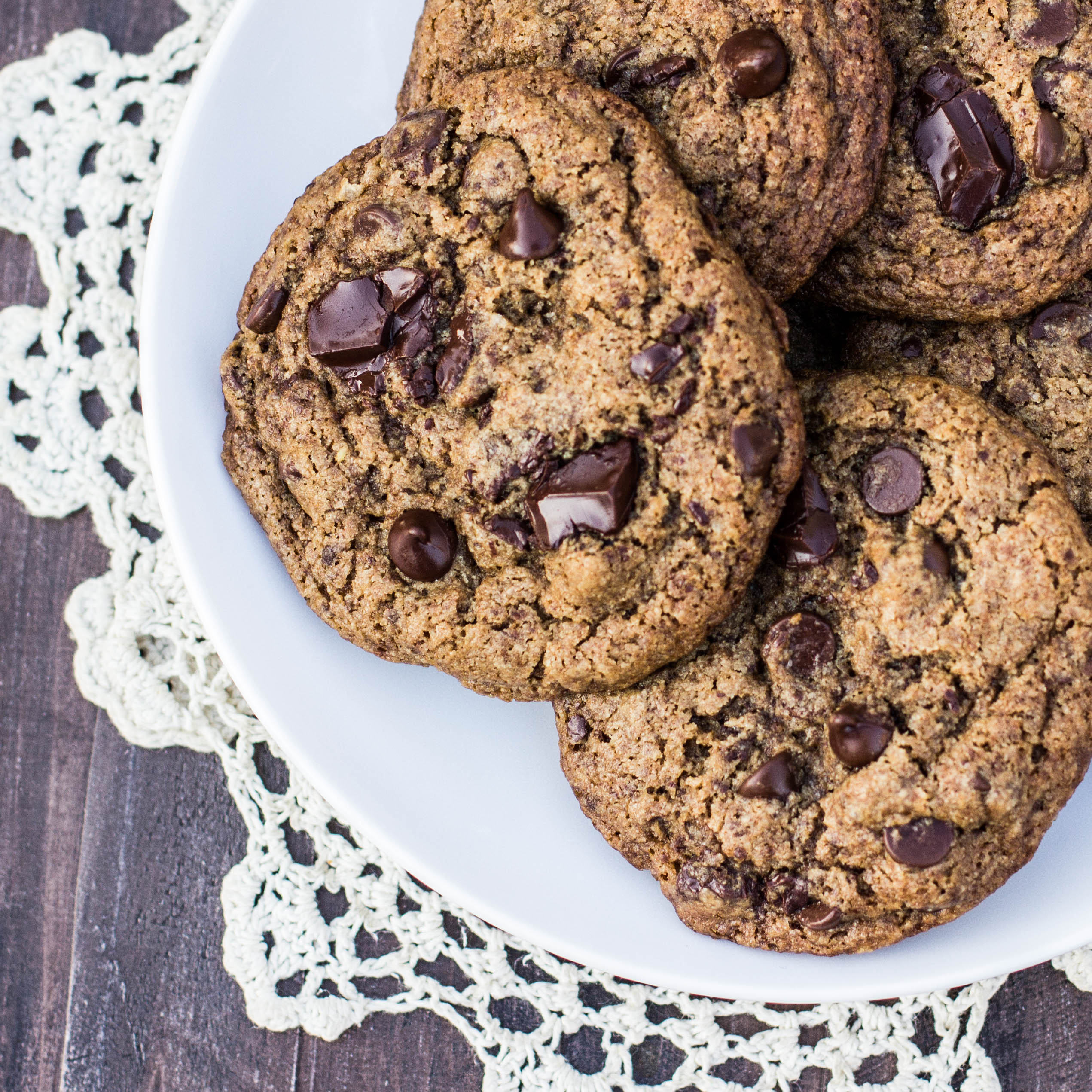 Yields 12 large cookies or 2 dozen small cookies (v, gf, nf, sf)
Ingredients
1 3/4 cups flour*
1 teaspoon baking powder
½ teaspoon baking soda
½ teaspoon sea salt
½ cup coconut oil
1 cup coconut sugar or sugar of choice
2 tablespoons maple syrup
1 flax egg
2 teaspoons vanilla extract
1 cup semisweet chocolate chips
2 oz. bittersweet chocolate bar, chopped into small chunks
Instructions
Line two large cookie sheets with parchment paper.
Stir together flours, baking powder, baking soda, and salt in a medium-sized bowl.
In a large bowl, use an electric mixer (can be done by hand) to beat together the coconut oil with the coconut sugar and maple syrup until the mixture is creamy. Beat in the flax egg and vanilla. Gently mix in the dry ingredients until a uniform dough is formed. Stir in the chocolate chips and chunks.
Drop 1/4-cup portions of dough onto the cookie sheet, leaving at least a couple of inches in between each. Roll each portion into balls, then refrigerate, at least 30 minutes.
Preheat oven to 375 degrees F. Position a rack in the center of the oven. Bake the cookies 14-16 minutes, until golden around the edges. Allow to cool for a few minutes, then dig in!
Notes
*You may use regular all-purpose flour, gluten-free all-purpose flour, or experiment with any flour blend you like. For a gluten-free blend, I have found the combination of oat and brown rice flours to yield the most tasty (and neutral), chewy-on-the-inside, crispy-on-the-outside results.
-Refrigerating the dough yields thicker cookies. If you prefer thinner cookies, you can skip this step!
-For smaller cookies, drop by tablespoonfuls and bake 10-12 minutes.
Create. Nourish. Love. http://www.createnourishlove.com/