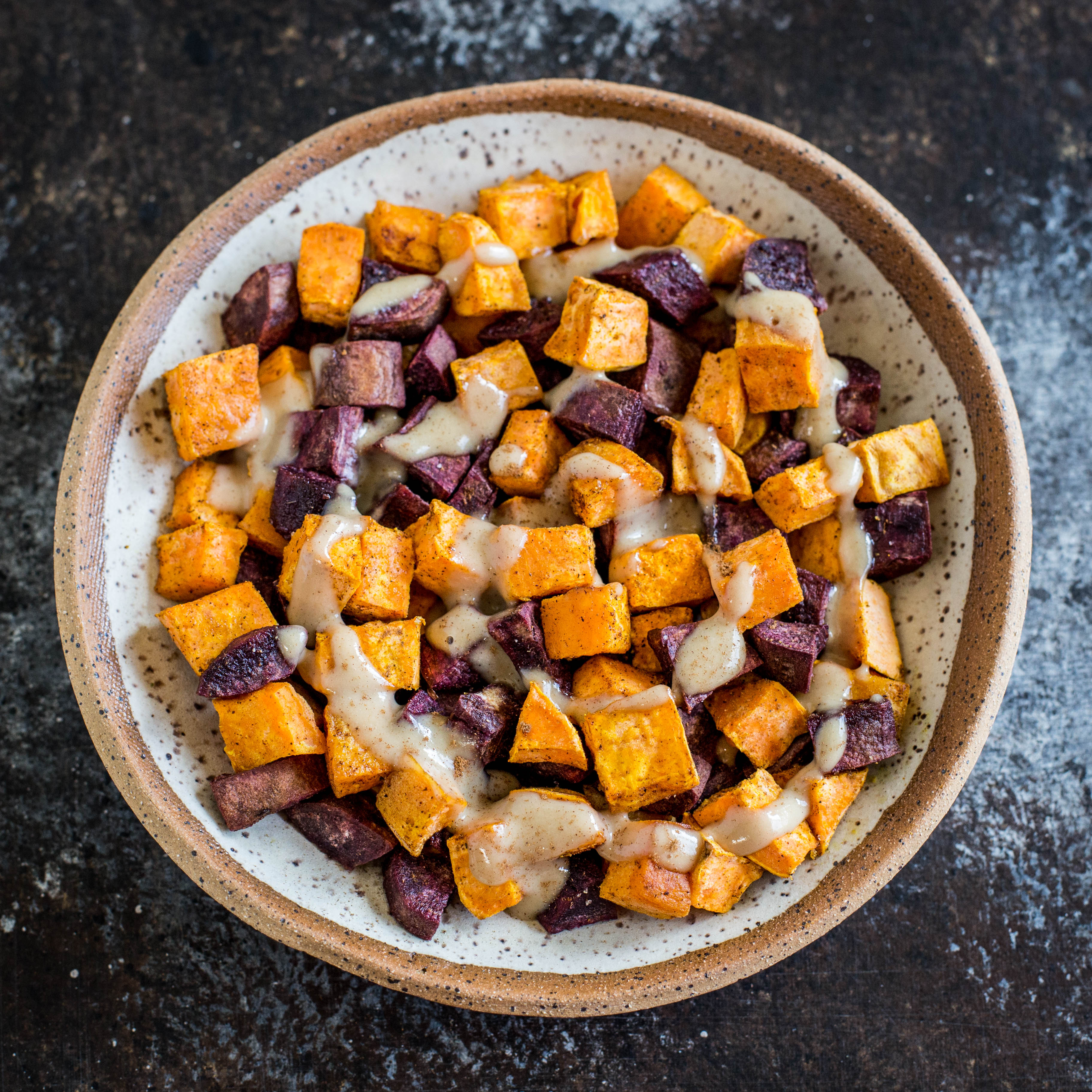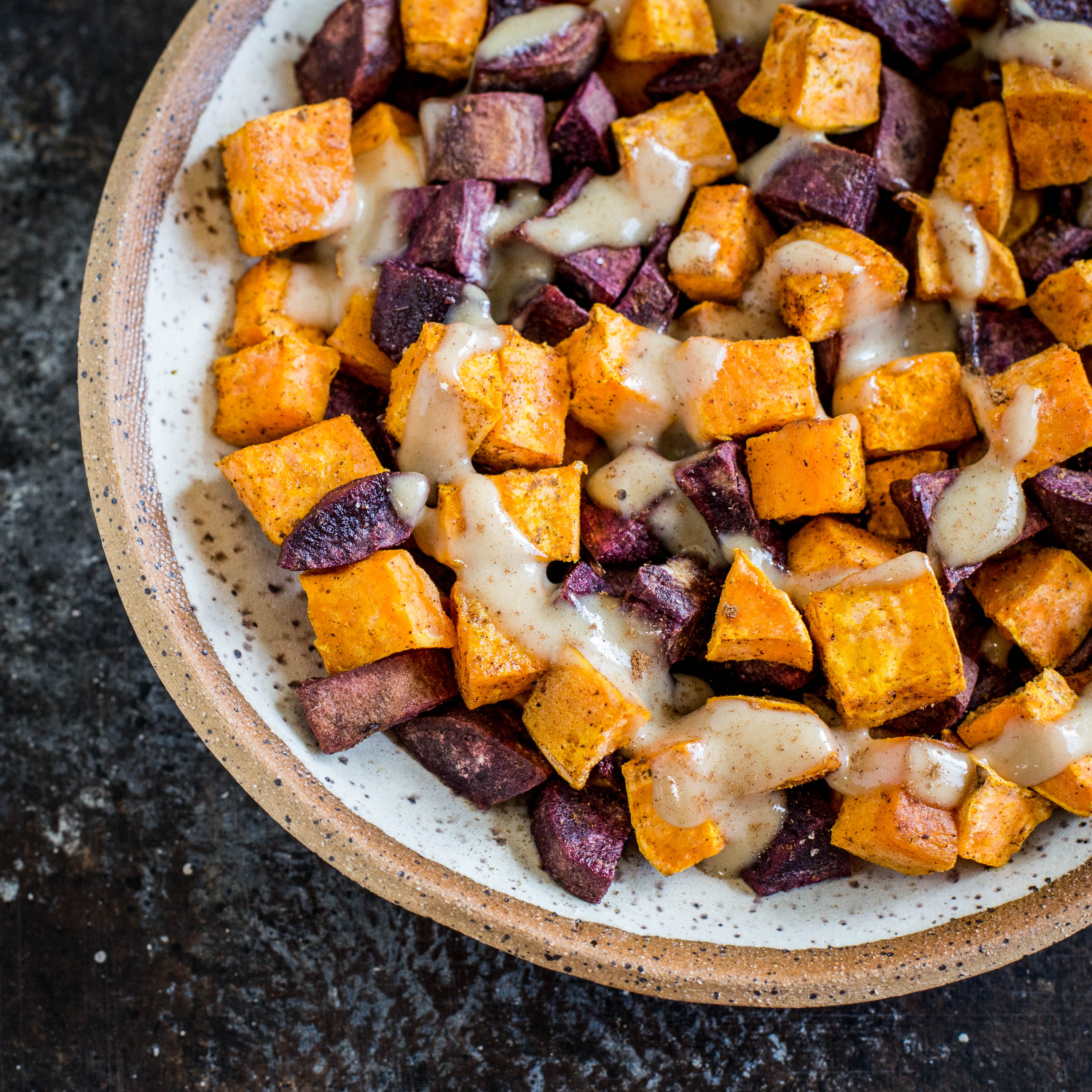 Although I love to eat potatoes and other starchy/root vegetables all year round in many forms, I have to say that my absolute favorite way to enjoy them is in the form of simple roasted cubes with spices and a deliciously-creamy dressing. Similar to my roasted sweet potatoes and chickpeas, this has been one of my go-to meals/snacks for years.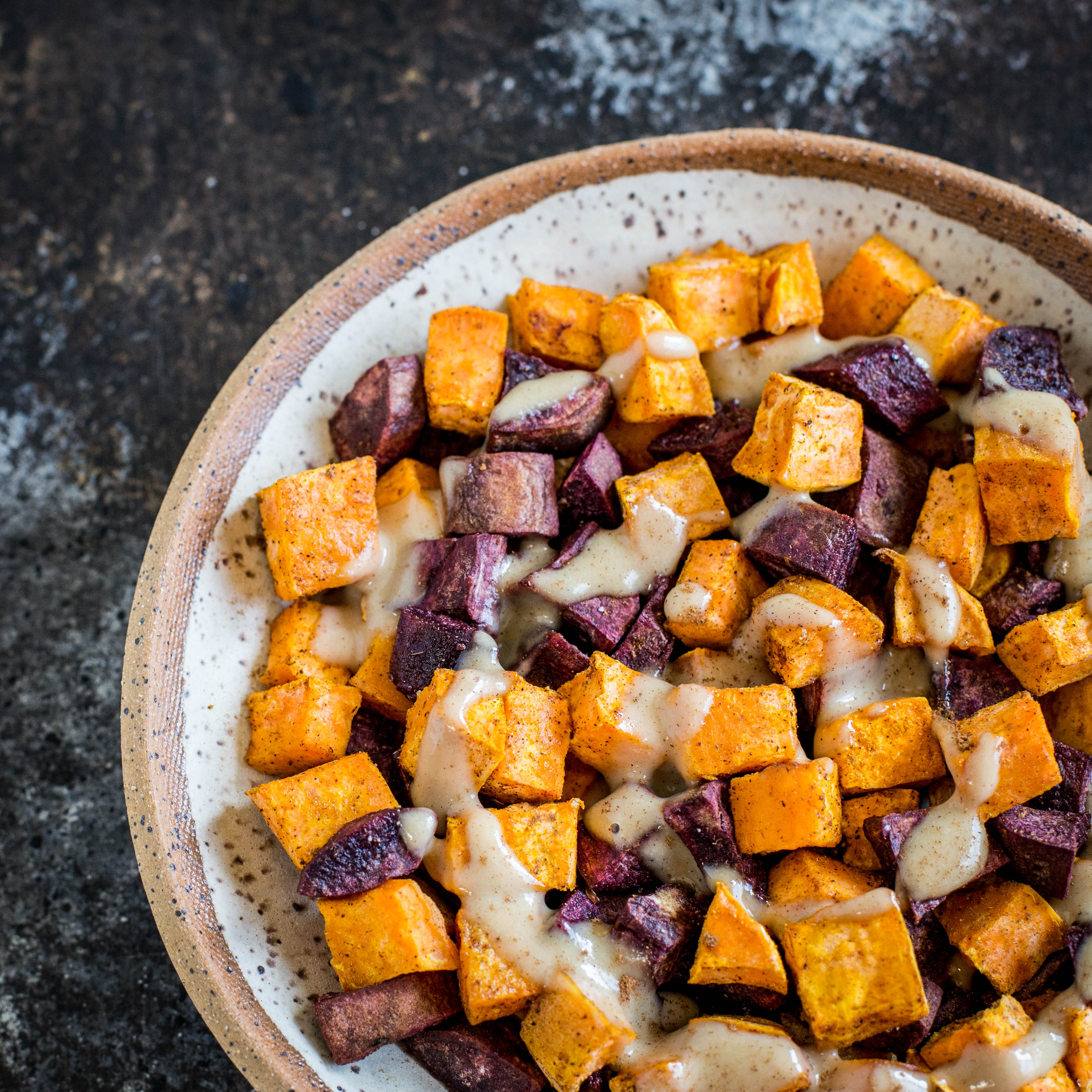 There is just something so comforting about a bowl of seasonal roasted vegetables with spices in the fall months, especially butternut squash and sweet potatoes due to their vibrant flesh and the nutrients that come with it! Naturally loaded with Vitamin A, fiber, potassium, B-vitamins and powerful antioxidants, these starchy veggies, alone, are super nutritious. This meal also provides various healing benefits from the spices such as turmeric, ginger, and cinnamon (more info on their specific benefits can be found in this post!).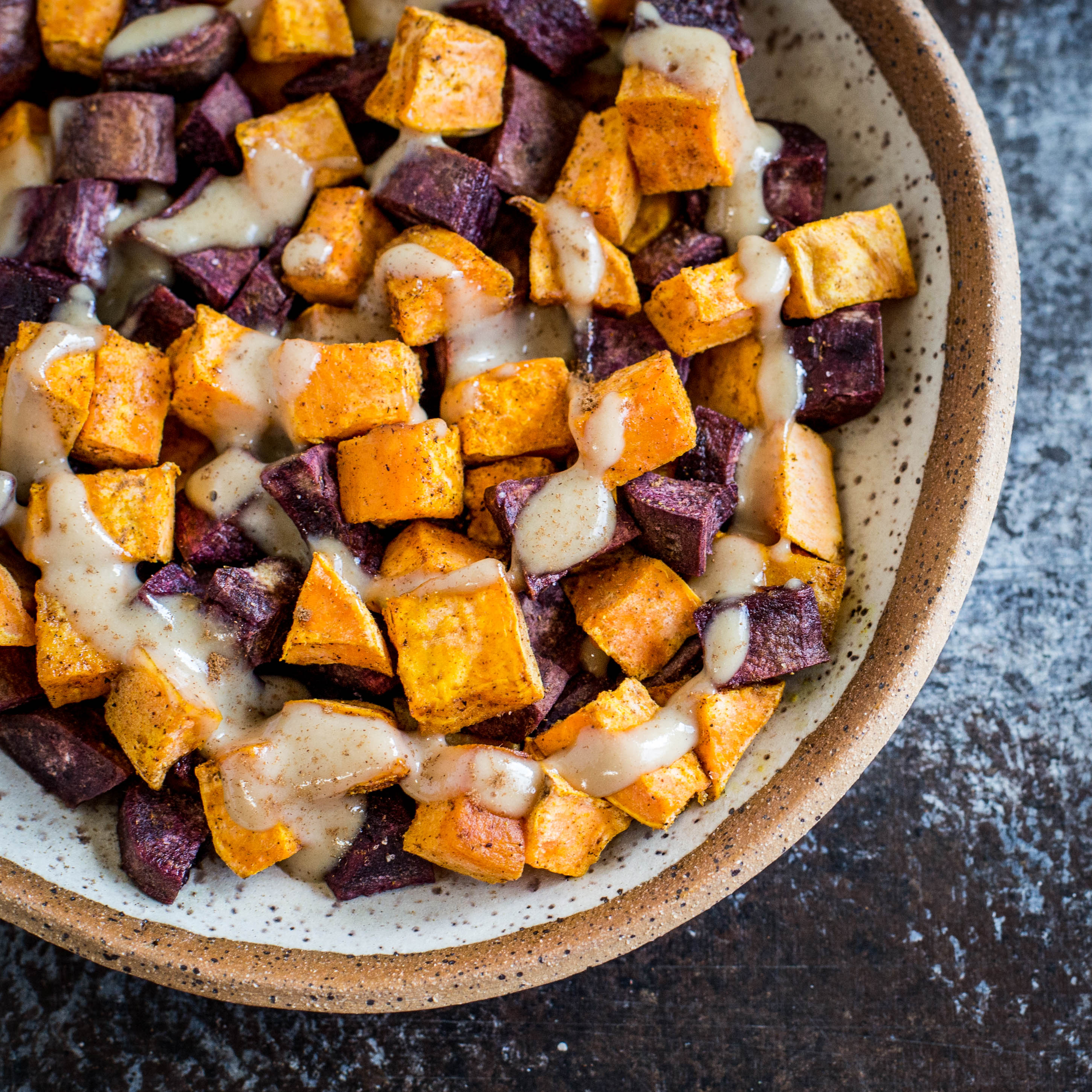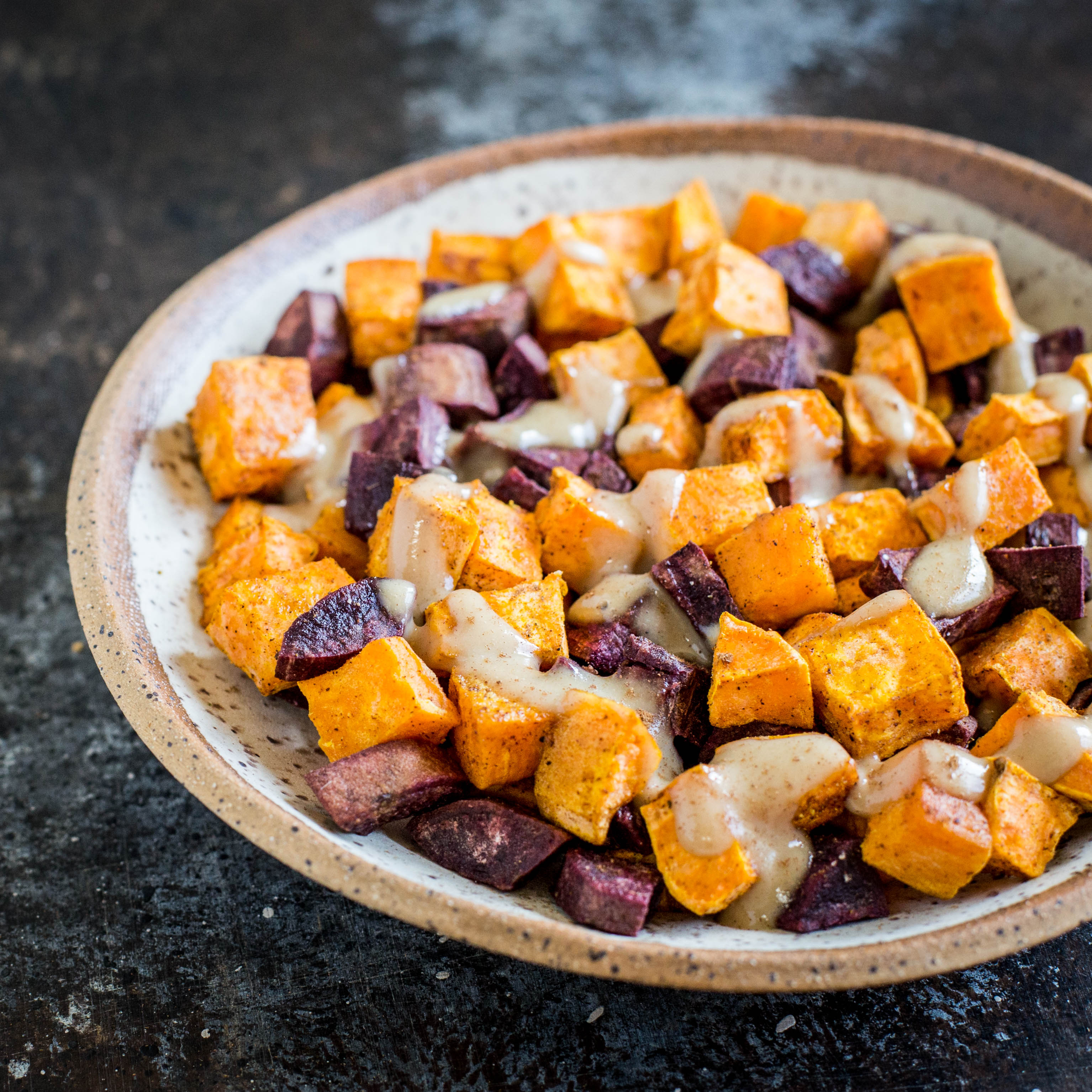 This particular recipe can be enjoyed as a meal/snack at any time, but also makes an excellent side dish for Thanksgiving! I love using a variety of starchy autumn vegetables (whatever is available at the market) to add color in this dish, from orange butternut squash to purple potatoes to red beets. Regardless of what you use, the result is bound to be both comforting and delicious!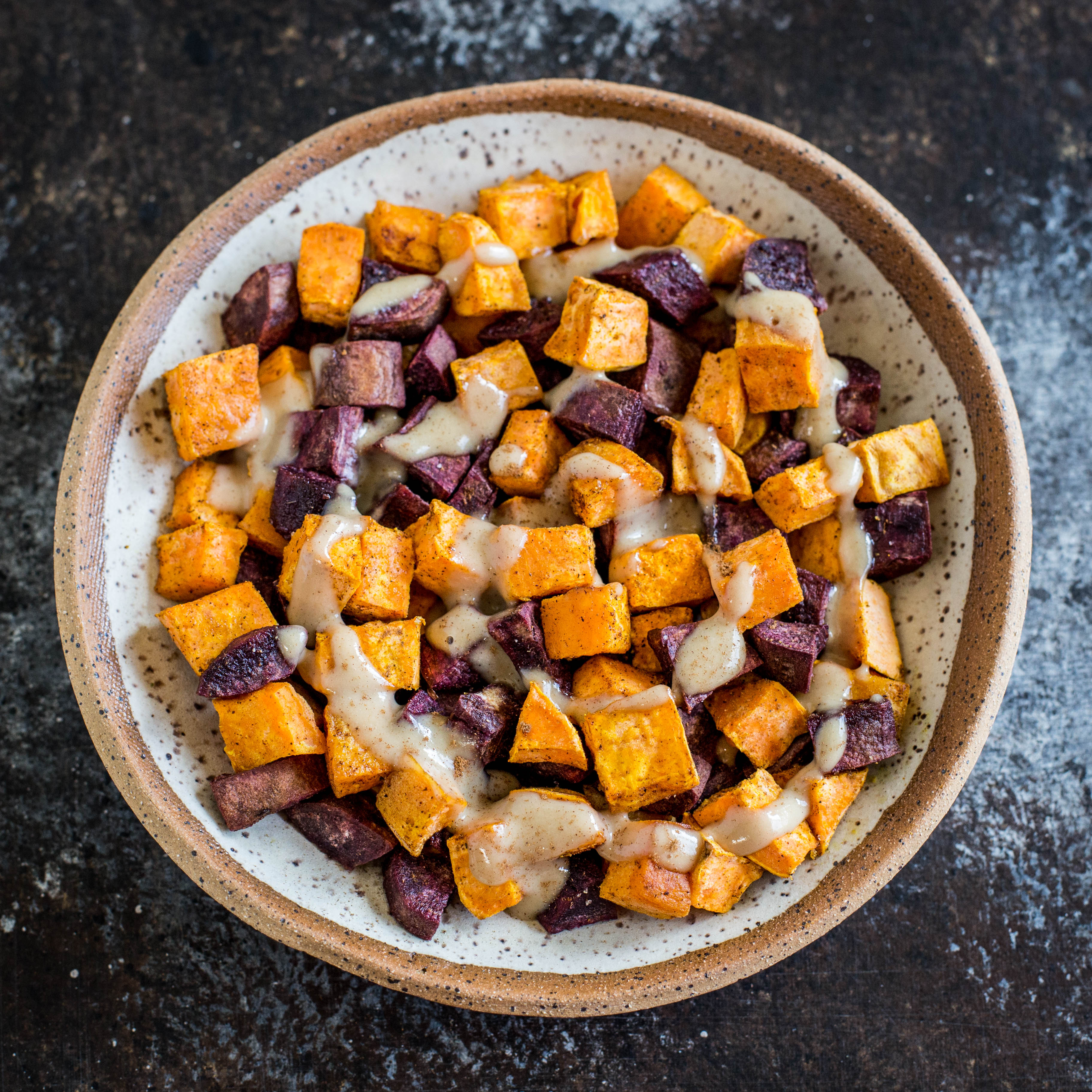 Healing Spice Roasted Autumn Vegetables with Maple Tahini Dressing
2017-09-02 20:32:09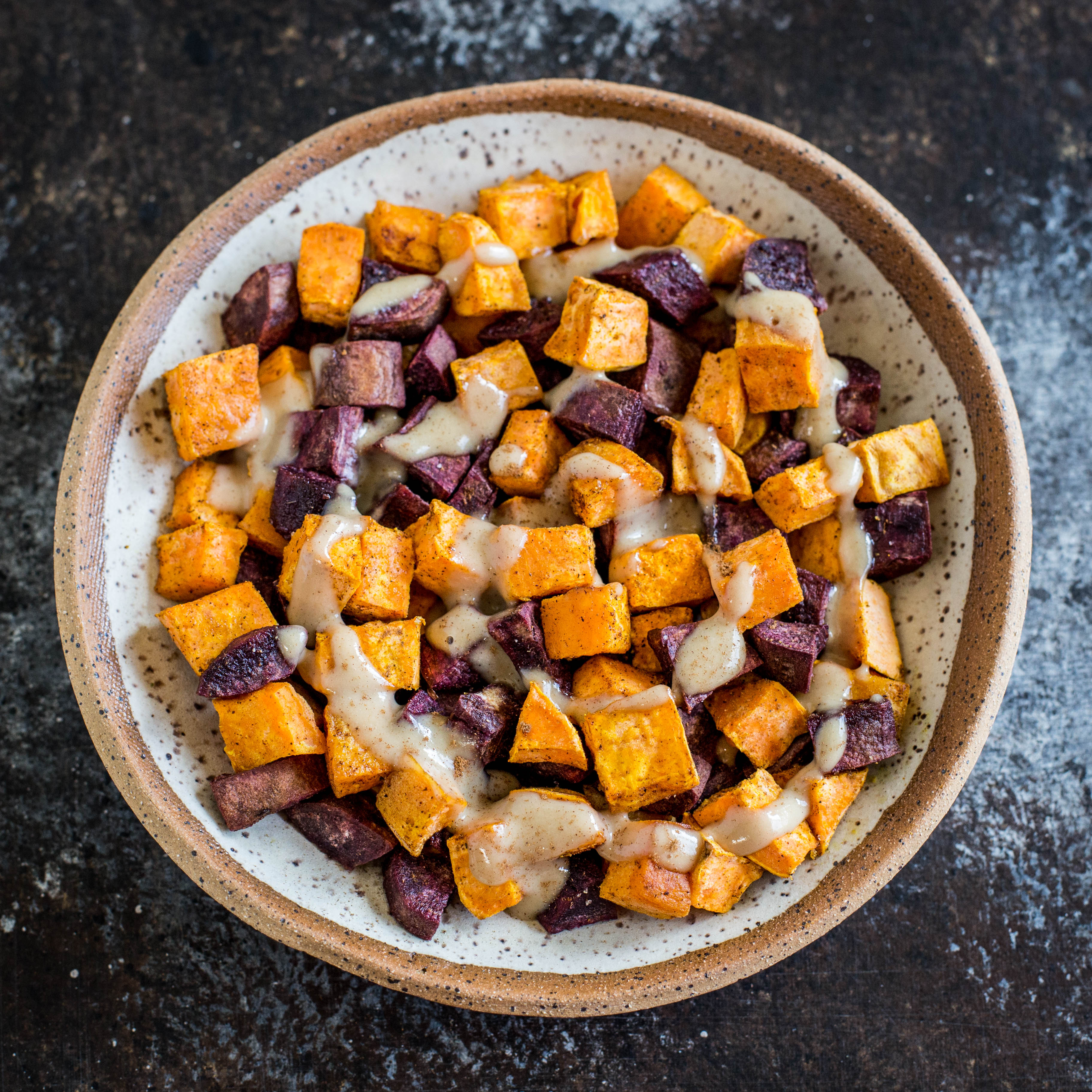 Serves 2, but recipe can easily be multiplied to serve a crowd!
Ingredients
1 lb mixed autumn vegetables (butternut squash, potatoes, carrots, beets, etc.), peeled and cut into 1/2-inch cubes
1 tbsp coconut oil, melted
1/2 tsp turmeric
1/2 tsp cinnamon
1/4 tsp ginger
1/2 tsp sea salt
1/4 tsp ground black pepper
2 tbsp tahini
1 tbsp maple syrup
2 tbsp water + more if needed
Instructions
Preheat oven to 350 degrees F, and line a large baking sheet with parchment paper.
Combine cubed veggies, coconut oil, and spices in a large bowl and mix well. Pour and spread evenly onto the prepared baking sheet.
Roast 40 to 45 minutes, stirring once halfway through, until the veggies are golden and fragrant.
Meanwhile, whisk together the tahini, maple syrup, and water in a small bowl. Drizzle over the veggies to serve. Enjoy!
Create. Nourish. Love. http://www.createnourishlove.com/