Quinoa has to be one of the most nourishing ingredients I have ever come across. As a super pseudo-grain that contains all nine essential amino acids, it is the only plant-based food that can be categorized as a complete protein on its own. It also has a low glycemic index to prevent spikes in blood sugar levels, is gluten-free, performs alkalizing and anti-inflammatory actions in the body, and is loaded with protein, fiber, iron, magnesium, manganese, B vitamins such as riboflavin, and so much more. With such a nutritional powerhouse, you really can't go wrong.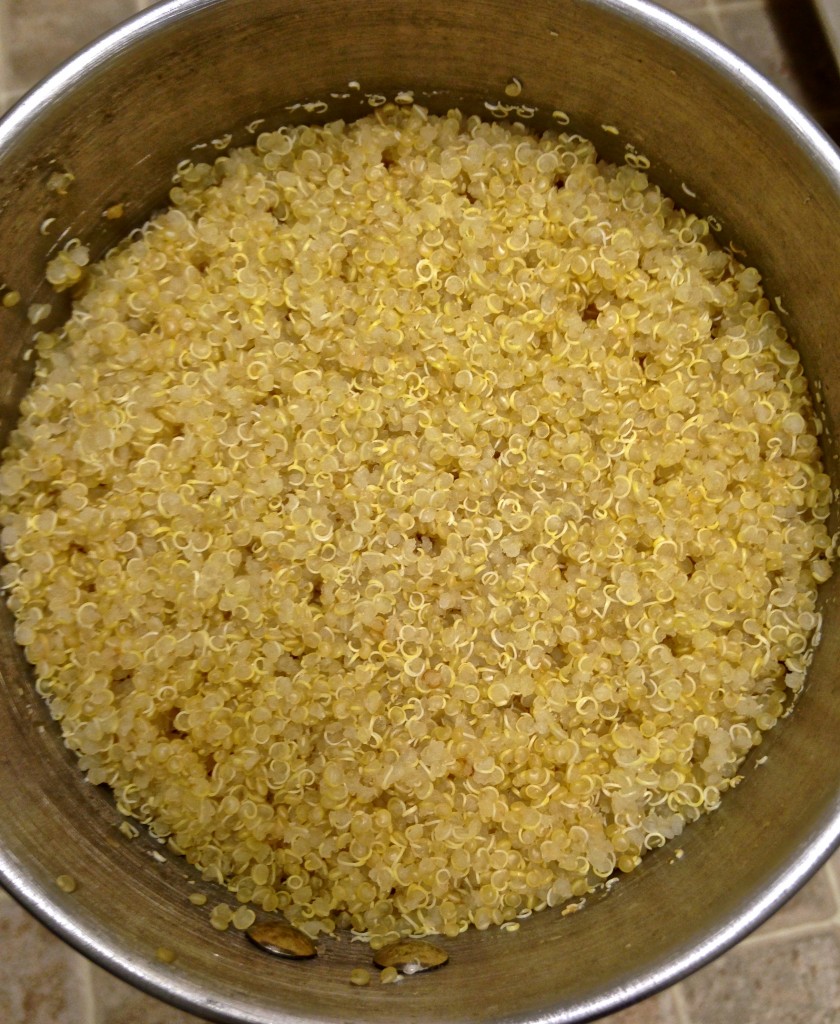 Tonight I decided to branch out and attempt a quinoa creation that would go beyond my usual salads and pilafs. These cakes are great served as an appetizer, but they also make a delicious main meal when served over a green salad or roasted vegetables. I enjoyed mine with some homemade Roasted Red Pepper Hummus. The combination of the two is simply mouthwatering, if you ask me.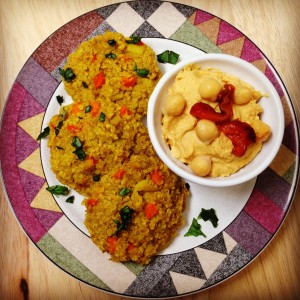 Quinoa and Sauteed Veggie Cakes
2014-03-07 00:42:27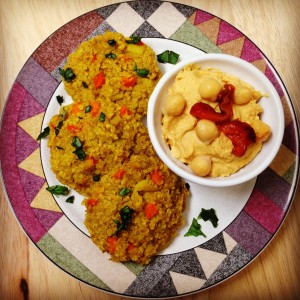 Yields 8 Cakes (gf, v, nf, sf) (Recipe can be doubled for a crowd)
Ingredients
3/4 cup dry quinoa, rinsed
1 1/2 cups water
2 tbsp ground flaxseed
6 tbsp water
2 tbsp extra-virgin olive oil
2 cloves garlic, minced
1 small onion, diced
2 small carrots, peeled and diced
1 tsp turmeric
1/2 tsp salt
1/4 cup flour of choice (I used gf oat flour)
Instructions
Place quinoa and 1 1/2 cups water in a small pot and bring to a boil. Reduce heat, and simmer for 15 minutes, until all liquid is absorbed. Remove from heat and allow to sit.
Mix flaxseed with 6 tablespoons of water in a small bowl. Place in the refrigerator for about 10 minutes, until gelled. Once thickened, this mixture will act as eggs would to bind the quinoa mixture together.
Meanwhile, heat olive oil in a skillet over medium heat. Add garlic and onion and sauté 5 minutes, until fragrant. Add in carrots, turmeric, and salt, and sauté another 5 minutes until softened. Remove from heat.
Preheat oven to 375 degrees F. Line a baking sheet with parchment paper. Mix together quinoa, flaxseed eggs, sautéed veggies, and flour, adding more flour or water, as needed, to allow the mixture to stick together nicely. Form into 8 patties, and place on the lined baking sheet. Bake 25-30 minutes, until golden, flipping once halfway through. OR cook 5 minutes per side over medium heat in a large skilled coated with olive oil.
Serve.
Notes
If pressed for time, you may prepare the cakes ahead and refrigerate up to 24 hours prior to cooking. This worked well for me!
Enjoy!
Create. Nourish. Love. http://www.createnourishlove.com/