Mmm roasted vegetables. So versatile, so comforting, and so very yummy. Whether they are served as a side dish to a main course, over grains like quinoa, or as the highlight of a pasta dish, they are incredibly nourishing in all forms! Although roasted vegetables are generally tasty regardless of the preparation and cooking methods used, there are certain methods that yield the most ideal textures and flavors, along with that caramelization that we all love. With that said, I highly recommended these simple tips: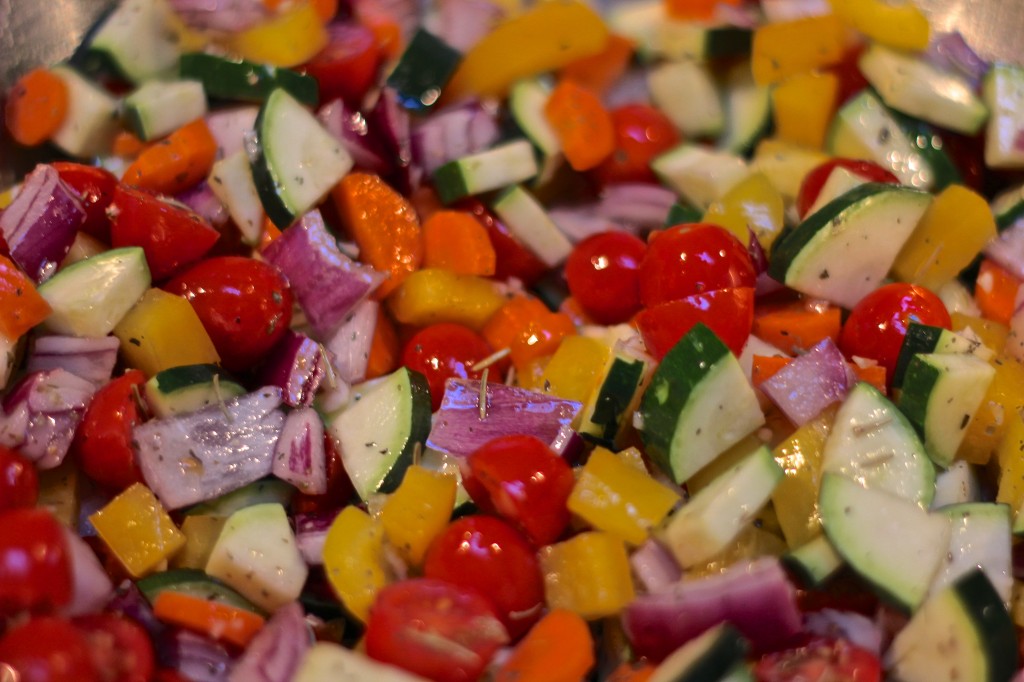 -Preheat your oven and keep it hot! It is best to roast vegetables at high temperatures to ensure that they caramelize on the outside. I like to cook mine at 425 degrees F.
-Cut vegetables into EVEN pieces so they all cook evenly. For this dish, I like to cut my veggies into 1/2 to 1-inch chunks, but keep in mind that they will shrink down a bit while cooking.
-Toss the vegetables with olive oil and herbs prior to roasting. Not only does this allow the flavors to become optimally infused, it also ensures that the veggies will not stick to the pan and burn.
-To further prevent sticking, I like to line my baking pan with parchment paper or foil. This also allows for an easier clean-up!
-Space the vegetables evenly, and do not overcrowd them on the pan. They will end up steaming instead of browning if you do.
-Toss or flip the vegetables halfway through the roasting process to best achieve that even caramelization.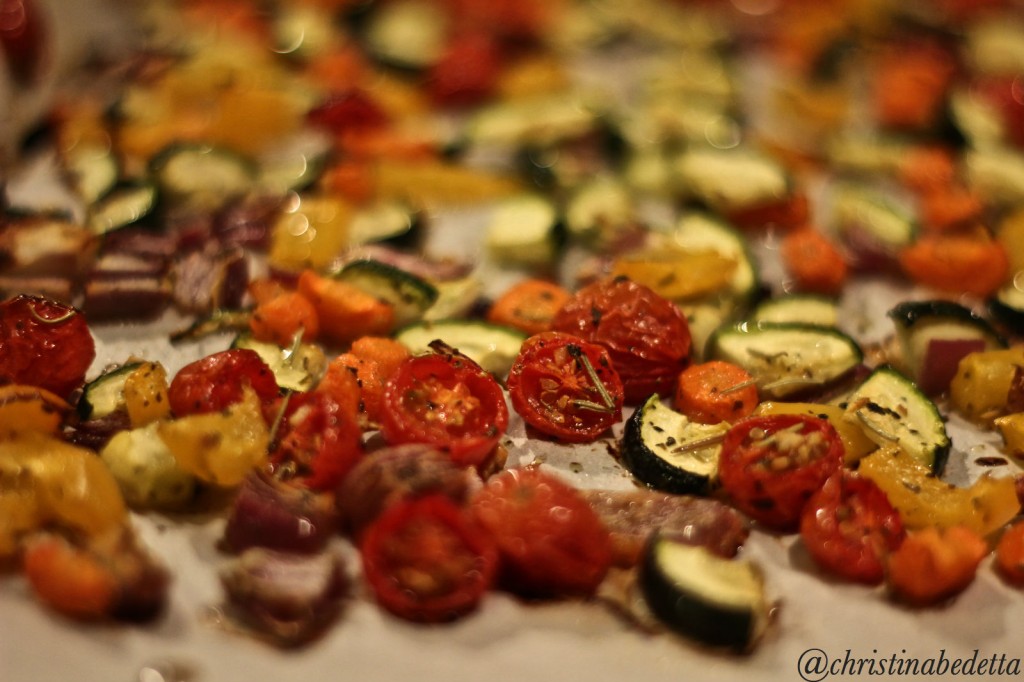 I love simple roasted vegetable dishes that contain just a vegetable or two, but sometimes a combination of multiple different textures and flavors is desirable. The following recipe is my basic Italian spin on roasted veggies, with ingredients such as garlic, olive oil, basil, and oregano as flavor- builders. I served a bunch of these beauties over a Hummus Tortilla Pizza tonight for a simple yet delicious meal, and I honestly cannot wait to prepare the same exact meal again tomorrow with my leftovers!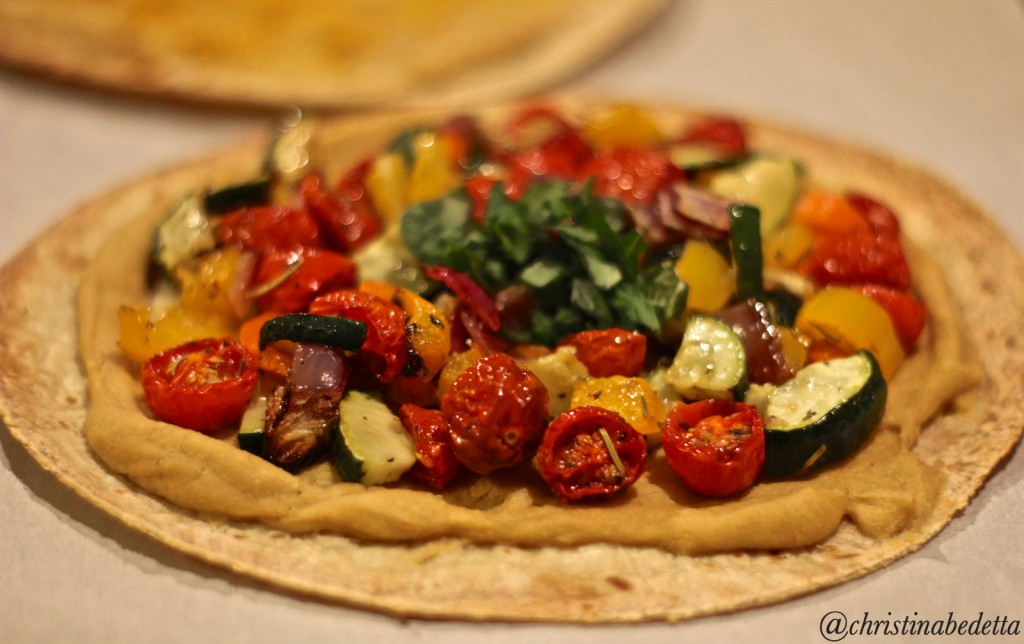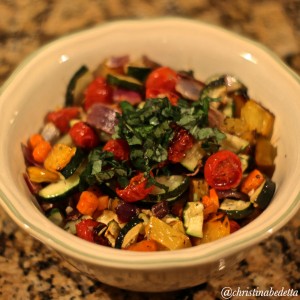 Garlic and Herb Roasted Vegetables
2014-03-15 13:31:24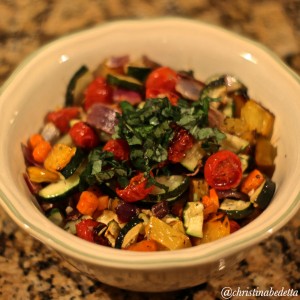 (gf, v, nf, sf)
Ingredients
3 medium carrots, peeled
2 small zucchini
1 medium red onion
1 red or yellow bell pepper, seeded
1 pint cherry tomatoes
1/4 cup olive oil
3 cloves garlic, minced
1 tsp dried basil
1 tsp dried oregano
1 tsp dried rosemary
1/2 tsp salt
1/4 cup chopped fresh basil
Instructions
Preheat oven to 425 degrees F. Line a large baking sheet with parchment paper or foil.
Cut all vegetables into 1/2 to 1-inch pieces.
Toss vegetables together with olive oil, garlic, dried herbs, and salt in a large bowl, allowing all vegetables to be evenly coated with the mixture. Spread evenly onto the prepared baking sheet, and remember not to overcrowd them!
Roast for about 40 minutes, tossing halfway through the roasting process, until vegetables are tender and caramelized.
Garnish with fresh basil, and serve!
Notes
You may use two baking sheets if the veggies are too crowded on just one.
This recipe may be doubled for a crowd, and you can easily substitute any of the vegetables to suit your taste buds! Be creative and make it your own!
Create. Nourish. Love. http://www.createnourishlove.com/
Reader Feedback:
What is your favorite way to serve roasted vegetables?