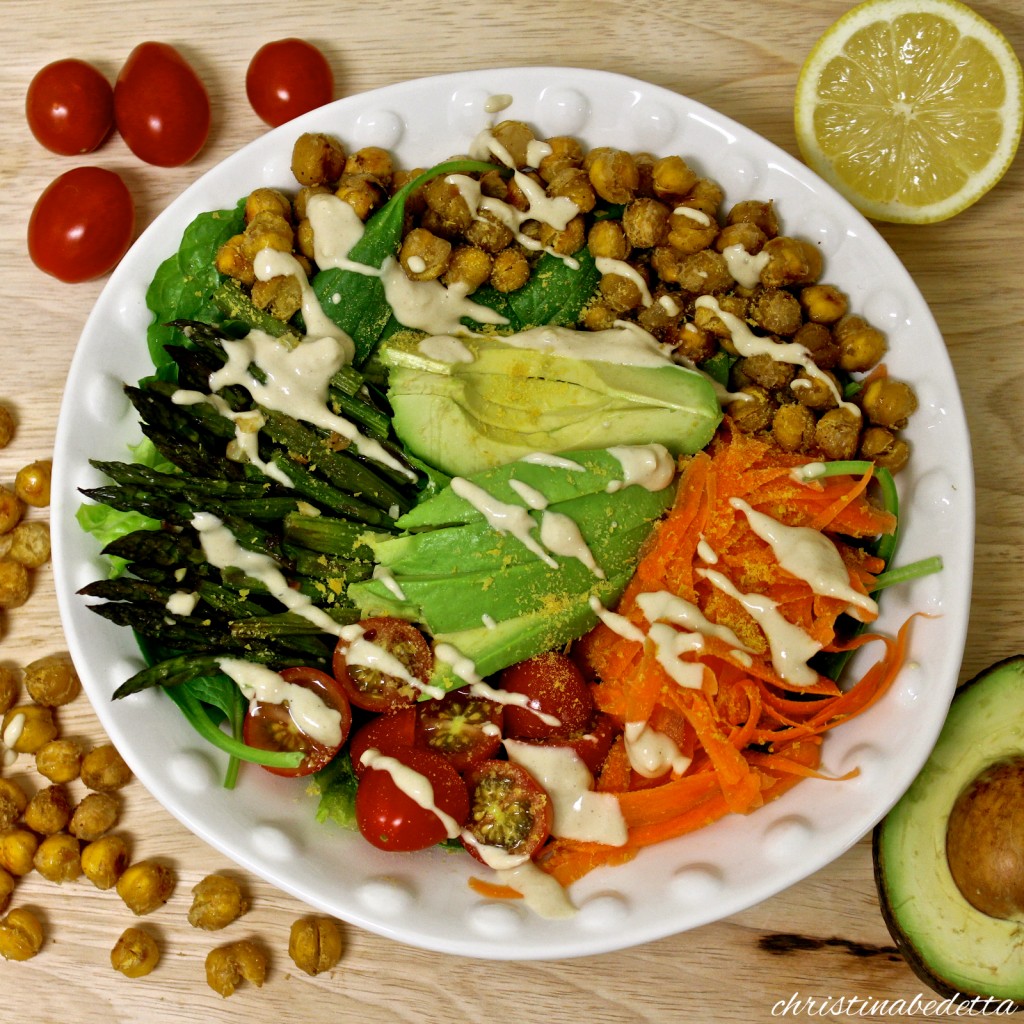 All salads are NOT created equal. The significant portion of modern society that seems to consider salads and veggies as tasteless "diet foods" could not be more off. Don't get me wrong, I agree that the less-than-fresh iceberg wedge with commercial dressing that you find at many chain restaurants is far from substantial. However, that depiction does not even come close to representing what a bowl of veggies and toppings can be.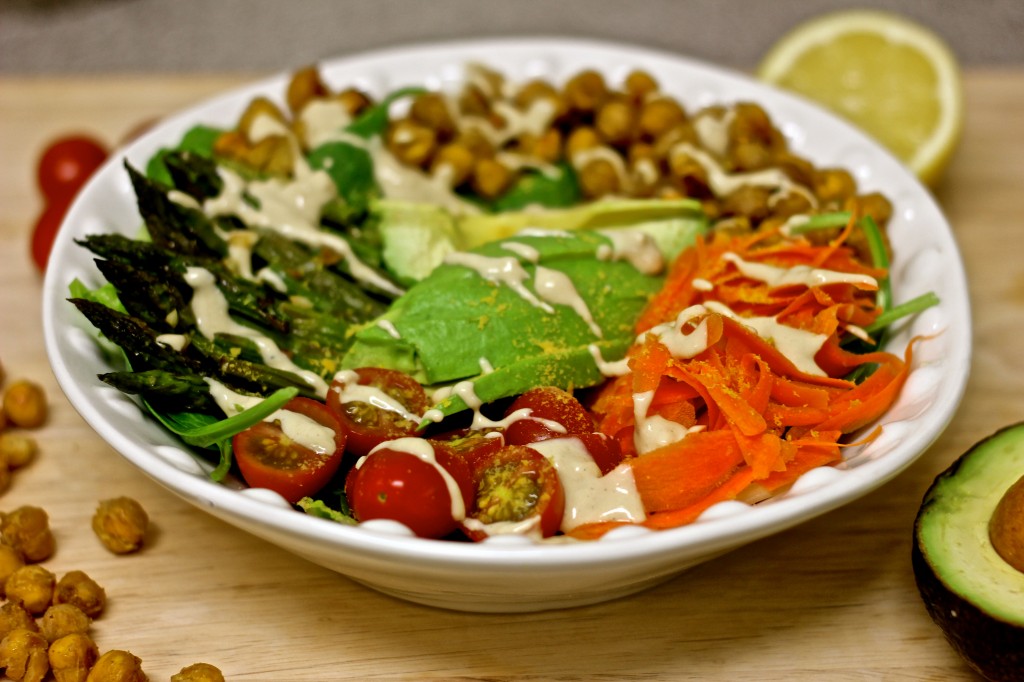 The protein-packed mixed veggie bowls that I enjoy regularly can hardly be considered salads. Loaded with a variety of energizing and delicious, pure foods, they basically define nourishment. Not to mention how incredibly quick and easy they are to prepare! My "power" bowls generally contain a mix of the following nutrient-dense ingredients:
-Raw, leafy greens such as spinach, kale, and romaine lettuce.
-Flavorful cooked vegetables, such as sweet potatoes, asparagus, zucchini, squash, broccoli, etc., that have been roasted or sautéed with garlic, olive oil, and herbs.
-Vibrant raw veggies such as carrots, bell peppers, tomatoes, red onion, cucumbers, etc.
-Healthy fats in the form of avocado, sunflower or pumpkin seeds, and a healthy dressing, such as my favorite made from tahini, olive oil, and fresh lemon (recipe below).
-Protein in the form of beans (crunchy roasted chickpeas are my favorite), hummus, tahini, lentils, seeds, nutritional yeast, quinoa, organic eggs, etc.
-Carbohydrates from beans, lentils, peas, sweet potatoes, whole grains, etc.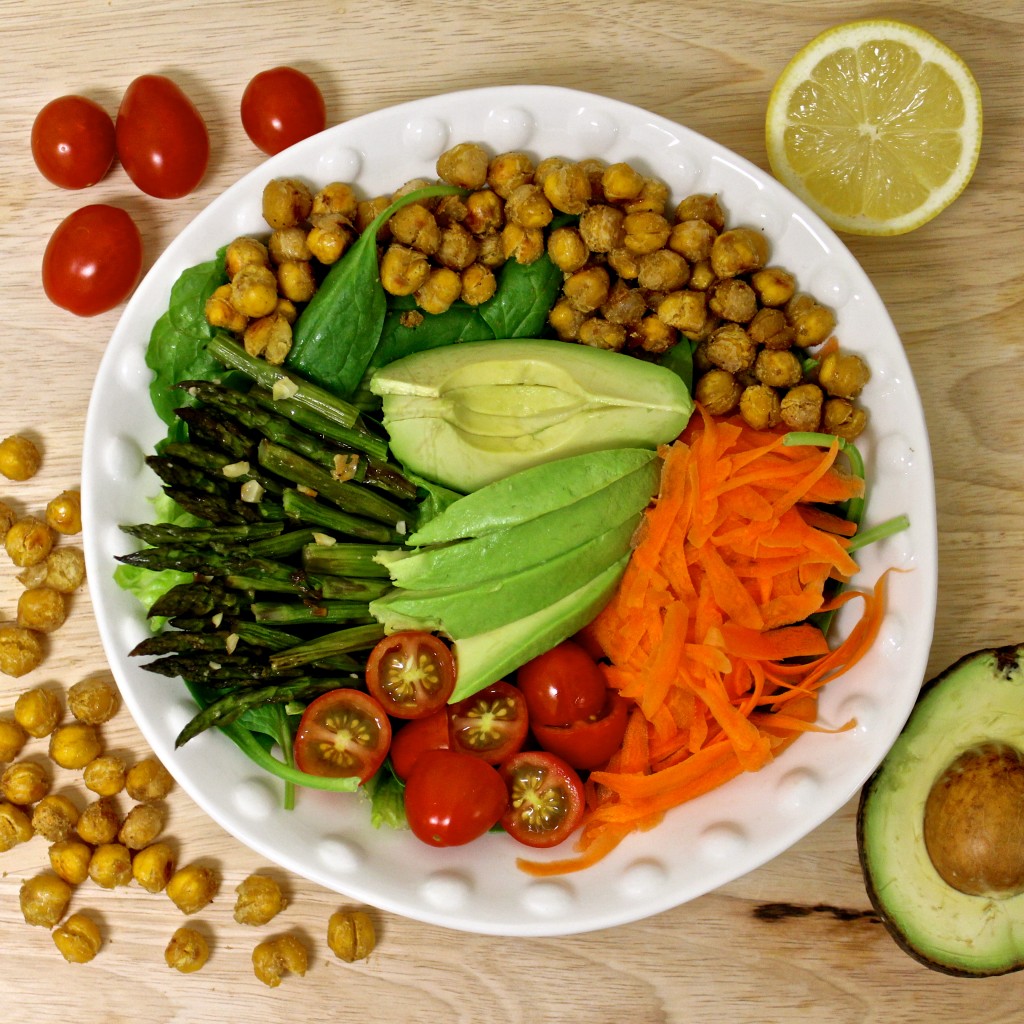 The concept of building a meal by tossing a mixture of your favorite nutritious foods into a bowl is a great one. More than anything, it reminds me of the concoctions my mom has always prepared for herself when strapped for time. The following recipe contains my absolute favorite combination of whole-food ingredients (many of which can be cut and prepared in advance!). Almost any dressing will compliment this bowl, from a vinaigrette to pure hummus alone, but I strongly urge you to try the lemon-tahini dressing. Its creamy texture and unique flavor is perfection here!
Nourishing Power Bowl
2014-04-16 23:19:46
Serves 1
gf, v, nf, sf
Ingredients
2-3 cups mixed leafy greens (I use spinach and romaine)
1/2 cup shredded carrots
1/4 cup cherry tomatoes, halved
1/4-1/2 an avocado, sliced
1/2 cup roasted vegetables (asparagus, sweet potatoes, zucchini, etc.)
1/2 cup cooked chickpeas, lentils, or black beans
1 tbsp nutritional yeast
Lemon-Tahini dressing (recipe below)
Hummus
Instructions
Place greens in a large bowl. Arrange remaining veggies and toppings on top of the greens. Drizzle with lemon-tahini dressing (or other dressing of choice), and enjoy!
Create. Nourish. Love. http://www.createnourishlove.com/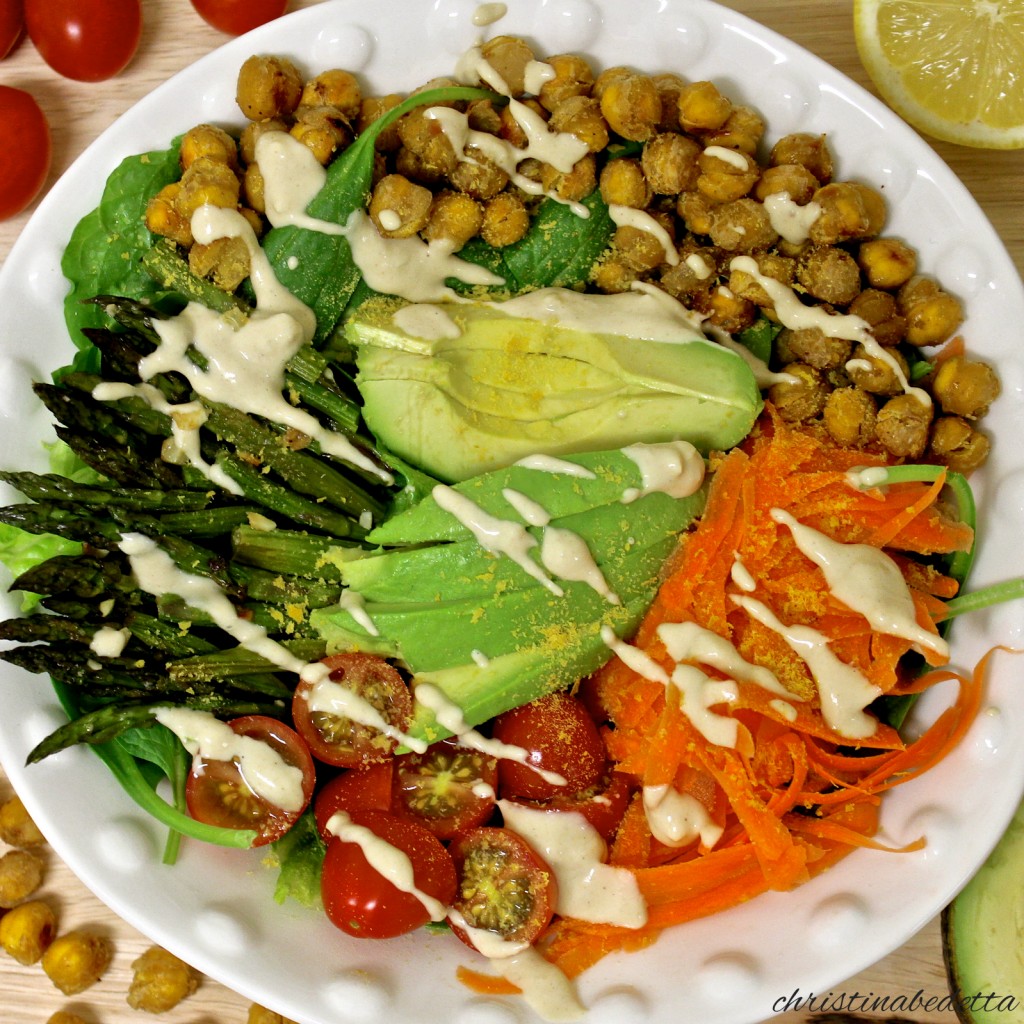 Lemon-Tahini Dressing
2014-04-16 23:27:15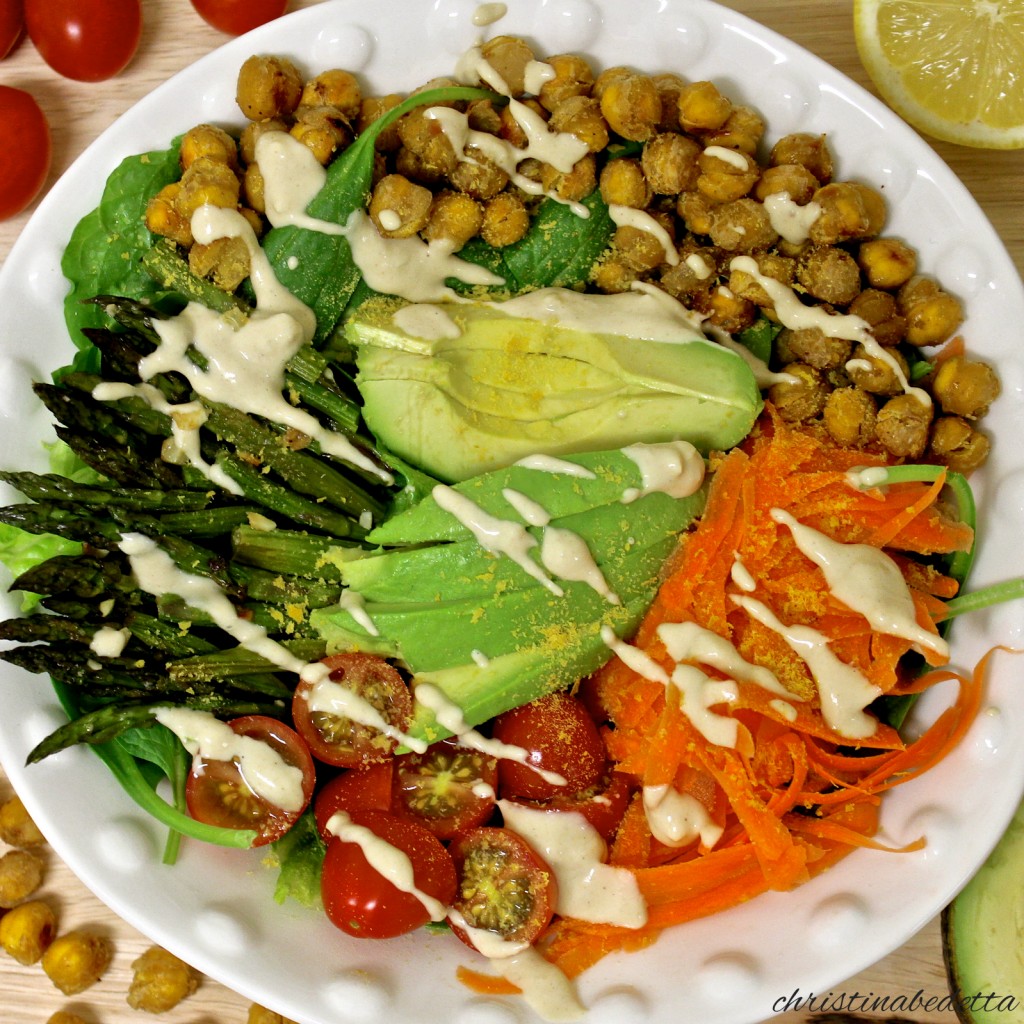 gf, v, nf, sf
Ingredients
1/4 cup tahini
1 lemon, juiced
1 tbsp olive oil
3 tbsp water, or more as needed to thin*
1 clove garlic, minced
Pinch of sea salt
Instructions
Combine all dressing ingredients in a small bowl, and whisk until well-combined.
Notes
*You may add more water, as needed to thin the dressing to your desired consistency!
Create. Nourish. Love. http://www.createnourishlove.com/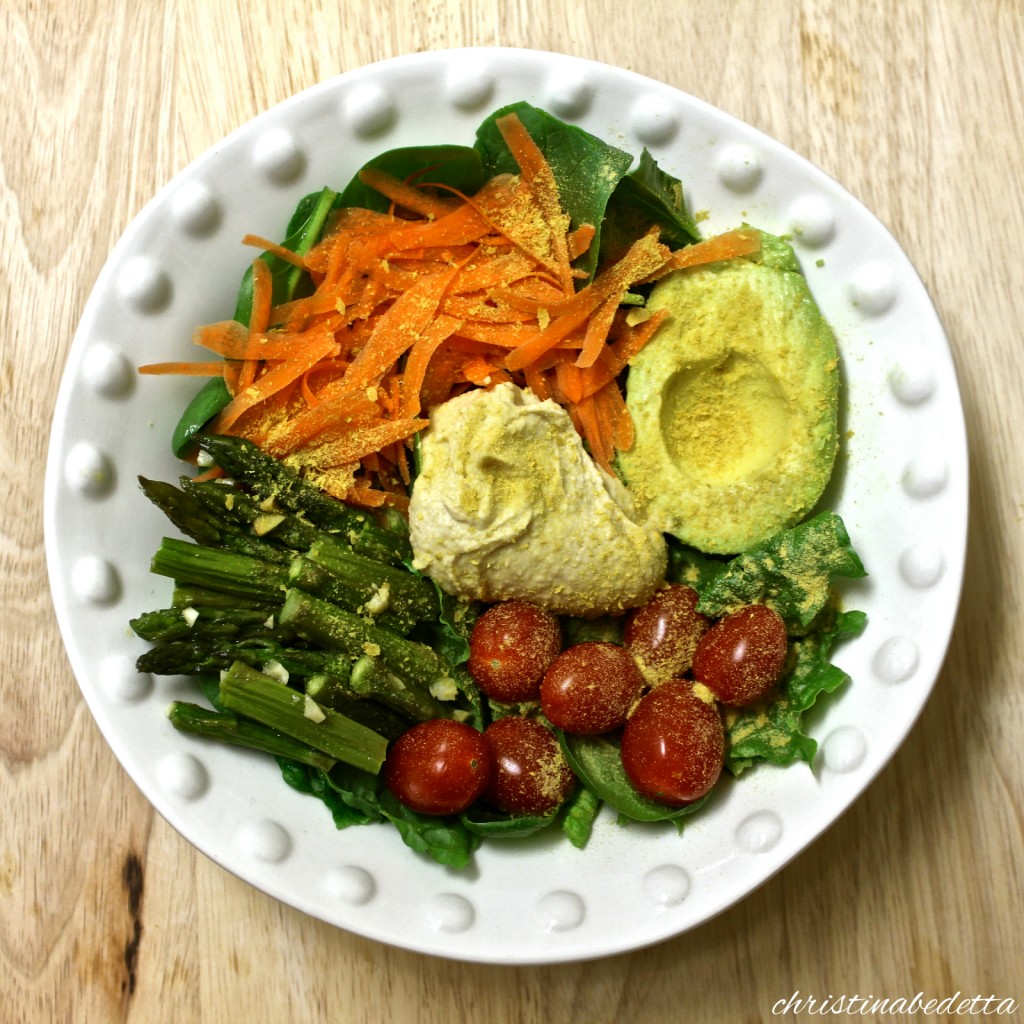 I would love feedback on the recipe and combination! What do you put in your bowl?!