Pasta has always been one of my absolute favorite foods. When I first developed my love for cooking years ago, pasta dishes were practically the only meals I made. From homemade gnocchi to mushroom bolognese to baked penne marinara with every vegetable I could think of, I loved putting my creativity to the test. Although I experimented with a variety of complex and fancy recipes, I have to admit that, back then, my favorite two pasta dishes were basic noodles with either creamy Alfredo or flavor-packed pesto sauce. My diet may have changed since then, but my beloved pasta texture and flavor preferences certainly haven't. Lucky for me, there are plenty of non-dairy methods of creating flavorful cream sauces (that are also packed with nutrients)! Cauliflower, cashews, squash, and hummus are the star ingredients to many of these techniques, but today I am focusing on one of my favorites: Avocado!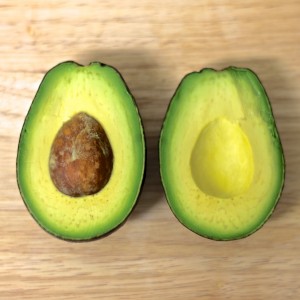 After discovering my love for avocado, I was very quick to test it out with pasta. From my "experiments," I have learned the following: 1) It is best served fresh. Avocado flesh oxidizes and turns brown after prolonged exposure to air, and I certainly prefer a vibrant green to a murky shade here! 2) Avocado tastes amazing blended with Italian ingredients such as fresh garlic, basil, and extra-virgin olive oil. This realization has resulted in a creamy pesto-like sauce for my go-to recipe (perfect for my ideal pasta sauce preferences!). 3) Individuals with all sorts of feelings towards avocado seem to love this dish. Spencer and Melanie, true avocado lovers, are huge fans of this combination, as is my Dad, who generally won't touch avocado when given the choice. 4) Last but certainly not least, this dish is incredibly quick and easy to make, which is why it has become one of my go-to meals on busy days!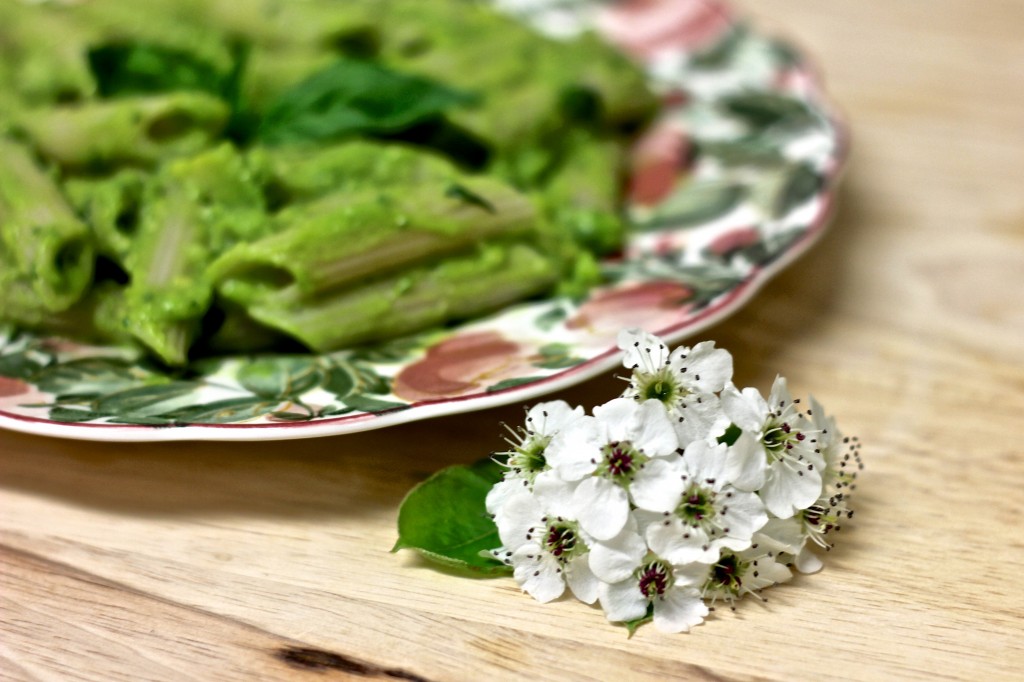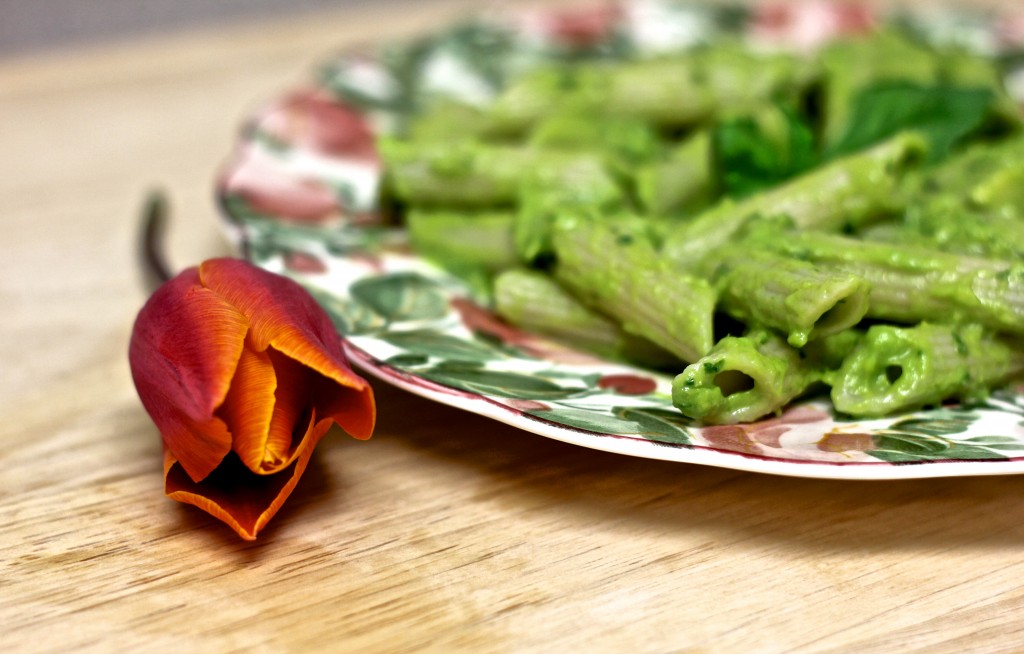 Melanie found these gorgeous flowers a few days ago, and I knew right away that I had to photograph them! The red and orange hues in the tulip were incredibly vibrant, and lovely alongside the fresh green pasta. I hope you all enjoy the recipe!
Creamy Avocado Pesto Pasta
2014-05-11 08:17:02
gf, v, nf, sf
Ingredients
8 oz pasta of choice (I used gluten-free brown rice penne)
2 ripe avocados
3 cloves garlic
1/4 cup fresh basil, plus more for garnish
2 tbsp extra-virgin olive oil
2 tbsp fresh lemon juice
1/4 tsp sea salt
Instructions
Cook the pasta in a pot of boiling, lightly salted water, according to package directions.
Meanwhile, combine garlic, basil, olive oil, lemon juice, and sea salt, and process in a food processor or high-speed blender. Add in avocado and blend until smooth.
Toss the avocado pesto sauce with the freshly cooked pasta, garnish with fresh basil, and serve!
Notes
This dish serves 2-4, depending on how hungry you are! The recipe can easily be cut in half to serve 1-2 people, or doubled for more of a crowd. Just remember that it is best served fresh!
Create. Nourish. Love. http://www.createnourishlove.com/