Today I am going to share a super delicious and simple snack recipe that features one of my absolute favorite ingredients- chickpeas! Also known as garbanzo beans, these lovely little legumes are incredibly versatile. I love finding new ways to incorporate them into my diet, and have used them as the star ingredient to many of my recipes, from dips to curries to salads to gooey desserts!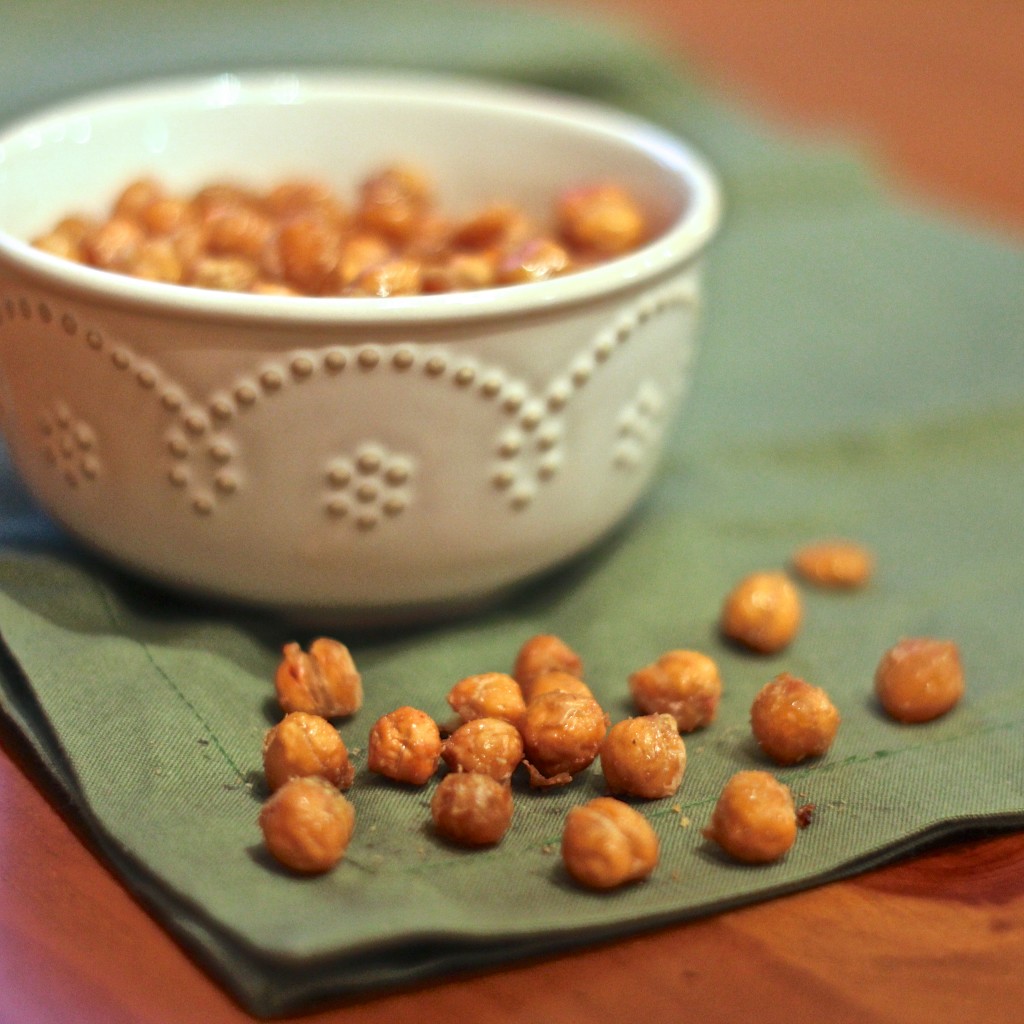 As a nutritious source of vegetarian protein, chickpeas are packed with fiber to promote healthy digestion, heart-healthy minerals such as magnesium and folate, and the trace mineral manganese that serves as a cofactor for many enzymes that produce energy and antioxidant defenses in the body. Due to their low glycemic index, these legumes have also been shown to promote stable blood sugar levels and appetite control!
Aside from my beloved hummus, one of my favorite ways to enjoy chickpeas is roasting them with some tasty spices for a crunchy healthy snack or salad topper. I have experimented with various different flavorings here, and decided that you really can't go wrong! They will keep in an airtight container for storage after roasting, but they truly are best (and addictive) fresh out of the oven. Enjoy!
Oven Roasted Chickpeas
2014-04-27 20:10:46
Serves 3
gf, v, nf, sf
Ingredients
1 1/2 cups cooked chickpeas (may be from 15 oz. can)
2 tbsp olive oil
1/2 tsp cumin
1/2 tsp garlic powder
1/2 tsp sea salt
Instructions
Preheat oven to 375 degrees F. Line a baking sheet with parchment paper.
Mix all ingredients together in a large bowl until the chickpeas are evenly coated with the flavorings.
Spread evenly onto the prepared baking sheet, and roast 35-40 minutes, until crisp and golden, tossing a few times during baking to prevent uneven browning. Allow to sit and cool a bit before eating, if you can wait!
Create. Nourish. Love. http://www.createnourishlove.com/